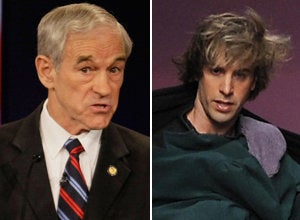 Sacha Baron Cohen's gay Austrian fashion commentator Bruno did conduct an interview with Ron Paul, the Texas Congressman has confirmed, as had been reported last month.
Paul just opened up about the encounter on the radio with Curtis Silwa, and he is not pleased, as he thought he had agreed to an interview on Austrian economics.
PAUL: We were in a studio situation. I wasn't invited to a hotel room. A studio situation where they had a lot of lights burn and blaze and all kinds of commotion. They said -- better get in this back room here. And all of a sudden, I was in this room, which they had it all fixed up as a bedroom. So, getting me there was sort of dishonesty. Getting me into the interview.

I was expecting an interview on Austrian economics. So, that didn't turn out that way. But, by the time he started pulling his pants down, I, What is going on here? I ran out of the room. This interview has ended.

When this all gets out, I'm probably going to have to apologize to my supporters because I think most of them are going to figure out why in the world didn't I sock this guy in the nose?

SLIWA: You ran out. But, did you actually see the original Borat film where he pulls these kinds of stunts?

PAUL: No, no. Movies I used to see are 'Sound of Music.' Tonight, I was sitting here watching 'Gone with the Wind.' So, I don't watch that kind of stuff. And I understand he makes a lot of money. But, if he makes a lot of money, I have to permit the market to do this.

I don't like the idea that he lies his way into an interview. That to me is fraud. But, the fact that he has raunchy material and people buy into it, it's sort of sad that that is a reflection of our culture. To me, it's a real shame that people are going to reward him with millions and millions of dollars for being so crass.

SLIWA: And you know he might actually end up using that piece to promote this upcoming film.

DR. RON PAUL: That means I'm helping him make money!

Popular in the Community