It's easy to take William Shakespeare for granted. Born in 1564, he is said to have written 38 plays and 154 sonnets (among other things) before he died on April 23, 1616 at the age of 52. As audiences around the world mark the 400th anniversary of Shakespeare's death, they will no doubt wonder at the many ways in which one writer has had such a profound impact on world culture.
Writing about every facet of human life (from kings and queens to star-crossed teens), Shakespeare's plays have been translated into most languages on the planet and remain as relevant today as they were in any previous century. His work has inspired musicals, ballets, operas, movies, and arts festivals around the world. As he suggested in As You Like It, "All the world's a stage..."
When people think about how Shakespeare's work has appeared on the operatic stage, they are quick to focus on composers who have successfully adapted King Lear, Romeo and Juliet, Macbeth, The Tempest, Othello, The Merry Wives of Windsor, and A Midsummer Night's Dream. Lesser-known operas have been based on Anthony and Cleopatra, Hamlet, Much Ado About Nothing, Julius Caesar, The Taming of the Shrew, Love's Labour's Lost, Measure for Measure, The Merchant of Venice and Twelfth Night.
In terms of musical theatre, most people will immediately point to 1957s West Side Story, often forgetting that The Boys From Syracuse (1938), Swingin' The Dream (1939), Your Own Thing (1968), Two Gentlemen of Verona (1971), Rockabye Hamlet (1976), Oh, Brother! (1981), Play On! (1997), and All Shook Up (2005) were also inspired by the Bard of Avon.
Next to West Side Story the most popular Shakespeare-inspired musical is, without doubt, Cole Porter's 1948 hit, Kiss Me, Kate. With a snappy book by Sam and Bella Spewak, Porter took a backstage story about two egotistical musical comedy performers who were once married to each other and mixed it in with the saga of a new musical based on The Taming of the Shrew that was trying out in Baltimore. The result was sheer magic.
I first saw Kiss Me, Kate in 1965 at the New York City Center in a revival starring Bob Wright and Patricia Morison, followed by the 1987 London revival. In 2003, Great Performances aired a live performance captured during the 2001 London revival starring Brent Barrett and Rachel York.
Down at the Fox Theatre in Redwood City, Broadway By The Bay closed out its 2015 season with a production of Kiss Me, Kate designed by Drew Kaufman with costumes by Valerie Emmi and solid sound design by Jonathan Hayward. With Dolores Duran-Cefalu conducting (using a reduced orchestration with no strings save for a bass), Porter's score is filled with a treasure chest of musical gems including "Another Op'nin', Another Show," "Why Can't You Behave?" and "Were Thine That Special Face."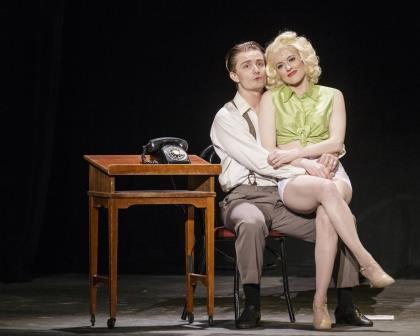 Zachary Padlo (Bill Calhoun) and Leah Shesky (Lois Lane) sing
"Why Can't You Behave?" in a scene from Kiss Me, Kate
(Photos by: Mark Kitaoka and Tracy Martin)
I always find it interesting to see how Porter did not restrict his best songs to the leads in Kiss Me, Kate.
As Lois Lane, Leah Shesky did a beautiful job with "Why Can't You Behave?' and "Always True To You In My Fashion."
As Fred Graham's dresser, Paul, Isaiah Boyd tore into Nicole Helfer's choreography for the Act II opening number (Too Darn Hot!") with the kind of exuberant energy and infectious joy that would thrill any audience.
The two gangsters (Ken Boswell & Ray D'Ambrosio) brought down the house with their solid delivery of Porter's old-fashioned, vaudeville-style "Brush Up Your Shakespeare."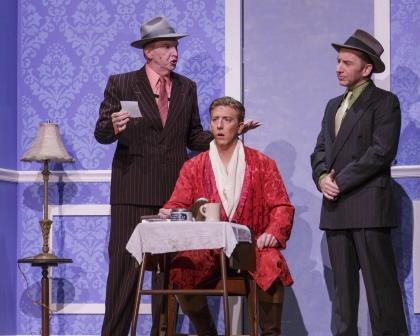 Fred Graham (Daniel Cameron) is visited by two gangsters
(Ken Boswell and Ray D'Ambrosio) in a scene from
Kiss Me, Kate (Photos by: Mark Kitaoka and Tracy Martin)
Others in supporting roles included Zachary Padlo (doubling as Bill Calhoun and Lucentio), Jessica Coker as Lilli Vanessi's dresser, Hattie, and David Schiller as Lilli's new boyfriend, Harrison Howell. Since Kiss Me, Kate's 1999 revival on Broadway (starring Brian Stokes Mitchell and Marin Mazzie), a song taken from 1951's Out of This World ("From This Moment On") has been inserted into the second act as a duet for Lilli and Harrison. Amie Shapiro and David Schiller made the most of this addition to the frenetic action in Lilli's dressing room.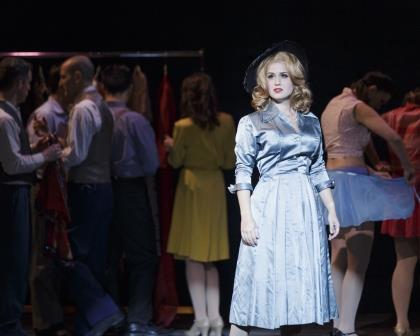 Amie Shapiro as Lilli Vanessi in Kiss Me, Kate
(Photos by: Mark Kitaoka and Tracy Martin)
Casting for this production was quite solid, especially with Amie Shapiro doubling as Lilli Vanessi/Katherine and Daniel Cameron doubling as Fred Graham/Petruchio. I did, however, question director Milissa Carey's decision to have Cameron portray Petruchio as a clown rather than a scoundrel. It removed a great deal of the sexual tension between Petruchio and Kate who (as everyone knows) truly hates men. Otherwise, why would Petruchio take such delight in taming a shrew?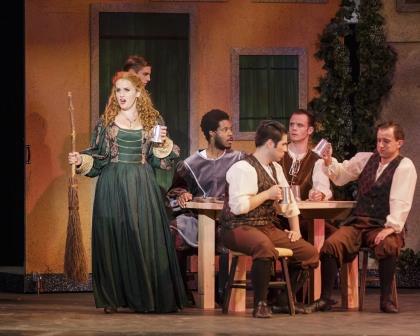 Amie Shapiro (Katherine) sings "I Hate Men" in a scene from
Kiss Me, Kate (Photos by: Mark Kitaoka and Tracy Martin)
Over at Thick House on Potrero Hill, Theatre Rhinoceros presented the world premiere of its artistic director, John Fisher's, latest work: Shakespeare Goes To War* (Everything I needed to know about Shakespeare I learned from my high school English teacher). Made possible by a generous grant from The Geller and Sullivan Living Trust, this is the kind of writing that should inspire more people to consider making Theatre Rhinoceros (a/k/a "the longest running LGBT theatre anywhere") a beneficiary in their wills.
I say this because, although Fisher has written, directed, and often produced 10 plays, his work has remained very much a Bay area phenomenon. In an age when many gay playwrights have risen to literary fame, the bulk of Fisher's work has been created for and produced by Theatre Rhinoceros. Most of these plays have been written about gay characters by a writer who (unlike some of his predecessors) was openly gay.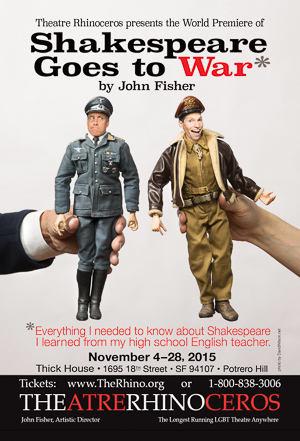 Poster art for Shakespeare Goes To War
Based on the merits of Fisher's latest work (a psychologically complex and multi-layered drama with frequent flashbacks), I see no reason to exclude him from a long list of prolific LGBT playwrights that includes Edward Albee, Jon Robin Baitz, Terry Baum, Douglas Carter Beane, Eric Bentley, Adam Bock, Charles Busch, Stuart Bousel, Noel Coward, Mart Crowley, Harvey Fierstein, Lorraine Hansberry, Moises Kaufman, Larry Kramer, Lisa Kron, Tony Kushner, Arthur Laurents, Charles Ludlam, Taylor Mac, Terrence McNally, Joe Orton, Paul Rudnick, Paula Vogel, Lanford Wilson, Oscar Wilde, and Tennessee Williams.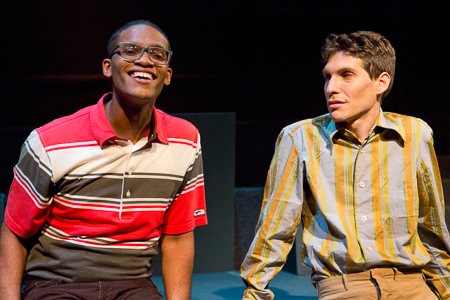 Jesse F. Vaughn (Jeremiah Danby) and Gabriel A. Ross (Young Harry)
in a scene from Shakespeare Goes To War (Photo by: David Wilson)
Those unfamiliar with Fisher's work may wonder what (in addition to his writing, acting, and directing) sets him apart from so many others. The answer is simple. As the artistic director of a woefully underfunded nonprofit LGBT theatre company, he has drawn more blood from every penny spent on production values than Scrooge and Fagin ever counted. Unlike aspiring playwrights who dream of writing plays for large casts clad in period costumes, Fisher combines a prodigious appetite for research with an economy of production that is nothing short of remarkable.
Shakespeare Goes To War deftly juggles two coming-of-age stories for young gay men with a future in the theatre. One tale takes place in 1944 in a German Nazi camp for prisoners of war; the other takes place in the San Francisco Bay area at the height of 1978's hysteria surrounding the wildly homophobic Briggs Initiative (a ballot proposition designed to fire all gay teachers working in California's public schools).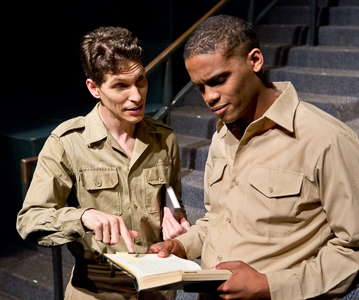 Gabriel A Ross (Young Harry) and Jesse F. Vaughn
(Captain Washington) discuss Othello in a scene from
Shakespeare Goes To War (Photo by: David Wilson)
In order to make Shakespeare Goes To War work on numerous physical, historical, and psychological levels, Fisher's first trick was to make stunning use of the topography within one of the theatres he has used in the past. By placing the audience onstage at Thick House and letting his actors run up and down the stairs where the audience usually sits, Fisher created a surprisingly efficient means of showcasing scenes in which:
Young Jack Fletcher listens in the background as two of his high school teachers discuss what might happen to them if the Briggs Initiative becomes law;
Fletcher considers coming out of the closet as he is introduced to political activism, eventually realizing that in order to be true to himself he must attend a fundraiser in which one of his drama teachers will perform a monologue while going bare-ass in leather chaps;
A sadistic Nazi officer with a penchant for Shakespeare manipulates two male American prisoners of war (one white and one black) into rehearsing and performing the scene in which Othello smothers Desdemona.
Long before becoming a high school English teacher, the gay POW discovers how his insights into Shakespeare give him the power to change people's perspectives whereas the straight POW's boorish approach to Coriolanus becomes simply laughable.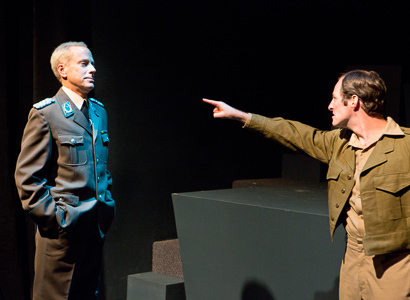 John Fisher (Oberst Klambach) and Sean Keehan (Captain Conroy)
in a scene from Shakespeare Goes To War (Photo by: David Wilson)
Quick costume changes combined with intimate scenes played on various physical levels allow the cast to portray multiple characters with surprising ease:
Gabriel A. Ross makes numerous transitions between young Jack Fletcher (who is in awe of his high school teacher, Harry Smith) and a younger version of Harry when he was a prisoner of war in Germany.
Sean Keehan alternates between being the insensitive straight asshole in Mr. Smith's English class and the insensitive straight asshole who is a prisoner of war.
Jesse F. Vaughn alternates between portraying Captain Washington, a young African-American prisoner of war and Jeremiah Danby, Fletcher's young, horny, and openly gay African-American classmate in high school.
Kevin Copps appears in numerous guises ranging from State Senator John Briggs to California Governor Ronald Reagan and an insecure, alcoholic high school drama teacher; from Britain's Colonel Parker Maitland (who is eager to rub Oberst Klambach's nose in the dirt) to the Red Army's Major Anatoly Raisnovsky, who must figure out what to do with the American POWs he has helped to liberate.
Fisher effortlessly transforms himself between Jack's staunchly Republican and increasingly alcoholic father who analyzes each and every situation by following the money trail ("Everyone who goes to Yale ends up being gay, so if you want to study theatre and be gay, it seems to me it would be much more cost effective to go to UC-Berkeley"); Jack's favorite high school teacher; and the Nazi commandant who terrorized -- while perversely encouraging -- the young Harry Smith during World War II.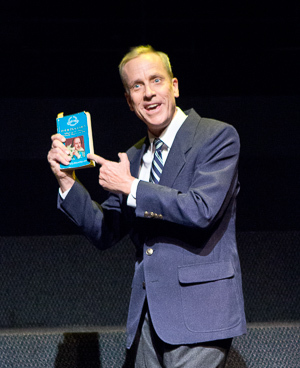 John Fisher as high school English teacher Harry Smith in
Shakespeare Goes To War (Photo by: David Wilson)
In his program note, Fisher writes that:
"My favorite TV show growing up was Hogan's Heroes. Then I learned about the real Nazi Germany and I didn't like the show so much. By the time I got to high school I still liked watching things, but I was frustrated. I wanted to participate, not just watch. Fortunately, there was a lot of theatre at my school and several teachers who, in that harried, overworked public high school kind of way (how do they do it?) managed to encourage me to act. This play is my tribute to them. It says goodbye to an innocent view of history and hello to the power of individuals to inspire young people. It is my farewell to Hogan's Heroes and my thank you to teachers."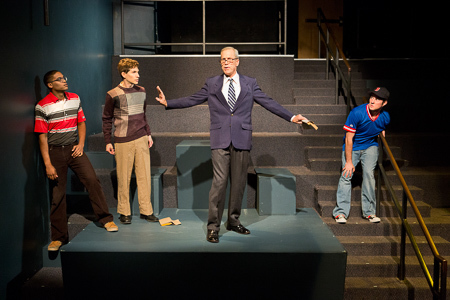 Harry Smith (John Fisher) tries to inspire
his high school English students in a scene from
Shakespeare Goes To War (Photo by: David Wilson)
In an era when teachers are being demonized as soulless leeches who don't deserve to be paid with taxpayer dollars, Shakespeare Goes To War does a splendid job of showing how the most unlikely person can turn into a life-changing mentor. There are powerfully written dramatic scenes in which Jack confronts his father about his family's limited worldview, confronts Harry Smith about his closeted cowardice, and recalls how (several years after retiring as a schoolteacher), Mr. Smith came to see one of the plays Jack had directed.
As with any play by John Fisher, there are some wildly raucous moments (the staging of a scene from Coriolanus is a side-splitting mess) as well as Jack's pathetic description of his attempt to have sex with a girl. These laugh-out-loud scenes are balanced by Jack's tenderness and growing self-awareness of what it means to be gay that will tug at any theatregoer's heart. At its core, Shakespeare Goes To War is a beautifully crafted tale about the art of mentoring, the gift of learning, the power of self-realization, and the magic of theatre that should be seen by students and teachers everywhere.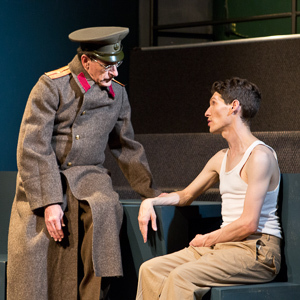 Kevin Copps (as the Red Army's Major Anatoly Raisnovsky)
and Gabriel A. Ross (Young Harry) in a scene from
Shakespeare Goes To War (Photo by: David Wilson)
REAL LIFE. REAL NEWS. REAL VOICES.
Help us tell more of the stories that matter from voices that too often remain unheard.