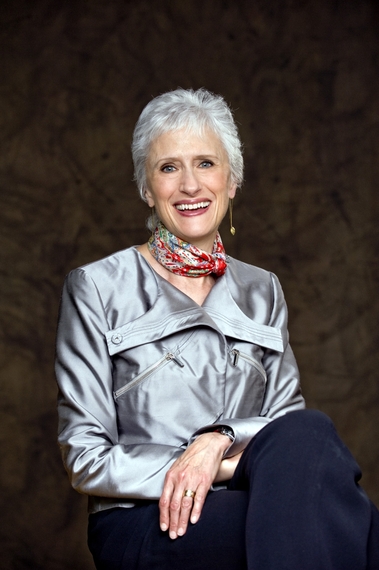 Sara Paretsky is the award-winning author of the V. I. Warshawski detective novels. In 1982, when Sara wrote Indemnity Only, she revolutionized the mystery novel by creating a hard-boiled woman investigator.
Growing up in rural Kansas, Sara came to Chicago in 1966 to do community service work in the neighborhood where Martin Luther King was organizing. Sara felt that summer changed her life; and after finishing her undergraduate degree at the University of Kansas, she returned to make Chicago her home.
She received a PhD in American History and an MBA from the University of Chicago.
Sara shares her heroine's passion for social justice. In 1986, she founded Sisters in Crime to support women mystery writers. She established a foundation to support women in the arts, letters, and sciences; and has endowed scholarships at the University of Kansas, as well as mentoring students in Chicago's inner city schools. She serves on various advisory boards for literacy, and for supporting the mentally-ill homeless.
Having received many literary awards, her novels have been translated into nearly 30 languages.
In Brushback, V.I. is visited by an old flame, Frank Guzzo, whose mother, Stella, served 25 years in prison after being convicted of bludgeoning her daughter to death. Stella loathed the entire Warshawski family, especially V.I.'s mother, Gabriella. Feeling sympathy for Frank, V.I. agrees to ask around in an effort to possibly exonerate Stella. V.I.'s efforts land her in a scorpion's den of duplicitous Illinois politics, and V.I.'s primary question soon becomes whether she will live to find the answers.
In reading Brushback, I was struck by your vivid descriptions of Chicago. Your integration of character with environment has been compared to that of Hammett and Chandler. Will you talk about setting in your novels?
Chicago is the city where I came of age. The summer of 1966 was probably the most intense experience of my life. I got very involved in the neighborhood and the city. Even though it was a violent summer, I always think of it as the summer of hope, passion, and the summer when I grew up. I think that's why Chicago plays such a big role in my books. For me, it's an emotionally important place.
Chicago is like a set of small towns and neighborhoods. When I worked with kids who had never been downtown, they weren't terribly impressed by the big buildings or Christmas lights when we took them there. The details they saw through children's eyes were drunks passed out on rooftops, or wildlife running along the elevated train tracks. I learned from them that what makes a scene come alive is close-up detail, and that's found its way into my books.
How has V.I. evolved in Brushback as compared to Indemnity Only, the first novel in the series?
When I wrote Indemnity Only, there weren't women, either in real life or in fiction, doing what V.I. was doing. The year it was published, 1982, was the first year women could serve in Chicago's regular police force instead of merely being matrons at detention centers. So, V.I. had a chip on her shoulder and was much more in-your-face than she is now. V.I. had to prove her worth, but now, she's dealing with other problems. She and I are both older, more mature; and I guess, more worried about things. I'm a self-taught writer and don't think out what a protagonist should or shouldn't be doing. V.I. tends to reflect more of my own emotional life at the specific time I'm writing.
As you pen more novels about her, how do you find different issues to challenge V.I.?
I know my books are described as issue-driven, but they don't come to me that way. They unfold for me as stories. Brushback started when I met someone in charge of arranging tours for Chicago Cubs fans. He told me about the underbelly of Wrigley Field. That sparked the idea for Brushback. I had to build a story, and it evolved out of V.I.'s old neighborhood. Even though I'm not a native of Chicago, stories from the old neighborhoods grip me. I get letters from people from these neighborhoods, and they often drive my thinking about the stories.
You've been noted for writing crime novels with a feminist perspective. Will you tell us about that?
I grew up in Kansas, a very conservative state. My parents were old-fashioned in their views about what girls should aspire to. I have four brothers, and it was a struggle for me to have the same opportunities life provided them by birth. These issues mattered very much to me personally. When I began writing crime fiction for publication, I was part of the first generation of women to do so, and had to deal with a certain amount of resentment. Sue Grafton and I were writing hardboiled books in what had been a masculine genre. That personal history has always shaped how I see the world, and it goaded me into starting Sisters in Crime.
As president of the Mystery Writers of America, what, if any trends do you see now in mystery fiction?
Publishing is in freefall. Nobody knows where anything is going. Will e-books transform everything? Will self-publishing be the fate of all writers except for James Patterson and a few others? The big casualty in this brave new world has been the loss of opportunity for African American, gay and lesbian writers; and to a lesser extent, for women writers. Back in 2000, there were probably twenty-five black writers published by the big houses. Today, there are three or four. We're trying to develop ways to bring all writers to the attention of readers.
With nineteen V.I. Warshawski books, do you have a favorite?
Hardball is right up there. It deals with torture done by the Chicago police, which went on in real life for about twenty years. I think in some ways, it's my strongest novel because it drew on my personal history.
My favorite is the one published last year, Critical Mass. Everything about it was so very personal for me. It's about a scientist whose life was derailed by the Nazis in a way similar to how my family's world was upended. Actually, they were all murdered. The only people in my family to survive were my grandparents, who came to America before war broke out.
What, if anything, keeps you awake at night?
Way too many things do that. (Laughter). I worry my career's disintegrating. I worry whether people will buy my books, or if I still know how to write a book. I have to start a new book, since I'm under contract. It just never gets easier. In fact, it gets harder as you go along.
Ruby Rich, who used to review for the Village Voice, said, 'Writing is a form of auto-sadomasochism--first you tie yourself to the bed, and then you beat yourself up.'
While Brushback has gotten some great pre-publication reviews, I think, 'Oh no. I can't do it again. They'll hate the new one.'
What has surprised you about the writing life?
That there's such good will among crime writers. There's really a great deal of mutual support. In the world of the important literary writers, there are always feuds and endless quarrels, such as the classic one between Norman Mailer and Gore Vidal. Crime writers fly below the radar. We're not viewed as being as important as so-called literary writers; that creates a different and more collegial atmosphere. It's been a surprise to me, and I feel very happy to be where I am.
You're hosting a dinner party and can invite any five people, living or dead, from any walk of life. Who would they be?
I'd invite P.D. James. I didn't know her well, but she was one of the wittiest, liveliest people I've ever encountered. Politics notwithstanding, our core values were very much alike. She once took me to the Atheneum Club in London. She was the first woman to be admitted as a member. We had such a great time making all the old stodgy members go, 'tut-tut.' Another person I'd invite would be the historian Daniel Boorstin, who was appointed Librarian of Congress. To please my husband, I'd include Galileo, his favorite scientist. I'd invite another beloved crime writer who died last year, Dorothy Salisbury Davis. I was with her when she was dying. She was born Catholic and said, "I know which saint I want to greet me when I cross the river--St. Teresa of Avila. I want her because if God could put up with her rebellious spirit, he could put up with me.' And, I'd include Martina Navratilova, one of the greatest tennis competitors of all time.
Congratulations on writing Brushback, another novel by an author about whom The New York Times's Marilyn Stasio said, 'There are plenty of women among the ranks of genre authors, but not many like Sara Paretsky, whose intellectually lively mysteries featuring her gutsy Chicago private eye, V.I. Warshawski, are fired by political causes and feminist social issues.'
Mark Rubinstein
Author of The Lovers' Tango and Return to Sandara
Popular in the Community