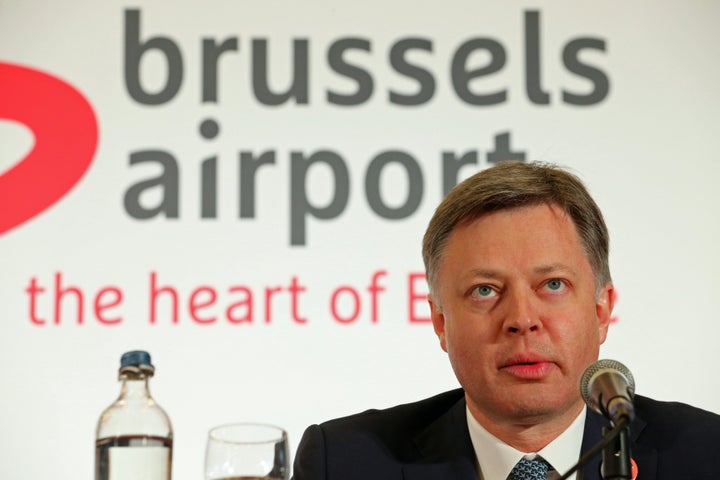 BRUSSELS, April 2 (Reuters) - Brussels Airport will partially reopen for passengers on Sunday, 12 days after suicide bombers destroyed its departure hall and killed 16 people.
There will be far fewer flights than normal at the start and tighter security will be in place, but the airport operator said the aim was to return to full capacity by summer.
The country's main airport has not handled passenger flights since two suspected Islamist militants carried out the suicide attacks. Those bombs and a separate one on a metro train in the city killed 35 people, including three bombers.
"Never will we forget this black day," the airport's chief executive Arnaud Feist told a news conference. "A restart of the operations even only partially as quick as this is a sign of hope."
"As of tomorrow, Sunday, Brussels Airport should be partially operational," he added.
Feist said the airport had planned three flights for the first day, to Faro, Athens and Turin, all operated by Brussels Airlines. The number of flights should increase over time.
The airport is one of the largest in Europe, handling 23.5 million passengers and 489,000 tonnes of freight annually. It links the Belgian capital, headquarter city of the European Union and NATO, with 226 destinations worldwide through 77 different airlines.
With its temporary check-in zone, it will only be able to handle some 800 departing passengers per hour, around 20 percent of previous capacity.
The airport says it aims to return to maximum capacity before the start of summer holidays at the end of June or early July, with some check-in desks restored in the departure hall, followed by a full reopening of that space.
Initially, the airport will only be accessible by car.
Special cameras will be set up to read number plates, there will be random checks of vehicles and the drop-off zone will not be accessible.
Passengers and their baggage will be checked on arrival and there will be increased patrols of armed police and military.
Brussels Airlines, Belgium's largest carrier and 45 percent owned by Lufthansa, has estimated the closure of its Brussels hub is costing it 5 million euros ($5.7 million) per day.
The city's association of hotel operators pointed to the closed airport as one of the main reasons for a more than 50 percent drop in overnight stays up to March 28.
(Reporting By Philip Blenkinsop; editing by Jeremy Gaunt)
Popular in the Community