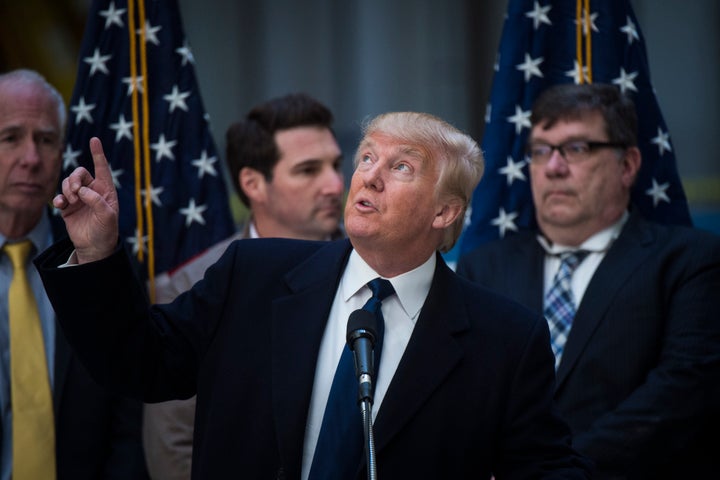 The GOP trusts Donald Trump to handle terrorism, but the broader electorate trusts Hillary Clinton more. Ohio Gov. John Kasich's positive campaign could win over voters -- if they notice it. And Republicans aren't changing their minds about Trump. This is HuffPollster for Wednesday, March 23, 2016.
CAN TRUMP CAPITALIZE ON ANTI-MUSLIM SENTIMENT? - Nate Silver: "Trump would 'close up our borders' in response to Brussels, he said...We might expect more rhetoric along these lines from Trump because the Paris and San Bernardino attacks appeared to boost his standing in national opinion polls, as well as the amount of media attention he received…. [T]he Paris and San Bernardino attacks were associated with an uptick in Trump's numbers. According to our high-sensitivity polling average, Trump improved from 28 percent of the vote just before the Paris attacks to 32 percent on Dec. 1, the day before the San Bernardino attacks. His numbers then rose further, to about 35 percent by mid-December." [538]
Trump wasn't the only candidate to rise in the polls - Texas Sen. Ted Cruz, who's staked his campaign less heavily on anti-Muslim rhetoric, also climbed in the polls in the same time period. Both candidates seem to have benefited from retired neurosurgeon Ben Carson's collapse in the polls during that time. After the Paris attacks,Trump rose 4.8 percent in the HuffPost Pollster national GOP average and continued to rise throughout December. But Cruz also rose 3.3 percentage points and followed a similar trajectory. Both had already begun climbing since about the time Carson started dropping after a series of bad debate performances. Trump may well have benefitted from his tough stance, but it's also possible he and Cruz were picking up Carson supporters.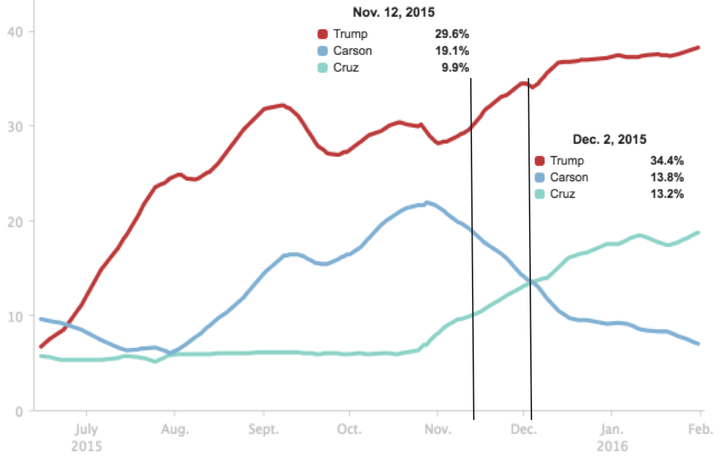 Clinton most trusted on terrorism - HuffPollster: "It's too early to tell where public opinion will land after the latest bombings, but polls conducted since the Paris attack in November….show Americans tend to trust Democratic front-runner Hillary Clinton more than other presidential candidates to handle [terrorism]....An ABC News/Washington Post poll in early March forced respondents to pick between the two presidential front-runners on who they think is best able to handle an international crisis and terrorism. Americans chose Clinton over Trump by a 29-point margin (61 percent to 32 percent) for an international crisis, and picked Clinton by a 14-point margin as the best to handle terrorism….According to exit polls from primary states that have already voted, Republicans placed the most faith — an average of 32 percent — in Trump to handle an international crisis." [HuffPost]  
WESTERN CONTESTS PLAY OUT AS ANTICIPATED - The votes aren't all counted as of publication time, but primaries in Arizona and caucuses in Utah and Idaho have all been called for the winners. On the Democratic side, Hillary Clinton won Arizona by a nearly 20-point margin. Vermont Sen. Bernie Sanders grabbed  wins in Idaho and Utah, where it looks like he'll end up with at least 50 point margins over Clinton. On the GOP side, Trump secured all of the delegates in the winner-take-all Arizona primary, beating Cruz by around 20 percentage points. But Cruz will win all of the delegates in the Utah caucus, where he finished well above the 50 percent winner-take-all threshold. The delegate race remains mostly the same for both parties after these contests: Clinton has a big lead over Sanders, and Trump still has a substantial lead over Cruz. [HuffPost]
KASICH'S POSITIVE OUTLOOK COULD HELP HIM, IF HE GETS THE MESSAGE OUT - Lynn Vavreck - "His campaign has a notably positive tone and although Mr. Kasich trails his opponents in the delegate count, he continues to campaign  mainly on empowerment and experience—and there's some evidence that people like it….[In]a virtual focus group….roughly 1,000 people were divided into four groups to watch and react to two political ads in real time.….Mr. Kasich's ad left people somewhat happier and hopeful—and didn't worry or anger them as much as Mr. Trump's. They rated Mr. Kasich's ad 10-points above the 'average political ad' in overall quality while placing Mr. Trump's ad 5-points below the average ad…..On average, people rated Mr. Kasich's ad as making them happy and hopeful—and as being higher in overall quality—and there's some evidence to suggest that despite saying Mr. Trump's ad was more memorable, Mr. Kasich's empowering message moved people: among people who saw both ads relative to those who saw no ads at all, people increased their favorable ratings of Mr. Kasich by 11 points; Mr. Trump's favorability, however, only increased by 3 points." [Princeton University]
Trump is still viewed favorably among Republicans - Frank Newport: "Republicans nationwide remain more positive than negative in their views of Donald Trump, with 55% viewing him favorably and 41% unfavorably so far in March. Despite Trump's extraordinary journey since last summer as the central -- and controversial -- focus of the 2016 election, Republicans' views of the billionaire businessman have generally held steady. His image today is roughly where it was last July….Since Trump's favorable rating peaked at 61% in January, it has been lower each of the past two months. But from a broad perspective, the month-to-month changes have been relatively minor. The relative stability in Trump's favorable percentage -- ranging between 54% and 61% -- shows that his supporters are fairly locked into their support and are not dramatically affected by what Trump says or does, or by what the media and rival candidates say about him. On a comparative basis, Trump's popularity among Republicans is roughly similar to where Mitt Romney was in February 2012 (59% favorable, 31% unfavorable)." [Gallup]  
Economic struggles and racial resentment both independently factor into Trump support - Max Ehrenfreund and Scott Clement: "The Post found that both economic troubles and feelings that whites are losing out have a strong – and independent – impact on Trump's supporters….The analysis took both factors into account, and also controlled for demographics, income and political ideology….The odds that a person who feels strongly that whites are losing out supports Trump are more than three times higher than for a demographically and financially similar person who feels blacks or Hispanics are losing out or that neither group is losing out more. Likewise, the odds a person who says he or she is struggling financially supports Trump are about twice as high as someone who says he or she is comfortable or moving up economically." [WashPost] 
HUFFPOLLSTER VIA EMAIL! - You can receive this daily update every weekday morning via email! Just click here, enter your email address, and click "sign up." That's all there is to it (and you can unsubscribe anytime).
WEDNESDAY'S 'OUTLIERS' - Links to the best of news at the intersection of polling, politics and political data:
-Chris Cillizza explains why Donald Trump might have a better chance of being elected president than Ted Cruz does. [WashPost]

-Jonathan Allen argues that Hillary Clinton owes her lead over Bernie Sanders to African American women. [Roll Call]  
-Russell Dalton explores why today's millennials are less likely to vote than young people in the '60s and '80s. [WashPost]  
-The Economist highlights Clinton's problem with white men. [Economist]
-Pew Research finds that women across the world are generally more likely than men to be devoutly religious. [Pew]
-Americans are no more likely to trust Apple with their security than they are to trust Google, Microsoft, or Amazon. [Reuters]
REAL LIFE. REAL NEWS. REAL VOICES.
Help us tell more of the stories that matter from voices that too often remain unheard.