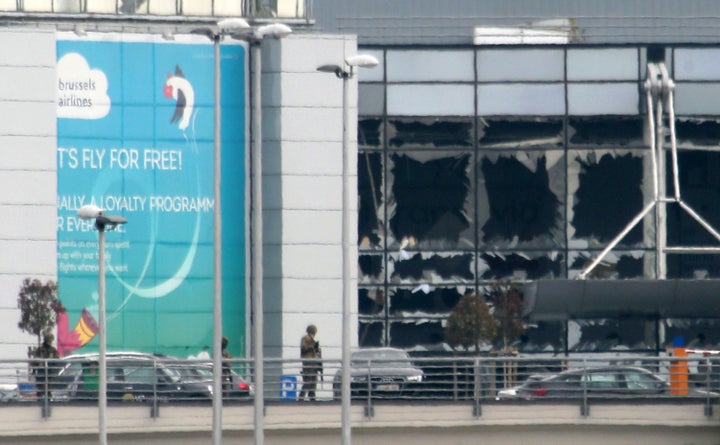 Authorities in both cities say there are no known direct threats at this time but that there will be an increased law enforcement presence as a precautionary measure after explosions at a Brussels airport and train station killed at least 34 people.
In D.C., Metro Transit Police says they're adding K9 sweeps and patrols through the subways.
The NYPD is also increasing its presence, with the Port Authority Police Department also stepping up security at all three major airports, an official said.
"Until we learn more, the department has deployed additional counterterrorism resources across the city including: the Counterterrorism Response Command, the Strategic Response Group, and Hercules Teams," the NYPD said in a statement. "These teams have been deployed to crowded areas and transit locations around the city out of an abundance of caution to provide police presence and public reassurance as we closely follow the developing situation oversees."
The Department of Homeland Security is "closely monitoring the unfolding events in Brussels and we remain in contact with our counterparts in the region," the agency said in an email to The Huffington Post. "DHS will not hesitate to adjust our security posture, as appropriate, to protect the American people."
News of the blasts left employees at JFK International Airport clearly rattled but on guard. Standing underneath a giant American flag at the entrance of Terminal 1 with three plainclothes Port Authority officers, Officer F. Annunziata told HuffPost: "What happens there," referring to Brussels, "could happen here."
Annunziata said he watched the Brussels attacks on TV before heading to his shift at JFK Airport. At roll call, his superiors briefed him and his fellow officers on the situation in the Belgian capital and told them to be extra vigilant Tuesday.
Port Authority Police has since stepped up security at the airport, Annunziata said, placing officers at every terminal, with extra resources sent to terminals with international flights.
Asked if he was looking out for anything specific in light of the attacks in Brussels, Annunziata said officers at the airport "look for the same things everyday," but didn't elaborate.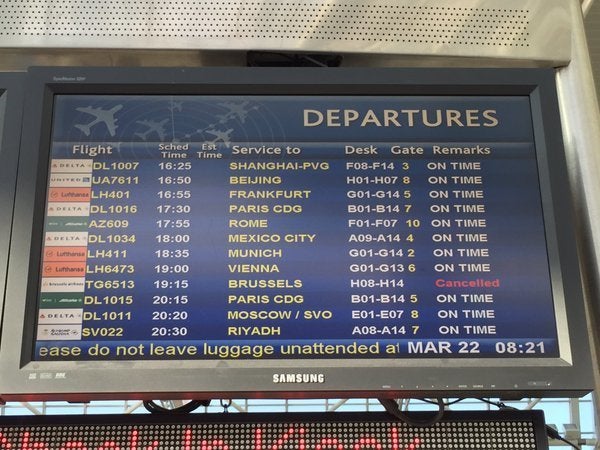 Charles Henry Jr., who works as an oversized baggage handler at JFK's Terminal 1, also said he watched news of the attacks before heading into work Tuesday morning.
"That's never good," he said of the attacks. "We (sic) the front line," he added, referring to airport employees.
Henry said he saw an older man whose bag was "smoking" on Monday, and Port Authority officers quickly arrested him. "We see it all here," he said.
On a nearby monitor listing Tuesday's departures from Terminal 1, the lone flight on Brussels Airlines to Brussels was listed as "canceled." No staff were at the airline's counter.
Brussels Airport said it has canceled all flights until Wednesday morning.
American Airlines canceled Tuesday's flight 751 from Brussels to Philadelphia. It is also offering refunds or flight changes to travelers with similar itineraries scheduled for Wednesday.
United Airlines also announced that all flights to and from the Brussels international airport have been suspended until further notice.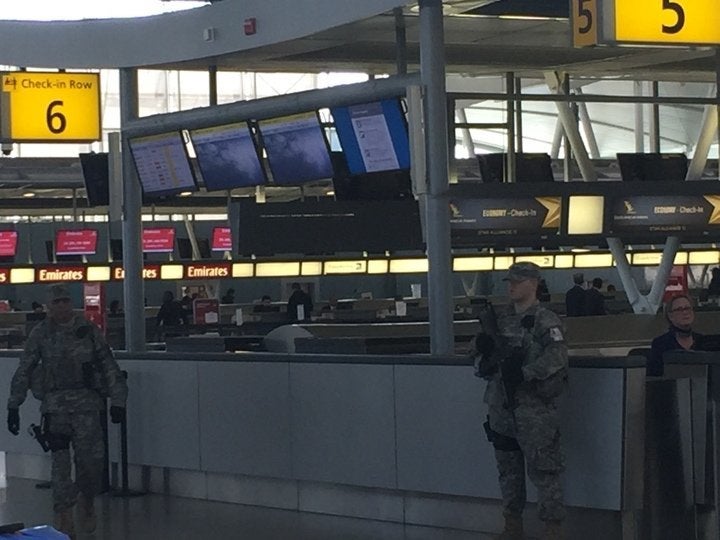 In D.C., the atmosphere at Reagan National Airport, which provides domestic air travel for the Washington, D.C. area, was calm on Tuesday.
There were some signs of heightened vigilance. DHS agents patrolled the terminal in pairs. An officer who identified himself as Jason said that DHS had increased the number of uniformed patrols as well as undercover agents in response to the overseas attacks.
There was an announcement over the airport speaker system that due to increased security measures, non-ticketed passengers would not be allowed past security.
Diane Cummings of Alexandria, Virginia, was going to visit her daughter in New Orleans.
"[The Brussels attacks] made me think twice just for a moment, but I wouldn't change my plans," she said.
"I think we need to be very careful and thoughtful when we respond to these situations," she added, cautioning against overreactions.
Rebecca Berson, Russ Adams and Debbie Adams of Springfield, Virginia, were headed to Jacksonville, Florida, to visit family. They said they were sad to hear about the Brussels attacks, but that it did not make them afraid to fly. They did say however that they're concerned about the rise in security problems in Europe, which would make them less comfortable flying there.
"This is not a good time to go to Europe," Russ Adams said.
Related
Before You Go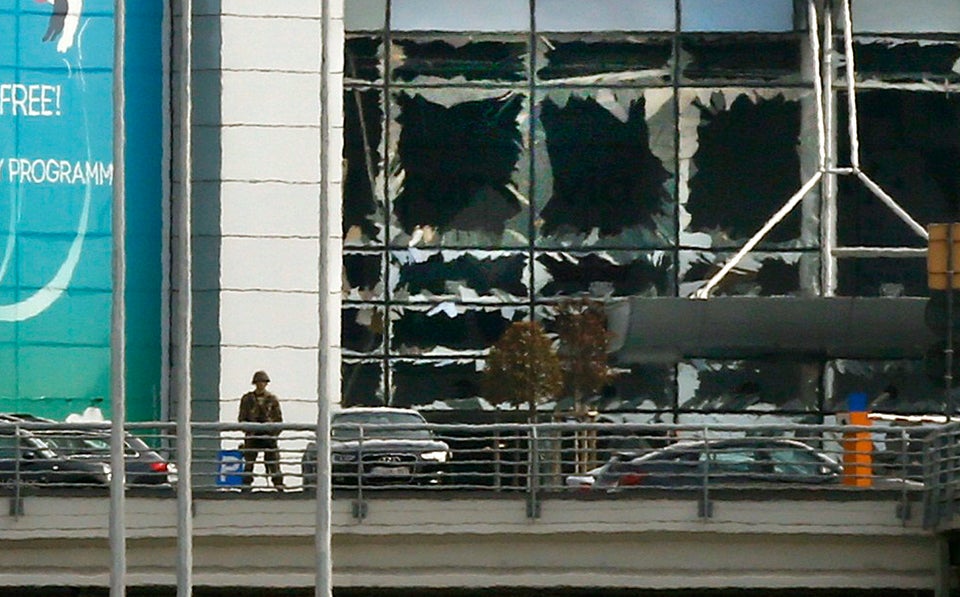 Explosions In Brussels
Popular in the Community