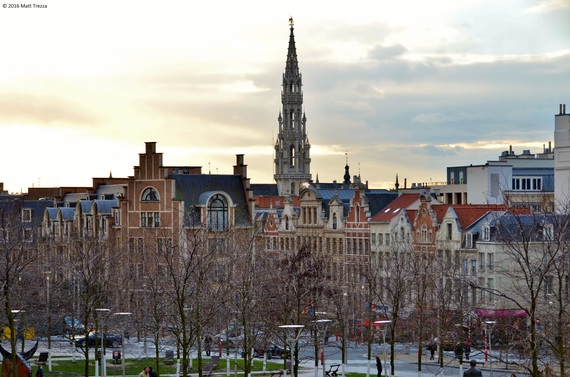 This past January, not too long after the devastating terror attacks in Paris, Donald Trump held forth to Fox Business' Maria Bartiromo about the threat of terrorism in Europe. He specifically called out the Belgian capital, Brussels, saying:
"You go to Brussels -- I was in Brussels a long time ago, 20 years ago, so beautiful, everything is so beautiful -- it's like living in a hellhole right now."
Following the devastating ISIL strike on Brussels last month, the leading GOP candidate doubled-down on those comments:
Unfortunately for Trump - but fortunately for us! - he's wrong. Things are still "so beautiful" there, and this charming northern European capital is well worth a visit. So let's stick it to ISIL (and Trump) and check it out! Here's where to start.
The Grand Place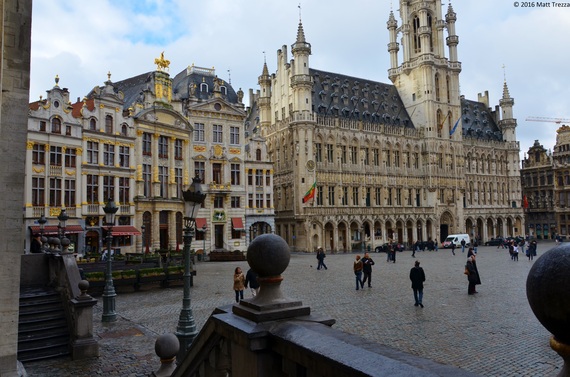 The beating heart of Brussels is its Grand Place, the city center's main historic square. A UNESCO Heritage Site, this large medieval plaza is surrounded by period buildings that house nice restaurants, expensive hotels, and high-end shops. The city's magnificent Gothic-style Town Hall stands on one edge of the square. If you visit from August 12-15, you'll catch the annual Flower Carpet, when the square is covered with a spectacular "living carpet" of flowers.
Manneken Pis Fountain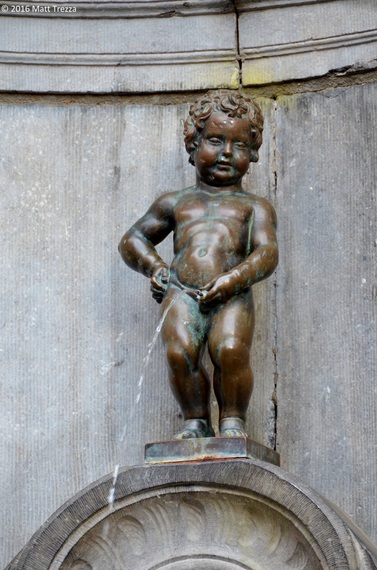 A short walk southwest from the Grand Place is Brussels' famously cheeky cultural icon, Manneken Pis. There's no other way to put this - it's a fountain of a urinating boy. Dating back to 1388, there's several legends about its historical origin, but today it's one of the city's best-known landmarks. There's even a nonprofit group that dresses him in different outfits, and they keep an online calendar of his wardrobe. In deference to gender equality, northeast from the Grand Place is the fountain Jeanneke Pis - this one featuring a girl.
The Bourse


Northwest of the Grand Place is the Brussels Bourse, the city's historic stock exchange. Completed in 1873, the building is covered with lovely statues, some of which were carved by Auguste Rodin. Following the terror attacks in March, the steps of the Bourse and the square in front became a makeshift memorial to the victims and a rallying place for people to express their grief and solidarity. On March 25, three days after the attack, an orchestra played a rousing rendition of 'Ode to Joy' on its steps, showing Brussels' strength in the face of adversity.
The Brussels Cathedral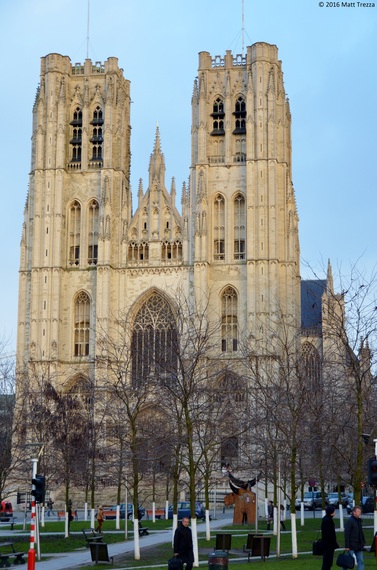 Due east of the old city center, on top of a hill, stands the Cathedral of St. Michael and St. Gudula, Brussels' most ornate cathedral. It's believed to have been designed by the same architect who built the Town Hall, Jan Van Ruysbroeck. Like most churches of its kind, it features stained glass windows, elaborate statuary, and a massive pipe organ. It also has a nice vista overlooking the old city from its hilltop position and wooden lounges out front for enjoying the view.
The Royal Palace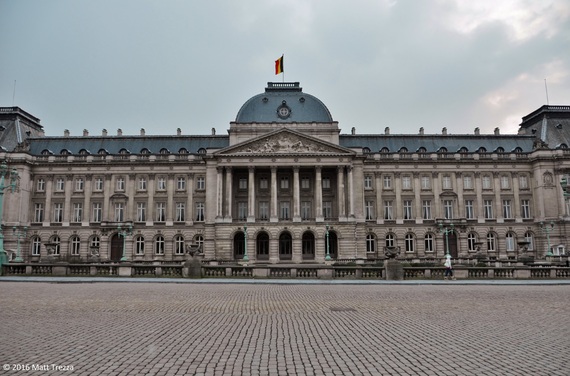 Continuing southeast of the cathedral, you'll find the Royal Palace of Belgium, official seat of the Belgian monarchy. While King Philippe and Queen Mathilde actually live in another palace on the outskirts of the city, the Royal Palace is where the king exercises his duties as head of state. The neoclassical edifice was a century-and-a-half in the making, and is open to the public during summer months.
The European Parliament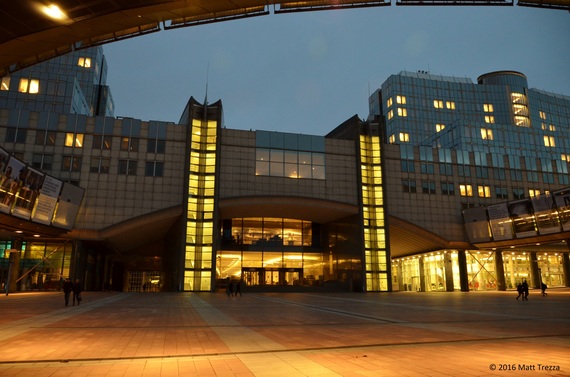 A short walk past the palace is the Place du Luxembourg and, behind it, the post-modernist sprawl of the European Parliament. The legislature's sessions are open to the public and tours of the building are also available.
Cinquantenaire Park and Pavilion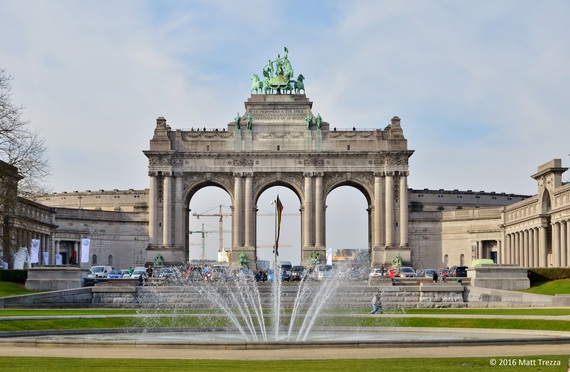 Our last stop in this direction, about a fifteen minute walk from the EU Parliament, is the Parc du Cinquantenaire - also known as the Jubelpark. This expansive urban park is crowned with a grand triumphal arch that commemorates the fiftieth anniversary of Belgian independence. It was the site of the country's 1880 Nation Exhibition and preserved by the city as a park afterwards. The complex now houses museums and exhibition space, and the park is a great place to stroll, play, or picnic.
The Atomium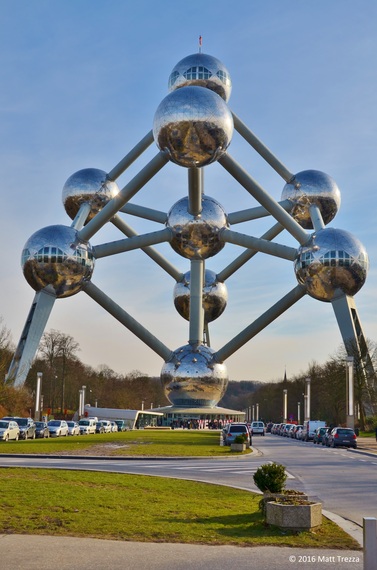 While there's other points of interest on my Brussels city map below, the final landmark worth noting here is the Atomium, a massive molecule built for the 1958 World's Fair. This towering structure, more than three hundred feet tall, has nine interconnected sphere-shaped chambers containing exhibition halls and a restaurant with a panoramic view of the city. The Atomium is on the northern edge of Brussels, though easily reached by metro. A 2013 CNN report dubbed it "Europe's most bizarre building."
Comic Book Murals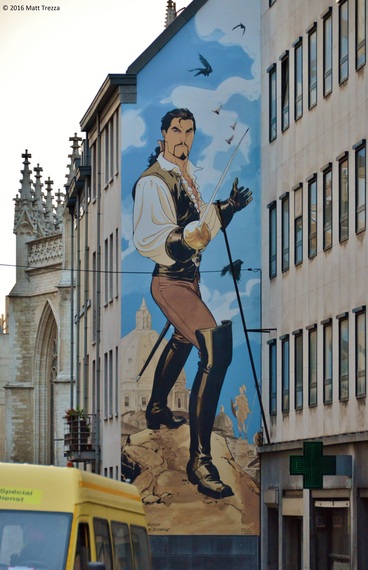 As you stroll around Brussels, you might also notice that the sides of many buildings boast top-to-bottom paintings of cartoon characters. These are the city's famous Comic Book Walls, and you can find them all over Brussels. Many famous comic strips originated in Belgium - Americans are probably most familiar with The Adventures of Tintin.
Fries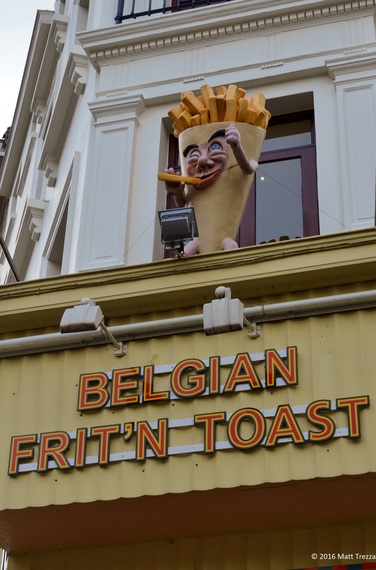 Yes, Belgians have raised the humble fry to something of an art form. They're usually eaten topped with mayonnaise, or a kind of curry ketchup. They also often accompany a bucket of cooked mussels, a variation called moules-frites. All over the city you'll see vendors and restaurants selling fries, which are traditionally held in a paper cone.
Sprouts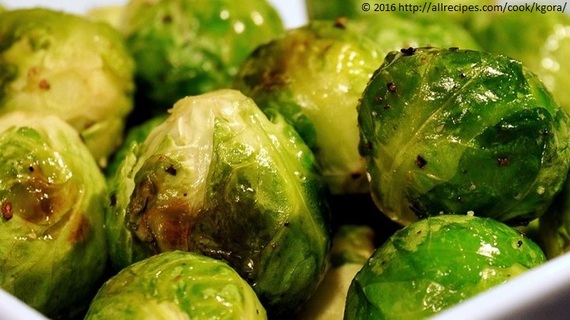 Of course, there's Brussels sprouts - the tiny cabbages packed with nutrients and flavor. While the nearby Netherlands now produces more of them than Belgium, the hearty vegetables probably wouldn't have existed without being cultivated in Belgium shortly after the Seventeenth Century. Have some with your fries!
Beer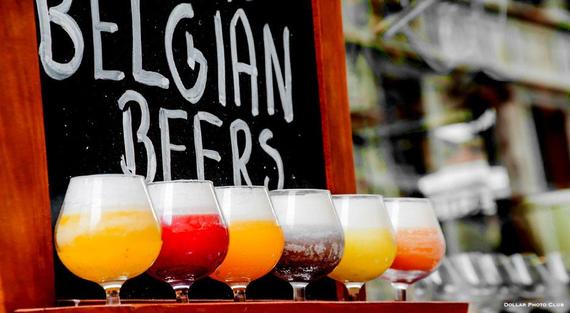 Looking to wash down that plate of sprouts and moules-frites? Belgium's beer industry is internationally known and ready to help. The country has been brewing beer since the Middle Ages, with monasteries often selling it to raise funds. There's more than 1,100 varieties of Belgian beer, and (like wine) different types are usually paired with certain kinds of food. Stella Artois, Duvel, and Leffe are well known Belgian breweries.
Chocolate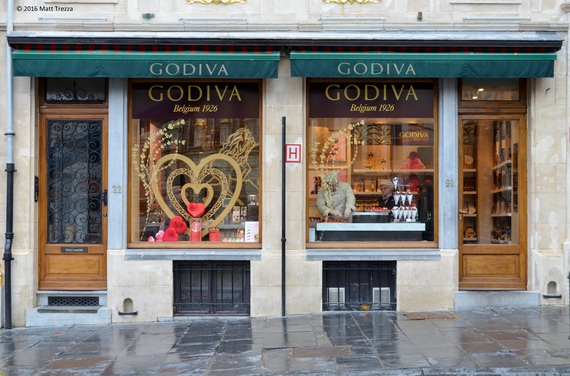 Time for dessert. Who doesn't love chocolate? Certainly not Belgians, whose chocolatiers have been tempting the world since 1635. Belgian companies including Godiva, Neuhaus, Cote d'Or, and Guylian produce more than 172,000 tons of chocolate, annually. Show up and dig in!
Waffles


When it comes to sweets, let's not forget waffles. In the U.S. people often think of Belgian waffles as being large and made of freshly poured batter. This is true in Belgium as well, but typically waffles here (also spelled wafels) are eaten as desserts or street snacks. There's more than a dozen different kinds of actual Belgian waffles. In Brussels, they're traditionally topped with confectioner's sugar, though many shops sell them piled high with whipped cream, chocolate syrup, and fresh fruit. Enjoy!