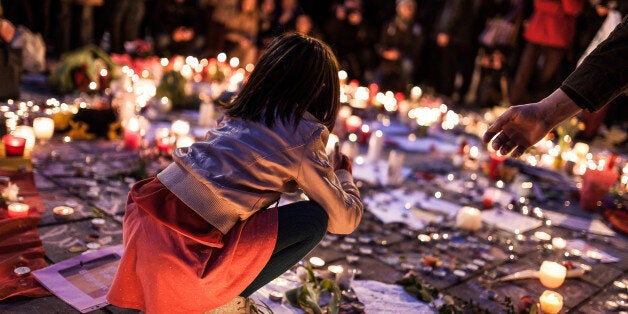 BRUSSELS -- For some time, a sword had been hanging over Brussels, the capital of Belgium and Europe. This ominous intuition became clear when it turned out that the attacks in Paris on Nov. 13 had been partially organized from Belgium. After the Paris attacks, suspect Salah Abdeslam, a 26-year-old Moroccan Frenchman, went into hiding in Molenbeek, a Brussels neighborhood. For months, Belgian security officers searched for him.
A large pizza order, traces of DNA and meticulous telephone surveillance helped lead to the house where Abdeslam was captured last week, just a stone's throw from the home where he grew up. "We've got him," Theo Francken, the state secretary for asylum and migration tweeted -- an allusion to President Obama's speech after Osama bin Laden was killed. But this did not eliminate the danger. The state secretary realized this as well: he deleted his tweet. Security officials sensed that there was still something afoot.
On March 22 at about 8 a.m., the sword fell. Two attacks targeting the airport and a subway station in the capital killed at least 32 people and left about 260 wounded. The images are surreal and at the same time gruesomely real.
We have to resist framing our response in a way that benefits terrorism.
The so-called Islamic State has claimed credit for the attack via a "news flash" on its own web site, Amaq. The reason: Belgium is taking part in the international coalition against ISIS. "A group of the soldiers of the Caliphate ... kill[ed] a number of Crusaders," it reads. "We promise the Crusader states allied against the Islamic State with dark days, in response to their aggression against the Islamic State, and what is coming is worse and more bitter."
It is unclear why the group went into action now. Considering the planning necessary for such an attack, it is unlikely that it is a reaction to Abdeslam's arrest. It is more plausible that the terrorist cell with which Abdeslam was presumably linked was feeling the net of the security services closing in and therefore decided, according to the principle "use it or lose it," that now was the time to take action.
In such extreme circumstances, the first reactions are often extreme as well. That's normal. Train travel and public transportation in Brussels have been fully shut down. Military troops evacuated train and metro stations. People were advised to stay where they were. Metal detectors have been placed in front of the entrances to some buildings. Brussels was a city under siege -- wounded and shocked, but ready to strike back. Special units, supported by federal police, carried out house searches at various locations. All measures were being taken: armored vehicles, drones, helicopters, special weapons, you name it.
Our way of life is only in jeopardy if we give in to fear and take draconian measures that suspend liberal values.
And the reactions from some Belgian politicians are exaggerated -- understandable, of course, but exaggerated nonetheless. They talk of an attack on our liberal European values and our way of life. "We have woken up in a new world," responded Wouter Beke, the chairman of the Christian-Democratic Party CD & V. Emotionally, an understandable reaction, but rationally, this is nonsense. The world has not changed. Something terrible has happened, to be sure.
But no, our way of life is not in jeopardy. That can only happen if we give in to fear and take draconian measures for security's sake that temporarily suspend some liberal values. Bart de Wever, chairman of the New Flemish Alliance political party, already pleaded in December for a Belgian "Patriot Act" that would give wide-ranging capabilities to intelligence agencies. Most politicians did not like the idea at the time, but the brutal attacks could change all that.
Turkish President Recep Tayyip Erdogan claims his country warned Belgium in July of last year about a foreign fighter, Ibrahim El Bakraoui -- one of the attackers in Brussels. If this painful claim is true, it could increase the demand for a more powerful intelligence agency. But what is needed is not a more powerful intelligence and security agency but a more efficient and smarter one.
If we fall into the trap of fear, we help create a world that is just what the terrorists want.
We have to resist framing the question in a way that benefits terrorism. "Talking of war dignifies Daesh [an Arabic term for ISIS], which wants to be seen as having a state and an army of warriors and martyrs," François Heisbourg, president of the International Institute for Strategic Studies correctly said to the New York Times. We are waging a battle against terrorist cells and individuals, against criminals - certainly not against Islam. Belgium needs to combat terrorism in a decisive but careful way -- so not to further polarize society or strengthen resentment of alienated and frustrated youth. Of course, Vlaams Belang, a far-right Belgian political party with only three seats in Belgium's House of Representatives, will play the politics of fear, hoping to win supporters.
On the day of the attacks, the Flemish-British stand-up comedian Nigel Williams tweeted, "Remember, they only win when we let them. They are the few, we are the majority. Terror never wins." Maybe this is our most important weapon against homicidal fanatics: resolute realism. If we fall into the trap of fear, we help create a world that is just what the terrorists want.
Translated by Geoffrey C. Howes
PHOTO GALLERY
Brussels Explosions
REAL LIFE. REAL NEWS. REAL VOICES.
Help us tell more of the stories that matter from voices that too often remain unheard.