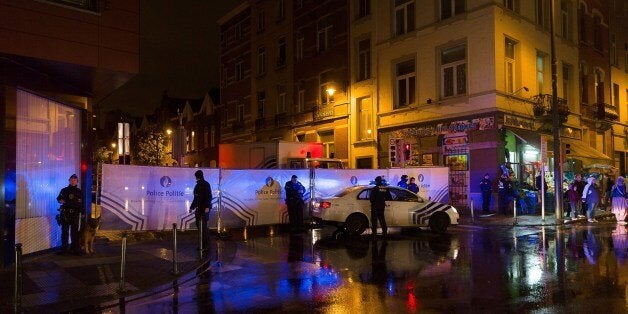 Brussels remained on lockdown for a third straight day on Monday as authorities continued to carry out sweeping raids in an effort to capture Salah Abdeslam, the fugitive wanted in connection with the deadly terrorist attacks that struck the French capital.
The city, Belgium's capital, has been on high alert since Saturday due to what authorities have said was a potentially serious and immediate threat, and amid fears that Brussels could face attacks like those that swept Paris.
24 raids and 21 arrests Police conducted several raids and arrested at least 21 people since Sunday but did not find Abdeslam, who they believe returned to Belgium after the Paris attacks, The Guardian reported. Belgian Prime Minister Charles Michel said at a news conference on Sunday evening that authorities still feared "an attack similar to the one in Paris, with several individuals who could possibly launch several attacks at the same time in multiple locations."
Threat level 4 Brussels, with a metropolitan area population of approximately 1.8 million people, has been shut down under a threat level of four--the highest possible--since Saturday. On Monday, schools, banks and malls were closed, and the metro was shut down. Some shops in the suburbs were open, and buses were running normally, Belgian Interior Minister Jan Jambon told RTL radio. But the city's center was quiet with a heavy presence of armed police, locals reported.
10 days on the run Monday marked 10 days since the November 13 Paris attacks in which 130 people died in a string of shootings and suicide bombings. Belgian native Abdeslam has evaded police for 10 days. The Islamic State claimed responsibility for the violence.
3 people charged Belgian authorities have charged three people in connection with the Paris attacks so far, according to the BBC. Seven out of nine of the attackers died in the attacks, French media reported. Two of the men detained said they drove Abdeslam back to Brussels from Paris, but claimed not to be involved in the violence.
1,000 Belgian police Jambon, Belgium's interior minister, told local radio that approximately a thousand police officers were searching for Abdeslam. It is unclear why he hasn't yet been found or where's he's hiding. "He must have a lot of support on our soil," Jambon has said.
Belgium has been at the center of the investigation into the Paris attacks. The terrorists who died on November 13 were French and Belgian, and the suspected mastermind behind the attacks, Abdelhamid Abaaoud, was from the Molenbeek neighborhood in Brussels. He was killed in a police raid last Wednesday.
More Stories from Vocativ:
Calling all HuffPost superfans!
Sign up for membership to become a founding member and help shape HuffPost's next chapter