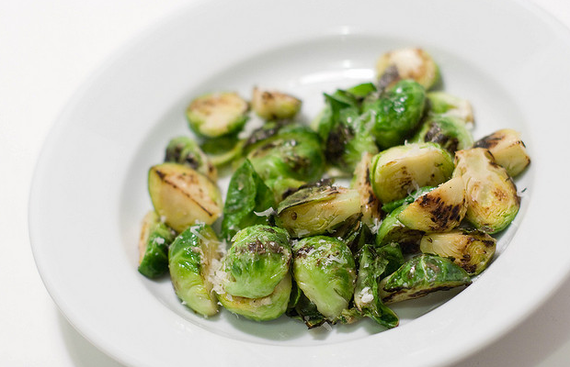 For the last half of the century, brussels sprouts have represented everything we despise about vegetables. We envision their mugshot is at the top of the FBI's most NOT wanted list as the mere mention of the vegetable invokes a physical reaction of disgust for many people.
Unfortunately, the hatred of brussels sprouts is an acceptable cultural norm that has been with us for generations. It's so strong that even those who have never tried a single sprout are convinced they don't like them.
Fortunately for this cousin of the cabbage, there's a glimmer of hope.
Ever since being named Serious Eats' ingredient of the year in 2009, brussels sprouts have been enjoying a bit of popularity. Dare we say a renaissance.
Thanks in part to their perfect pairing with bacon and the realization that they have a great nutritional profile, brussels sprouts are finally getting some of the respect they deserve.
In order to help you get the most of our your experience with brussels sprouts and help you get your family on board, here are a few culinary tips to consider:
STORING
For best results, store brussels sprouts unwashed and untrimmed in a plastic bag, in the refrigerator. If you want to freeze them, blanch them for three to five minutes.
PREPARING
First cut the bud from the stalk and remove any loose surface leaves. Wash them well, under running water, to clean out inner leaves. Brussels sprouts cook quickly, and taste best when quartered, or cut into smaller pieces.
COOKING
Don't overcook them, or over-boil them! When cooked properly, brussels smell and taste delicious with a nutty tone. Overcooking leads to a gray, wilted color, when they should be bright green. They can also begin to emit a sulphur-like smell when cooked too long. More importantly they can also lose their nutritional value.
Roasting brussels is a great way to get optimized flavor. Halve the sprouts, then sprinkle them with olive oil, salt, and pepper and put them in the oven at 450 degrees for 20-25 minutes. This will caramelize the outer leaves and deliver delicious flavor!
Sautéing brussels with quartered artichoke hearts, Kalamata olives, and a little salt and pepper brings a new twist to the vegetable.
Healthy Hash with Caramelized Shallots - Use shredded brussels sprouts in a hash for breakfast.
A Side Dish - Serve brussels sprouts roasted with balsamic vinegar. The results will be a little crunchy and a little tangy - vegetable nirvana!
The Simple Salad - Toss together quartered brussels sprouts, sliced red onions, walnuts and goat cheese with olive oil and balsamic vinegar for a light, healthy , tasty salad that will leave you wanting more!
Protein Power - Serve brussels sprouts with quinoa (and any number of things - go crazy!) and you've got a double dose of low-calorie protein.
Dessert - Sweet brussels sprout cake. It's a thing. Actually this may be the secret to converting non-believers. Food52 publisher Janneke Verheij says she converted the biggest brussels sprout hater in her house with this recipe!