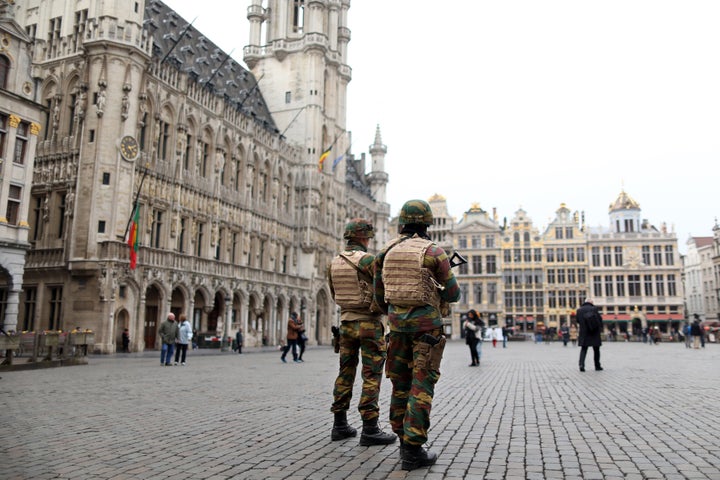 BRUSSELS, March 24 (Reuters) - Belgium's interior and justice ministers offered to resign on Thursday over a failure to track an Islamic State militant expelled twice by Turkey as a suspected fighter and who blew himself up at Brussels airport this week.
Interior Minister Jan Jambon said Prime Minister Charles Michel had asked him and Justice Minister Koen Geens to stay on ― "In time of war, you cannot leave the field," Jambon said.
Belgian authorities are facing embarrassment after Turkey said on Wednesday that last year Ankara expelled back to Europe Brahim El Bakraoui, one of the suicide bombers who carried out the attacks on Tuesday, and warned Belgium he was a militant.
His presence in Turkey, let alone on the Syrian border, was enough to have ensured that Bakraoui, 29, should have been jailed on his return home since it broke terms of his parole from a nine-year sentence for armed robbery, the ministers said.
Geens told RTBF public television during a joint interview with Jambon that both Turkish officials and Belgian diplomats in Turkey who received the warning could have been "more diligent" in stressing to Brussels that Bakraoui clearly fit the profile of a dangerous foreign fighter to be held and questioned.
The Dutch government confirmed on Thursday that Bakraoui had been expelled by Turkey on a flight to Amsterdam in July but that he had not been held because he was not on wanted lists.
Noting Bakraoui was wanted for breaking parole over his criminal activities, Geens said the Turks' warning ought to have let Belgium class him as a militant: "That was the only moment the link could have been made," he said. "And we missed it."
He was a wanted man since late August, Geens noted: "The question is did we show enough diligence in trying to find him?"
Dutch justice minister Ard van der Steur said Bakraoui was not registered on alert systems at Schipol airport.
"He wasn't registered anywhere and the Turkish authorities didn't give the reason why he was deported," van der Steur told a news conference. "Turkey did not follow normal procedures and ...tell us he was being deported to the Netherlands."
Dutch authorities released a letter on Thursday by Turkey's ministry of foreign affairs about El Barkoui. 
A public prosecutor also told Belgian media on Thursday that Bakraoui's younger brother Khalid, who blew himself up on the Brussels metro, could have been sent back to jail for breaking parole on a car-jacking conviction in May but was released as a magistrate took the view it was a minor infraction.
He was wanted from October, shortly before the Paris attacks, when he stopped registering with his parole officer and put on international wanted lists, including Interpol, in December when he was identified as having rented an apartment in Belgium linked to the Islamic State militants in Paris.
U.S. sources said on Thursday that both brothers were on U.S. counter-terrorism watch lists before the Brussels attacks, but it was not clear when they had been added.
Asked about international criticism of the Belgian security services since November's Paris attacks, planned in Brussels by what investigators believe is the same network as this week's attacks in the Belgian capital, Geens said systems should be reviewed but also noted that other countries had been attacked too and cited in particular Sept. 11, 2001 in the United States.
"We must be very critical of ourselves," he said.
"On the other hand ... we must note that such events have occurred in the countries with the highest security, with the best intelligence services in the world."
Investigators are convinced the same jihadist network was involved in the November Paris attacks on cafes, a sports stadium and a concert hall that killed 130 people.
Public broadcaster VRT said investigators believed Paris attacks suspect Salah Abdeslam, arrested last Friday, probably planned a similar shooting and suicide bomb attack in Brussels.
"The terrorists were planning the same scenario as in Paris, only it partially failed," VRT said.
One man was killed in a shootout with police on March 15 that led to the discovery of assault weapons and explosives and the arrest of Abdeslam and another suspect on March 18.
Federal prosecutors told Flemish newspaper De Morgen on Thursday that they couldn't confirm reports in the newspaper La Derniere Heure that the Bakraoui brothers may have had plans to target a nuclear power plant. 
Referring to an incident in December that prosecutors confirmed in which militants covertly filmed the home of an unidentified senior official in the nuclear industry, the paper quoted a police source as saying two of the suicide bombers, brothers Khalid and Ibrahim Bakraoui, had filmed the daily routine of the head of Belgium's nuclear research and development program.
Belgium lowered its security alert level one notch down from four, the highest level, to three; but officials did not say what that would mean in terms of security measures that have seen a heavy police and military presence in Brussels.
Islamic State posted a video on social media on Thursday calling the Brussels blasts a victory and featuring the training of Belgian militants suspected in the Paris attacks.
SECURITY COOPERATION
King Philippe, Prime Minister Michel and European Commission President Jean-Claude Juncker attended a memorial event at parliament.
"The cries of distress and pain, the sirens and the apocalyptic images will remain forever engraved in us," Michel said.
French Prime Minister Manuel Valls demanded a "strong European response," but officials say many states, including France, withhold their most cherished intelligence despite a mantra of willingness to share information.
The lawyer of the chief surviving suspect linking the Paris and Brussels attacks, 26-year-old French national Abdeslam, said he wanted to "explain himself" and would no longer resist extradition to France. Salah, said lawyer Sven Mary, had not been aware of the plan for the Brussels airport and metro attack that was carried out by men who had shared hideouts with him.
After calls from U.S. Republican presidential frontrunner Donald Trump for the possible use of torture in such cases, Belgian officials have faced questions over their failure to extract prior intelligence from Abdeslam.
Bakraoui's brother Khalid, 26, a fellow convict, killed about 20 people at Maelbeek metro station in the city center. De Morgen newspaper said he had violated the terms of his parole last May by maintaining contacts with past criminal associates, but a Belgian magistrate had released him.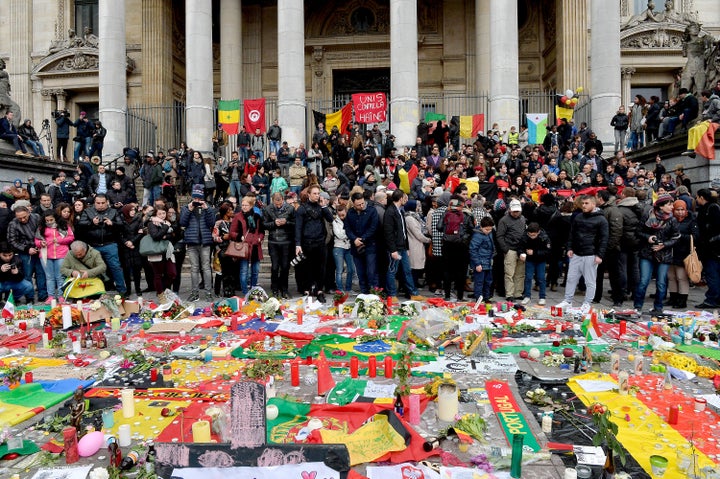 BROTHER'S CONDEMNATION
Security sources told Belgian media the other suicide bomber at the airport was Najim Laachraoui, a veteran Belgian Islamist fighter in Syria suspected of making explosive belts for November's Paris attacks.
Laachraoui's younger brother Mourad issued a statement condemning his actions, saying he had had no contact with him since he had left for Syria. It was the first public reaction from a family member of one of the Brussels attackers.
The third suspect captured on airport security cameras pushing a baggage trolley into the departures hall is now the target of a police manhunt. He has not been named.
The bespectacled man wearing a cream jacket and a black hat ran out of the terminal, federal prosecutors said, and a third suitcase bomb, the biggest of the three, exploded later as bomb disposal experts were clearing the area, causing no casualties.
The U.S. State Department said it was trying to account for U.S. citizens in Brussels, including two who were U.S. government employees or their family members. Identifying victims and even some of the 316 wounded has proved difficult.
U.S. Defense Secretary Ash Carter said the bloodshed in the Belgian capital showed European allies should do more to fight Islamic State alongside American efforts in the Middle East.
The attacks highlighted Belgium's problem with some 300 locals who have fought in Syria, the biggest contingent from Europe in relation to its national population of 11 million.
At the time of the Paris attacks, its security service had fewer than 600 staff. The government has since raised spending on police and intelligence.
PHOTO GALLERY
These Are The Victims Of The Brussels Attacks
Calling all HuffPost superfans!
Sign up for membership to become a founding member and help shape HuffPost's next chapter
BEFORE YOU GO
PHOTO GALLERY
World Reacts To Brussels Attacks