 "What does it mean to call a country democratic when government critics are exiled and branded terrorists? Who decides what is patriotic and what is not? Whose voices are actually being heard? Whose rights are really being protected?" -- Sunila Abeysekera, Prominent Sri Lankan Human Rights Activist.
Sometimes winners lose.
It's a hard pill to swallow for any activist. After years of struggling to end a violent armed conflict, to usher one's country from a state of "war" to a state of "peace," that the post-war environment should emerge as more corrupt and less safe can be downright disheartening.
In Sri Lanka, those who worked tirelessly to help end the decades-long war are losing the very thing they've fought for, peace and reconciliation. Sri Lankan activists, journalists and outspoken government critics are being arrested, disappeared, tortured and exiled for daring to challenge the Sri Lankan government on its policies during the final phase of the 30-year war against the Liberation Tamil Tigers of Eelam (LTTE). Many of these same activists were once praised for their work in Sri Lanka, while included in international efforts to bring the war to a responsible end. Now, government-sponsored media outlets are vilifying them for speaking against the way in which their government "won" the war in 2009 and thereafter.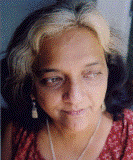 The first time I saw Sunila in action was in Nepal in 2003.
Sunila had been invited to facilitate a groundbreaking workshop on Conflict Transformation between members of the Nepali government and supporters of the rebel Maoists who were, at the time, engaged in a bloody conflict with one another. The Urgent Action Fund for Women's Human Rights sponsored the workshop, and I was fortunate to attend as their representative.
When the workshop began, delegates on both sides were visibly uncomfortable, and the first round of introductions quickly deteriorated into open argument. I felt it was a lost cause. But by the end of the three-day workshop, Sunila had those same folks sitting together, working together, mapping out their hopes and dreams for Nepal's future on poster board. It was an historic moment and, to date, the most incredible example of nonviolent conflict transformation and peace-dialogue that I have ever witnessed.
Sunila is a renowned thinker and dedicated campaigner of human rights worldwide and her contribution to ending armed conflict in the world has been immeasurable. In the many years I have worked in the International Women's Human Rights Movement, Sunila's name is always spoken with reverence and respect, and her efforts have been celebrated and awarded by everyone from Human Rights Watch to the United Nations.
In the past couple of months, the state-run media outlets in Sri Lanka have labeled Sunila a terrorist, a rebel sympathizer and a traitor, claiming that she sold out her country in exchange for U.S. dollars and international prestige. Private blogs and chat rooms have branded her much worse, attacking her personally, calling for her house to be burnt and her family harmed.
As the smear campaign was mounting, Sunila was in Geneva testifying before the United Nations Human Rights Council (UNHRC), and it soon became clear that she could not safely return to her native country.
I spoke to Sunila, who has chosen to live outside the country temporarily, about what is really behind these vicious personal attacks.
What was clear to many of us in Sri Lanka was that the war had ended, but there was still no feeling of peace. The Tamil people, who were most affected by the war, were still being marginalized and abused. There is no political discussion with the Tamil representatives in Parliament, nothing has changed in the central government, which is what the war had originally been about: increased political power and dissolution of old power structures. So the brutality and violence continues, just outside of the "war" structure. The entire country has become a site of gross violations of human rights, as journalists and critics continue to disappear.
Throughout the war in Sri Lanka, Sunila and her colleagues worked for peace and increased human rights. And now, after the war's brutal end, they continue to advocate for an outside investigation on behalf of the Tamil victims. Since 2009, it has proven to be a difficult and uphill task. Several high-ranking diplomats told Sunila directly that the war in Sri Lanka was the one shining example of military success against a terrorist faction in the world, and therefore no one was willing to paint it in a negative light, regardless of the mounting evidence of war crimes committed in the end.
Then, just a few months before the March 2012 sessions of the UN Human Rights Council, the government of the United States changed its tune, sponsoring a resolution that called for an impartial investigation into the government's tactics leading to the war's end and the post-war humanitarian efforts. Sunila and others were asked to testify in Geneva about their understanding of the events.
The Sri Lankan government vehemently fought the resolution, counting on recent political ties with China, Russia, Cuba and Iran to help defeat it. In the end, the U.S. and its allies got the votes needed to pass the resolution, and the Sri Lankan government has been asked to open its doors to an inquiry by the UN High Commissioner of Human Rights.
A healthy democracy embraces criticism.
Because in the end, there is something much more valuable being lost when a nation denies its wrongdoings and chooses to target its critics instead.
The issue in Sri Lanka now is the collapse of the democratic freedoms we had before the war; freedom of press, of human rights, freedom of expressions and association... and the important role that those freedoms play in a truly democratic system. Those that are left behind now are quite vulnerable. So my question now is, what does it mean to call Sri Lanka a democratic country when government critics are exiled and branded terrorists? Who decides what is patriotic and what is not? Whose voices are actually being heard? Whose rights are really being protected?
You may not be someone who thinks a lot about Sri Lanka. But that shouldn't matter, because human rights and freedom of expression affect us all.
Sri Lanka's struggle is our struggle.
Those of us who can speak up can do something (right now!) to help my friend Sunila stay safe. Its time the Sri Lankan government feels the full weight of international people-pressure.
To support Sunila and her colleagues sign this petition we started on her behalf. In adding your name, you are letting the Sri Lankan government know that it cannot intimidate and threaten critics with impunity, that the world is watching, that you are watching, and that they will be held accountable.
Towards Peace, Kiri Westby
Got something to say about the war in Sri Lanka and the recent UN Resolution? Leave your comments below and lets engage in a good, healthy, free-speechy debate.
Popular in the Community