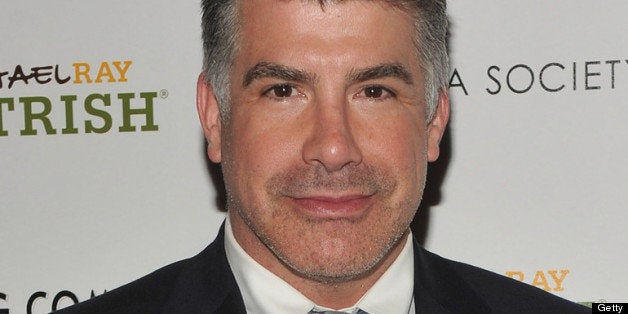 Bryan Batt has nine Broadway shows and countless regional musicals on his theatrical resume, so he still laughs when fans say they're surprised he can sing.
"It's funny ... musical theater is what paid my rent and kept me going for the longest time," said Batt, who played Sterling Cooper's deeply closeted art director Sal Romano on the first three seasons of "Mad Men." "But when you're an actor, people really want to put you in a category."
Audiences will get a chance to experience Batt's well-seasoned musical chops for themselves June 15 and 16, when the 50-year-old actor takes the stage of New York's 54 Below for "Batt on a Hot Tin Roof," his new solo cabaret show. With a set list that includes pop hits by Billy Joel along with showtunes by Jerry Herman, Cole Porter and Maury Yeston, Batt promises "a mixed bag of nuts" that includes "songs I love and stories that I love." Batt is also set to take the show -- which had its 54 Below premiere in January -- on the road, with week-long stints in London and San Francisco in the works.
Batt's favorite moments in the new act include a Burt Bacharach medley (partly a "Mad Men" homage) as well as "Way Ahead of My Time," a song about a gay caveman by young composer Pete Mills. The show's cheeky title referencing Tennessee Williams is also quite appropriate, as Batt says the show was inspired by his hometown of New Orleans, where he and longtime partner Tom Cianfichi have a home.
"A wonderful cabaret owner down there asked me to put together a one-man show for a benefit, right after everyone was coming back after being evacuated [during Hurricane Katrina]," Batt recalled. "I'd never done anything like that before, but she convinced me to do it and a strange thing happened -- I had a great time."
While he celebrates the resilience of his hometown these days, Batt says growing up as a young gay man in Louisana posed significant challenges. "I didn't have any role models," he said. "I really thought I was doomed to this loveless, lonely life. I didn't know any gay people until I began doing theater."
Meeting Cianfichi, with whom he co-starred in an Ohio production of "Evita" more than 20 years ago, changed everything: "Now I'm damn happy and proud of who I am," he quipped. In 2003, the couple founded Hazelnut, a home design shop on New Orleans' historic Magazine Street, and they later opened a second franchise in Mandeville, La.
Still, Batt -- who describes himself as an "open book" -- says he doesn't feel compelled to address gay themes in his stage or screen work, though his portrayal of Sal certainly struck a nerve among "Mad Men" fans. (The character has not appeared since the show's third season finale, when he was fired for rebuffing the advances of a Sterling Cooper client's son.)
Calling Sal "an homage to the men and women who had to live that way," Batt added, "I think living my happy, open life and showing young gay kids you can be successful, you can have love in your life, you can be a contributing member of society and you can be respected -- I think that's it."
Bryan Batt's "Batt on a Hot Tin Roof" plays at New York's 54 Below on June 15 and 16. For more information, click here.
REAL LIFE. REAL NEWS. REAL VOICES.
Help us tell more of the stories that matter from voices that too often remain unheard.
BEFORE YOU GO
PHOTO GALLERY
Tony Awards 2013