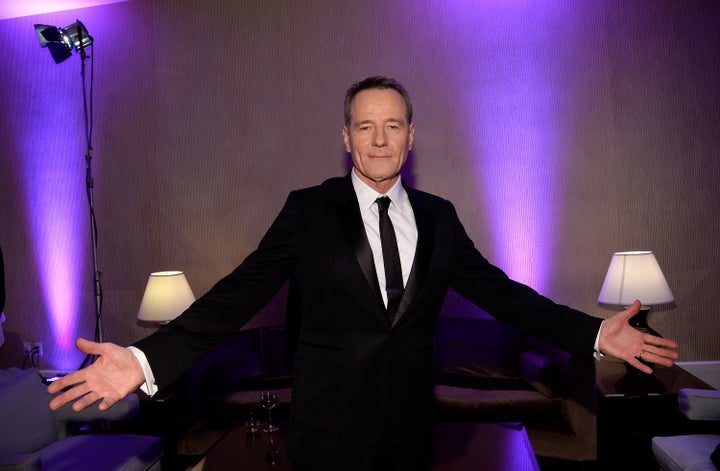 Seeing Donald Trump as a benefit to democracy is one unlikely understanding that has emerged from his presidential run. When Democrats aren't terrified of the possibility of a Trump administration, they're sometimes applauding what he represents in terms of campaign finance reform and general political candor. Factions of Hollywood have echoed those sentiments, and the latest actor to do so is Bryan Cranston.
"Even if I disagreed, I think it's great that there's a groundswell of thoughts and ideas," the "Breaking Bad" actor told The Daily Beast while promoting the new movie "Trumbo." "I think it's great that Donald Trump is in the mix. He's a maverick. He says what he wants to say, and it forces the other candidates to be more real, more honest and more open. That's what's getting through to the people -- that this guy doesn't give a shit and just says what he wants to say. But as his campaign is going along, you notice that Trump is getting more and more conservative in his speech and his policy, getting a little more controlled, and conforming. He's becoming a politician, which is an interesting thing to see." 
Cranston's analysis isn't just a high horse, as "Trumbo" addresses similar themes. He plays "Roman Holiday" and "Spartacus" screenwriter Dalton Trumbo, who was a Hollywood outlaw after his affiliations with America's Communist Party thrust him onto the 1950s blacklist. (The Huffington Post has a politically chatty interview with Cranston on the way, too.) Just as Trumbo fought for his First Amendment right to espouse his political beliefs, Cranston thinks Republicans in Hollywood should not be disparaged. 
"The biggest problem I think we have is the polemic nature of politics, and in Hollywood, it's castigating someone who doesn't think the same as you and branding them the villain," Cranston said. "I look at Fox News and I honestly don't demonize them at all; I honestly believe that what they're saying they believe in, and for that, I can't fault them. I disagree, but I hope they can say the same about me -- that I'm truly fighting for what I think are in the best interests of the country -- because I think they are, too. We can have discourse and we can disagree with each other, and as Trumbo says in the movie, 'We both have the right to be wrong.' That's America."
PHOTO GALLERY
'Breaking Bad' in GIFs
REAL LIFE. REAL NEWS. REAL VOICES.
Help us tell more of the stories that matter from voices that too often remain unheard.