 WASHINGTON -- Bryan Fischer, of the American Family Association, a conservative Christian group, slammed Mitt Romney on Friday for running a "lackluster campaign" void of any ideas and accused the campaign of "putting a bag over" vice presidential nominee Paul Ryan's head.
"Mitt Romney right now should be leading by 10 or 15 points and the fact that he's not is Mitt Romney's problem," Fischer told reporters at the Values Voter Summit in Washington, D.C. "It's because he's running such a lackluster campaign that has been so vague on ideas. What plan is he offering the American people?"
The host of the talk radio show "Focal Point" went on to say that the Republican Party's conservative base lit up upon Ryan's appointment to the presidential ticket. But instead of embracing the Wisconsin congressman's vision and ideas, the Romney campaign chose to "put a sock in Paul Ryan's mouth."
"The biggest mistake is they put a bag over Paul Ryan's head," Fischer said, responding to a question from The Huffington Post on where the Romney campaign had gone wrong. "That's the biggest mistake they made -- they put a sock in Paul Ryan's mouth.
"When he came on board there was tremendous energy from the grassroots," he continued. "It was the Ryan-Romney ticket. If it was still the Romney-Ryan ticket -- if he was still given the opportunity to be Paul Ryan -- I think they would be a hit."
Conservatives have long criticized the Republican presidential nominee for running a campaign as nothing more than the "anti-Obama." That seemingly changed when Romney announced Ryan as his VP, promising to change the course to a "substantive policy debate" and sparking what at first appeared to be a major shift in momentum.
But instead of engaging in a robust discussion on Ryan's "path to prosperity," detailed in his controversial budget plan, the Romney campaign has mostly pushed the House Budget Committee chairman to adopt Romney talking points based squarely on President Barack Obama's own shortcomings.
That decision, coupled with a refusal to talk about social issues, according to Fischer, is what has put Romney in a vulnerable spot, struggling to combat the president's growing lead across key swing states.
Fischer said the extent of the Romney campaign's control over what Ryan can and cannot express was evident in the vice presidential nominee's speech before the summit Friday afternoon. Though Ryan's speech was emphatically received by the crowd, Fischer criticized him for leaving out the one issue that matters most to the pro-family constituency: the sanctity of marriage.
"I was deeply disappointed today that Paul Ryan did not say one single solitary word about marriage. That disturbs me a lot," Fischer said. "This is the safest place in America to talk about the institution of marriage, and he didn't do it," he said, noting that Ryan must have received "some kind of directive" from the top of the Romney campaign to not try and tackle gay marriage.
"If they won't send a solid clear unambiguous message on social issues how do they expect to engage the pro-family community?" Fischer asked.
Ryan did, in fact, tout Romney's credentials on the issue of marriage during his speech -- but he stopped short of explicitly defining marriage as between a man and a woman, though Romney has repeatedly stated his opposition to gay marriage and civil unions.
"He's solid and trustworthy, faithful and honorable," Ryan said of Romney. "Not only a defender of marriage, he offers an example of marriage at its best."
Asked by HuffPost what Romney can do facing an uphill battle with the election just 53 days away, Fischer struggled to find his words.
"The question that conservative voters are asking: What does Mitt Romney stand for?" he said. "We know what Paul Ryan stands for. That's why we were excited when he came on board, but the question remains what does Mitt Romney stand for."
"Take the bag off of Paul Ryan's head," he added.
Fischer also stated that should Romney lose in November, conservatives "will be done ... finished." In such a case, he called for the GOP to immediately get behind Rick Perry and start planning for 2016.
"If Barack Obama wins this election, the Republican Party as we know it is finished," Fischer said. "It is dead, it is toast, you can stick a fork in it."
This article has been updated to add comment from Paul Ryan on Mitt Romney's stance on marriage.
Before You Go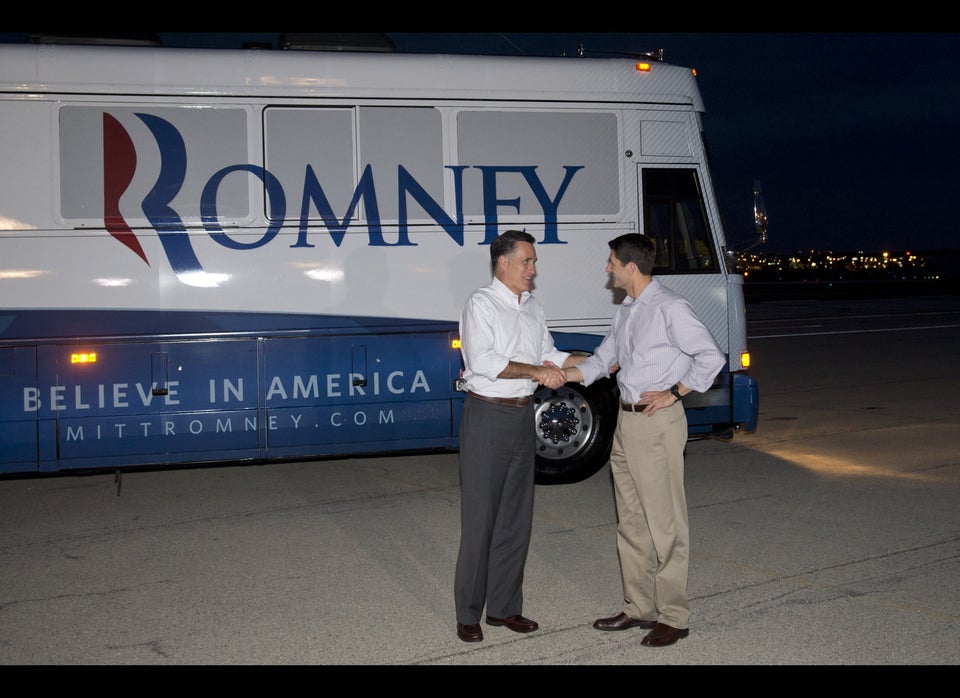 Romney-Ryan 2012 Soundtrack
Popular in the Community