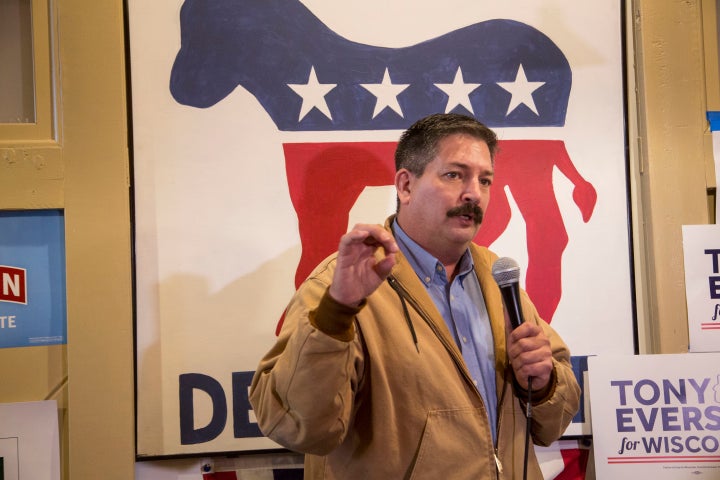 Randy "IronStache" Bryce, a union ironworker-turned-progressive folk hero, failed to flip House Speaker Paul Ryan's Wisconsin seat for the Democrats, losing to Republican Bryan Steil.
A former aide to the speaker, Steil, 37, was the GOP's choice in the state's 1st Congressional District after Ryan announced in April that he would not run for re-election.
Although Bryce, 53, inspired Democratic activists and donors across the country with his working-class authenticity, the Republican tilt of the district and controversy over his past run-ins with the law were too much for him to overcome.
"It's good for candidates to not be cookie-cutter, but we are in a world where opposition research exists for a reason," said Jeff Hauser, executive director of the Center for Economic and Policy Research's Revolving Door Project, who previously worked as a strategist at the AFL-CIO. "Unfortunately, Bryce's creative take on how to elevate substantive economic issues was undermined by personal blemishes."
"There's a reason why Republicans primarily attacked him on mistakes he allegedly made as a person, rather than on his economic agenda," Hauser added.
The House race drew national attention initially because of Ryan's status as the second-most powerful Republican in Washington and his position as both an avowed foe of the modern welfare state and an object of liberal scorn. In a June 2017 campaign announcement video that went viral, Bryce juxtaposed clips showing Ryan's glee over efforts to repeal the Affordable Care Act with video of his own mother, who suffers from multiple sclerosis, discussing the cost of her health care. He concluded with a bit of bravado, inviting Ryan to trade places: "You can come work the iron, and I'll go to D.C."
Bryce's candidacy was especially exciting to progressives eager to demonstrate that an ambitious left-leaning platform is not necessarily toxic in a Republican-leaning district. The Army veteran and cancer survivor ran on Medicare for all, expanded Social Security, a $15 minimum wage and abolishing the Immigration and Customs Enforcement agency. His campaign was the first in the country to officially recognize a staff union and ratify a collective bargaining agreement.
After Ryan left the race in April, Bryce managed to keep up his prolific fundraising, boasting that his campaign had "repealed" Ryan. As of mid-October, he had raised $6 million more than Steil, whom he dubbed "Lyin' Bryan Steil."
A Ryan-linked super PAC helped even the score, spending $2.7 million to hammer Bryce. The group mainly seized on Bryce's past peccadilloes, including his failure to make a child support payment to his ex-wife until after his campaign was underway and the July revelation that he had been arrested nine times.
Two of the arrests were for acts of civil disobedience. However, he had also been arrested for marijuana possession and driving under the influence of alcohol in the 1990s, and was later stopped for driving with a suspended license as a result of the alcohol arrest.
Bryce expressed regret for his conduct, but his campaign also chalked it up to the challenges of his working-class life. At the time of his alcohol-related arrest, his campaign noted, he was digging his way out of personal bankruptcy related to the cost of his cancer treatment.
Ultimately, however, the attacks on Bryce over his past conduct may have hindered his ability to win over voters in a somewhat conservative corner of southeast Wisconsin that includes Janesville, Racine and Kenosha.
Bryce's opponent in the Democratic primary, local school board member Cathy Myers, had warned that his errant behavior would become a general-election liability.
"My opponent has made mistakes, and they're going to be exploited by the Republicans," she said during a July debate.
Popular in the Community