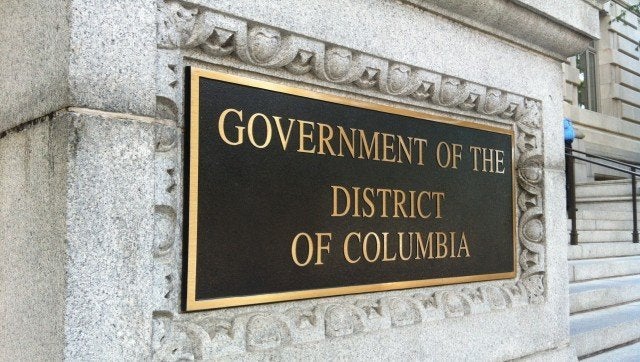 But some of the campaign-finance battles in the District of Columbia aren't federal in nature, but instead are very local -- set on a backdrop framed by various ongoing scandals that have tarnished the D.C. government. (D.C.'s "chronic corruption" has even influenced part of the Republican Party's official 2012 platform.)
Instead of responding directly to allegations that his 2010 mayoral campaign was a hotbed of corruption illegally funded by a city contractor, Gray had his attorney general draft new legislation aimed at undoing the city's "pay-to-play" culture. Yeah, you read that right: The man whose campaign federal prosecutors say benefited from $700,000 in illegal donations from Medicaid contractor Jeff Thompson wants to make sure there isn't "even the appearance of corruption" in city politics.
As Gray pushes his campaign-finance reform efforts -- and remains under a cloud of suspicion -- a group of activists intent on bringing grassroots change, D.C. Committee to Restore Public Trust, has been pushing its own reform agenda.
Adams Morgan community activist Bryan Weaver, who previously waged two unsuccessful bids for the D.C. Council and is involved in the Initiative 70 effort, took some time to discuss D.C. Public Trust's goals and its battles to rein in corporate influence in local politics.
The Huffington Post: What is Initiative 70?
Bryan Weaver: Initiative 70 is a citizen-led initiative to ban direct corporate campaign contributions to candidates. If approved for the ballot, the question facing voters would be: "The Prohibition on Corporate Campaign Contributions Initiative of 2012." This initiative, if passed, would prohibit corporations and other business entities from making direct contributions to principal campaign committees, exploratory committees, legal defense committees organized in support of public officials, transition committees, inaugural committees, or constituent-service programs.
HuffPost: The push to get Initiative 70 on the ballot has coincided with a 
particularly depressing period in District of Columbia politics. As 
D.C. Public Trust has been out gathering signatures in recent months,
 what has the mood of the city been? Is there a sense of complacency
 and malaise? Or has something changed where people have said "enough 
is enough, let's finally do something" ... ?
Weaver: The reactions to our signature collection have of course been mixed, ranging from indifference, to outright hostility to overwhelming support. By and large though, most of the people who signed our petition eagerly did so.
Regardless of whether or not people signed the petition, the general consensus is that people are simply fed up with the status quo in the city and embarrassed by what has been happening to our elected officials in the Wilson Building.


HuffPost: Who is involved in D.C. Public Trust? How did it get started?
Weaver: D.C. Public Trust is a grassroots coalition of people from all eight wards of the city. A group of concerned residents were getting together on an infrequent basis to discuss good government -- or the lack thereof -- in the District and when the group decided to move forward with a ballot initiative, District campaign laws required we create an organization so D.C. Public Trust was born.
HuffPost: 
What's been the reaction of elected District of Columbia officials to 
Initiative 70?
Weaver: Well, only three out of the members of the Council (CM Tommy Wells, CM Mary Cheh and CM Kenyan McDuffie) signed our petition so I think that pretty much sums up the reaction of D.C. officials. 


HuffPost: Do corporate interests have too much influence in our local government?
Weaver: Absolutely they do, that's why we started this fight to get Initiative 70 on the ballot. The way the system is set up in the District, not only does it currently allow corporations doing business with the District to make direct campaign contributions to the councilmembers that oversee the business they do, but it also allow corporations to bundle thousands of dollars from their multiple LLCs to a single candidate. You and I can only donate the maximum allowed by law, a corporation can donate, five, 10 times that amount. That ultimately gives them a much bigger seat at the Wilson Building than residents could ever have.

HuffPost: What's a larger problem facing the D.C. government and the integrity
 of the political process? Corrupt politicians or corporate influence?
Weaver: Ha, that's a great question. As someone in our group pointed out early on, it's not the corporations and their money that are the problem, it's the politicians that demand that money from the corporations.
We've actually gotten a lot of support from small business owners in the District because they are tired of the pressure they feel that's put upon them to make donations to candidates in the District.


HuffPost: Is there anything about the current campaign finance system in the
 District of Columbia that's particularly shocking compared to the 50
 states?
Weaver: I don't know enough about the campaign finance laws in the 50 states to say that what goes on here in the District is "shocking" so-to-speak. I will say that the bones of our campaign finance system -- the process of filing -- are pretty antiquated. 


HuffPost: You've made previous attempts for the D.C. Council that were 
ultimately unsuccessful. Did the current campaign finance structure in
 any way put your campaigns at a disadvantage? What was your experience 
running for public office dealing with the current system?
Weaver: Currently, the way our system is set up, it makes it difficult for anyone to run against an incumbent because the corporate donation deck is stacked in the incumbent's favor. Certainly not impossible, but definitely difficult.
Political yard signs don't vote, but the money raised by incumbents, largely through corporate donations, goes a long way towards visibility and [get-out-the-vote] efforts.
HuffPost: 
There's been a lot of public anger about corporate influence in 
politics for years and even more so since the Citizens United ruling.
 Has D.C. Public Trust been working with similar groups in different 
states?
Weaver: No, at this stage we have not worked directly with groups in other states. We have followed some issues in the news such as Montana's efforts surrounding campaign finance reform and we've also reached out to some of the other states that ban corporate campaign contributions, but we have not officially worked with any other group or state.


HuffPost: If Initiative 70 makes the November ballot and is passed by District
 of Columbia voters, who would be more of a threat to overturn it:
 Congress or the D.C. Council?
Weaver: Unfortunately the D.C. Council. This is the same group -- not all the same members of course -- who overturned term limits that were broadly supported by the city in the Initiative process years ago. While Congress meddles far too much in the business of the District, I don't think they would bother themselves with this. Especially given the growing hostile climate towards corporate campaign money throughout the country.


HuffPost: Why doesn't Citizens United impact Initiative 70?
Weaver: Citizens United dealt with independent expenditures. Under Initiative 70 those would still be legal -- as they always have been in the District. Initiative 70 is about the ban of political donations directly to a candidate/campaign.


HuffPost: Given the Citizens United decision, why does Initiative 70 matter?
Weaver: Look, we're not breaking new ground here. If Initiative 70 makes the ballot and is approved by the residents, it will bring the District in line with 21 other states and the federal government with regard to limitations on corporate fundraising. People across the country see the corrupting influence corporate money can have on their politics and are fighting it on all fronts.
HuffPost: 

If D.C. Public Trust is ultimately not successful in its appeal over 
the signatures and the initiative doesn't make the November ballot,
 what will be the next move for the group? What other projects do you 
and your allies are interested in pushing for good government?
Weaver: As I noted previously, D.C. Public Trust was created expressly for the purpose of getting Initiative 70 on the ballot. If we don't make the ballot, then those of us involved in this endeavor will have to assess how/if we want to move forward and in what capacity as an official organization.
That being said, I think that everyone involved in this process will continue to push forward for good government reform in the District and there's a lot of work to be done on that front from a streamlined FOIA process, to working to elect good-government candidates, to reforming the Board of Elections to continued work on campaign finance reform just to name a few.
HuffPost: What's your reaction to Mayor Gray's proposed campaign-finance legislation that he unveiled this week?
Weaver: It's a great first step. I have been extremely critical of this mayor, but this proposed legislation is a great first step in campaign-finance reform. However, they are very similar to proposals that were voted down almost unanimously in the last council session. If he can get this through this council, there's great potential for this, but there really doesn't seem to be the stomach by this council to do that. I wonder, based on the recent campaign finance scandals around this mayor if D.C. residents will be dismissive of this legislative effort.
REAL LIFE. REAL NEWS. REAL VOICES.
Help us tell more of the stories that matter from voices that too often remain unheard.
BEFORE YOU GO
PHOTO GALLERY
Mayor Vincent C. Gray