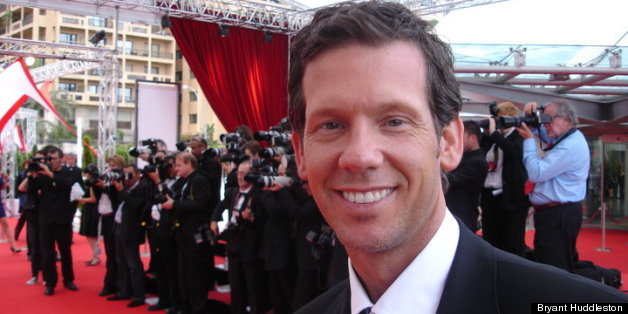 In a controversy that has engulfed a small Arkansas town, a graduate of one of the local high schools claims the school canceled his appearance as this year's graduation speaker because his is gay.
Bryant Huddleston is a proud Sloan-Hendrix High School graduate of the class of 1990. He watched two siblings attend the Imboden, Ark., school; his father also serves as school board president. Now a successful entertainment television producer, Huddleston told The Huffington Post in a phone interview that he initially felt honored to have the opportunity to address the graduates -- including his baby sister -- at this year's ceremony.
Huddleston said his father, Steve Huddleston, and Superintendent Mitch Walton had worked out an informal agreement some months ago. According to the Associated Press, the plan hit a surprise snag in late January when Walton sent an email to the elder Huddleston and the other four school board members, saying Arkansas State Police director Col. Stan Witt would be invited to speak at the ceremony.
"I got that email (from Walton) that he said he was going to ask Stan Witt," Steve Huddleston told the AP. "I called Mitch and reminded him of our conversation, and he said he'd forgotten."
What follows differs according to whom you ask. The Huddlestons say that two members of the board told the elder Huddleston they were opposed to his son speaking because of the possible community backlash against an openly gay man taking the stage. On Sunday, however, Walton issued a statement maintaining that Bryant Huddleston had never been a confirmed guest, and that the school board had simply decided to stop its long-running tradition of inviting commencement speakers altogether.
"Contrary to what has been said, no invitation was extended this year to anyone. As superintendent, I have the authority to decide about who the speaker will be or whether we have a speaker at all," Walton wrote in a letter to local website Imboden Live.
The letter continued thus:
This year, Mr. Steve Huddleston, a board member, suggested his son as a speaker. Bryant Huddleston graduated from Sloan-Hendrix in 1990 and went on to success in the entertainment industry. He was never invited by me to be the graduation speaker. After visiting informally with board members, no agreement was reached as to who should be invited to speak. Therefore, my decision was to do what had been discussed in the past — to discontinue the use of outside speakers and thereby shorten an already lengthy graduation program.
"I love that school. And to be honest with you, since I became an anchor at [local television station] KAIT, I have dreamed of speaking at that school," Bryant Huddleston told HuffPost. "School board members bringing up my sexuality is blatant discrimination."
While he never planned to make his sexuality an issue in his address, he said the school board members who mentioned their concerns to his father infuriated him and prompted him to write an open letter to the district. That letter reads, in part:
I am writing to express my disappointment in your recent decision to recant your invitation for me to be the keynote speaker at my little sister, Madicyn's, graduation from Sloan-Hendrix High School this year, based solely on the fact that I am gay.

What baffles me Mr. Walton is that you chose to disregard the fact that I grew up in Imboden, and my career accomplishments -- KAIT news anchor and reporter, successful television producer in Hollywood, producing shows such as E! News, Access Hollywood, etc., -- were dismissed and instead you chose to make me a hot bed controversial issue.

...

I could just sit back and let this slide, but if I did, the discrimination that has taken place here would go unnoticed like it has so many times in history. Unless my arguments here cause you to reevaluate, nothing will change. But what must change, is the way we treat our lesbian, gay, bisexual and transgender (LGBT) youth because, News Flash, the world is changing and it starts in our homes, our schools and yes, even in our places of worship. The suicide rate amongst LGBT teens is staggering. As Superintendent, Mr. Walton -- I hope you are aware that LGBT youth already attend classes on your campus. They are going from class to class with a fear of being outed or being treated horribly by their classmates -- so adding educators and mentors to that mix prohibits these teens from thriving. The Board represents them too, and by silencing me, you're telling those students that it isn't okay to be who they are.
"I wrote that letter not just for my sister and me, but for families across the country who take their kids to school, and know they are gay or different," Huddleston told HuffPost, emotion straining his voice. "[Those parents] want their school administrators to support their children."
As the story gained attention, Huddleston told HuffPost his family has been overwhelmed by the support he's received, both within his community and outside of it. Parents of students in his sister's high school class have even come knocking on his father's door, saying they would have loved for Huddleston to speak at the ceremony, he said.
Steve Huddleston told the AP that he will be resigning from the board at the end of the school year.
Walton did not respond to HuffPost's request for comment.
Calling all HuffPost superfans!
Sign up for membership to become a founding member and help shape HuffPost's next chapter
BEFORE YOU GO
PHOTO GALLERY
Celebrity LGBT Families