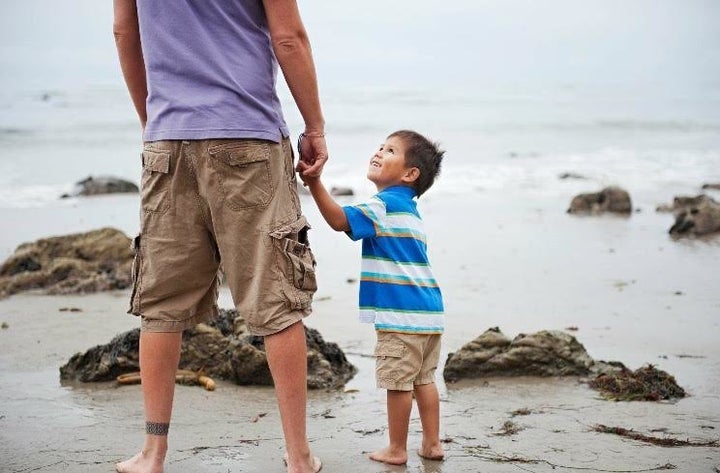 Bryant Huddleston has all he wants in life: a prominent career and the love of his son. In this week's RaiseAChild "Let Love Define Family®" series installment for Huffington Post Queer Voices, contributing writer Beth Hallstrom spoke to him about overcoming doubts, choosing to be a single father and the responsibility of the LGBT community to support one another through the family building process.
To the casual observer, Bryant Huddleston has it all. Handsome, outgoing and charming, he worked his way from a television reporter in his native Arkansas to being an Emmy-nominated television producer in Hollywood. He is also a world traveler whose day at the office hobnobbing with celebrities is anything but boring. 
But for the 44-year old resident of Studio City, California, there were far more significant goals to achieve: being a dad and proving, mostly to himself, that he could do it alone and being a passionate advocate for fostering and adoption by the LGBT community.
Bryant's son, Haven, who is seven, was just two-years-old when they first met.
"Today, he is a healthy, intelligent child who also happens to be drop dead gorgeous," Bryant said with his slight southern drawl and a laugh. "When we met, there was a little communication issue, but there was also an instant bond between us. 
"Going from someone who was carefree, enjoying life and traveling to being so connected to a total stranger was surreal. But, I knew I'd just met my son," Bryant recalled.
Bryant described Haven's adoption as, "Quick, with no bumps. I went through the Los Angeles County Department of Children and Family Services and they had no issue with me being a gay man. In fact, they celebrated it," he said.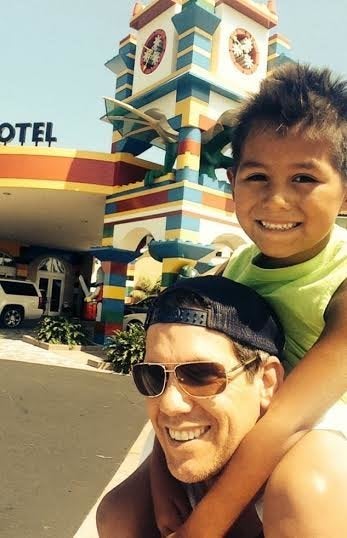 Haven had been placed in foster care directly from the hospital nursery. Bryant said he received the call about an available toddler after returning from yet another trip. When it appeared fatherhood was soon to be a reality, the doubts set in. 
"Will the child love me? The stereotypes of children in foster care. And, most important, can I do it alone? These are all negative hurdles gay parents have to jump through. For me, the biggest fears about being a parent turned out to be the biggest blessings," Bryant said.
Bryant said he is frequently invited to speak at foster parent recruitment events to illustrate the single dad's point to shatter some of the myths the LGBT community has about fostering and adoption.
When Haven is older, I want him to come with me. I want to show him how lucky I am and how lucky he is," Bryant noted.
Bryant said he discovered that he didn't need that other dad to have the family he wanted. "I just had to have the courage to do it on my own," he explained.
In the here and now, Bryant said a relationship is not a priority or even a goal and Haven doesn't ask for another parent.
"He's a well-adjusted kid. We've got the schedule down. And although I'm the only gay dad in the stands now at ball games, you have to maintain a sense of humor and you do have to maintain a support system of friends you can call. For us, it's mostly Moms from school or baseball," he noted. 
"So we aren't the typical family. But, all you need is the passion to be a Dad and a loving heart. Single or married, gay or straight. There are too many misconceptions and because of that, there are too many children waiting in the foster care system today," Bryant asserted. 
"I believe that, because we are a different family, it only makes us extra special. We celebrate that and Haven will grow up with that," he added.
"The misconceptions that surround fostering and adoption by the LGBT community is an important issue for us. We need to be out there, sharing information and supporting one another so that more families can be created and more children can be helped," he continued.
"I would love to see the foster care system numbers decimated. We still need to change some laws and there are still places where people have a firm notion of what a family should look like. The truth is that there is no perfect family, perfect parent or perfect child, but there is love and commitment and the desire to make a difference."
Bryant said he has spent much time soul searching about adopting another child, mainly asking himself if he had the drive and energy to parent another child. Ultimately, he said, he decided against the idea. 
"You know, I've got all I wanted in life. I work in Hollywood on a network show with celebrities and you know what is the most important thing I hear every day? It has nothing to do with work. It is when I hear Haven say, 'I love you, Daddy.'"
RaiseAChild is the nationwide leader in the recruitment and support of LGBT and all prospective parents interested in building families through fostering and adoption to meet the needs of the 415,000 children in the foster care system of the United States. RaiseAChild recruits, educates and nurtures supportive relationships equally with all prospective foster and adoptive parents while partnering with agencies to improve the process of advancing foster children to safe, loving and permanent homes. Take the Next Step to Parenthood at www.RaiseAChild.US or call us at (323) 417-1440.
Please consider attending any of these Father's Day Brunch events: 
Austin, TX                             June 18, 2016   www.TheHandsomeFather.org
Dallas, TX                             June 18, 2016          www.TheHandsomeFather.org
West Hollywood, CA           June 19, 2016          www.RaiseAChild.US
New York, NY                       June 18, 2016          www.TheHandsomeFather.org
If you live in the Las Vegas area or plan to be there on the evening of July 16th, please consider attending a very special RaiseAChild benefit event at the Martin Lawrence Galleries at The Forum Shops. Tickets and event details at www.RaiseAChild.US
REAL LIFE. REAL NEWS. REAL VOICES.
Help us tell more of the stories that matter from voices that too often remain unheard.