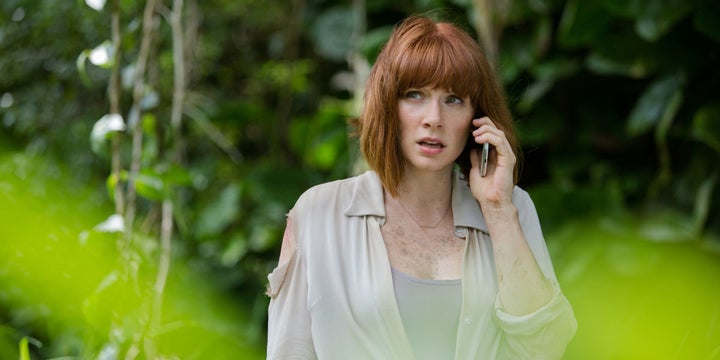 To really understand a person's problems, they say you have to walk a mile in their shoes. That's a noble idea, but if that person is Bryce Dallas Howard, uh, we'll take a rain check, dude.
Even with the record-breaking box-office run of "Jurassic World" last year, one controversy from the film continued to steal headlines: #HeelGate. 
Peeps just couldn't get over the fact that Bryce Dallas Howard, who played Claire Dearing, ran around a dinosaur-covered island in heels. The. Whole. Time. Oh, and that includes outrunning a T-Rex, because why not?
#HeelGate briefly took over the internet and inspired memes that were 65 million years in the making.
"Oh my gosh! It's my favorite stuff, just the GIFs online. I mean, did you see the really funny thing where it had everyone from the previous film, including the dinosaurs, wearing heels? That was hilarious," Howard told The Huffington Post in a recent interview.
As for her thoughts on the whole situation, the actress said, "It's obviously something totally unexpected, and I have a running joke for the rest of my life perhaps. I can be one of those people that's constantly referencing it, even 80 years from now."
Howard previously said she received a text about the controversy from the director, Colin Trevorrow, that read, "#NoHeels2018," referencing the "Jurassic World" sequel, which is set to hit theaters then.
Now, a year after all the hullabaloo, is that still the case?
"As far as I'm aware," said Howard. "I'm just gonna keep saying it to make sure that is actually what happens," she added.
Though she's trading in her footwear, Howard seems to be sticking to one theme in particular for her new projects. Coming off "Jurassic World," a movie co-starring dinosaurs, Howard's new blockbuster is Disney's "Pete's Dragon," a movie, obviously, co-starring a dragon.
"I guess I have something karmic going on with reptiles for sure," Howard said with a laugh.
The reptilian connection is as far as it goes, though. Howard wears more comfortable shoes as she runs around in the woods for the new movie, which she confirmed she was happy about.
Us too, Bryce. If anything changes for the "Jurassic World" sequel, we have one word of advice ...
"Pete's Dragon" hits theaters Aug. 12.
Calling all HuffPost superfans!
Sign up for membership to become a founding member and help shape HuffPost's next chapter
BEFORE YOU GO
PHOTO GALLERY
Summer Blockbuster Preview 2016