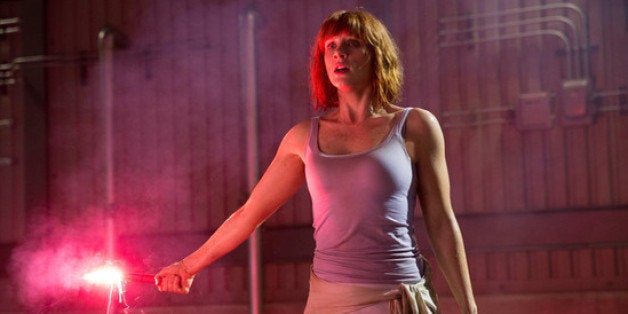 There are things you can only learn about a person by joining them in a luau. For instance, how well do they hula or perform a faux haka Maori tribal dance? Do they let their hair down, and how well does that hair look when framed by a crown made of palm fronds? Also, how unaffected might they be, despite starring in the top grossing film of the year, Jurassic World?
OK, so that final one is a very specific piece of insight, but is regardless something I observed when in Hawaii a few weeks back, at a luau on an Oahu beach with Bryce Dallas Howard, her husband Seth Gabel, and a group of other industry professionals and locals.
Normally this kind of after-hours interaction remains "off the record" for me. I interviewed Howard two days prior about Jurassic World, which is available Tuesday on DVD/Blu-ray. But meeting with her and Gabel at the luau was an unplanned, unexpected, and incredibly pleasant surprise.
But the experience informs a lot about Howard. Using the unscientific luau lessons of personality assessment, one could never tell she grew up in the business, surrounded by entertainment icons, and has appeared in multiple big-budget blockbusters. Instead, she and Gabel behaved like the ideal of a couple honeymooning in Hawaii: dancing, laughing, playing, and basically, being adorable with one another.
As I sat to write up my interview with Howard, this observation repeated itself in my noggin. While she evolves over the course of the movie, her Jurassic World character Claire is introduced as uptight, all-business, and disconnected from others -- even her own nephews. Beyond being a stark contrast to the actress (which is why it's called acting, dear boy), the character has taken heat for running around in those high heels throughout the course of the film.
However, Howard has embraced the heels as a point of pride for her acting, and the role of Claire. "Damn right I ran in heels," she recently told People's Scott Huver. But Howard also told me that Claire changes a lot in the movie, and there is even a scene in the DVD/Blu-ray extras that shows it off.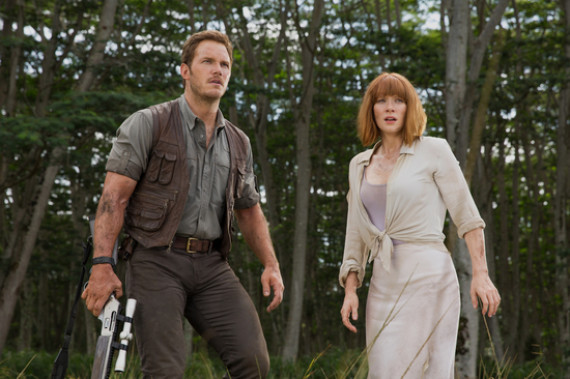 "There is a scene on the DVD/Blu-ray extras where you get to see Claire smother herself with dinosaur poop," she said. "I think it's a wish fulfillment of sorts because she starts off this movie being a really rigid woman, and kind of very sterile individual."
"Then you see her thrown in the jungle, and what better than seeing a person like that, wearing all white, need to just cover themselves in poop?"
Poop aside, Howard said her character will continue to evolve, and that her continuing change will be important in the 2018 Jurassic World sequel, which director Colin Trevorrow will again write with Derek Connolly.
"I don't know, honestly, what the trajectory is for my character," she said. "I have talked to Colin, and he feels very strongly about this character continuing to have a significant arc; there were some terrible calls she made as the person who runs the park, and the result of that are devastating."
"I would imagine there's a lot of guilt and needing to face the music," she added. "There's a lot about this story in particular, at this point in history, that is quite meaningful and relevant; I think, through the character of Claire, [Colin] wants to explore a lot of these complex, philosophical issues that come up with genetic modification."
But Howard said there are a lot of unanswered questions about what she'll be up to when she returns to film the sequel. And she considers that a good thing.
"Who is Claire within this, within the reality of the park falling apart, and with the dinosaurs potentially off the island ... That wasn't something we obsessed about while we were shooting," she said.
"The way we approached Jurassic World was as a standalone film, and not necessarily about teasing the next episode of the story," said Howard. "I think there is a lot of integrity in that, and you have to earn the right to have another movie."
"Now that there is going to be another movie, that's when the conversation started about it, and where is this going to go."
As for "where" it is going, it remains a mystery if Jurassic World 2 will return to Hawaii. Regardless, the islands will always hold an interesting significance to Howard with regards to the movie, she said. Howard, who saw Jurassic Park opening weekend as a 12 year-old -- and was told by her father, director Ron Howard, that she was watching "cinema history" -- was offered the job of Claire by Jurassic World director Colin Trevorrow while he was atop a Hawaiian mountain.
"That next year we were shooting in Hawaii, and now it's about a year later, the movie has come out, and I'm here in Hawaii again, promoting the release of the DVD and Blu-ray," she said.
"We've had the best time being here," she added.
From dinosaurs to dragons, the 2016 remake of the 1977 Disney film Pete's Dragon is next up for Howard. And she is getting a kick out of her new role as a pseudo Khaleesi, the Mother of Dragons.
"When I was shooting Pete's Dragon, I kept messing it up. I kept saying, 'Where's the raptor? Where's the dinosaur?' They said, 'It's a dragon this time, Bryce.'"
"I'm like, 'It's big and green, that's all that matters!' But yeah, I love them reptiles."