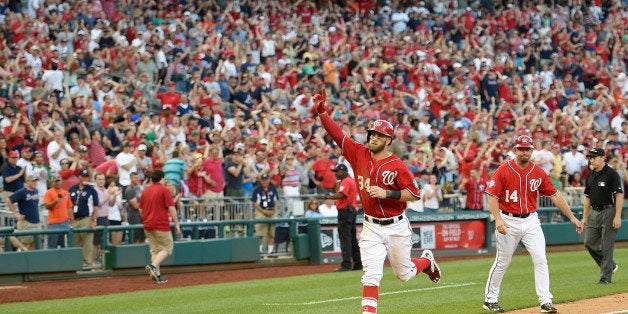 Bryce Harper has been the best hitter in baseball during the two months of the 2015 season. He currently leads the National League in home runs, walks, runs, total bases, slugging percentage, on-base percentage and OPS. Harper's extraordinary offensive output actually goes back to last year's NLDS when in 19 plate appearances, against a San Francisco Giants team that was on its way to winning the World Series, Harper reached base seven times including one double and three home runs. Harper will turn 23 in October. By then he will have completed more or less four full seasons in the big leagues. Although a lot can happen over the remaining four months of the season, Harper appears to be transitioning from an extraordinary hitter for somebody so young, to simply being an extraordinary hitter.
Baseball players are different than football and basketball players because many more of them eschew college to enter the MLB draft and begin their professional careers immediately after high school. That path wasn't good enough for Harper who left high school after his sophomore year, briefly played in Junior college and was drafted as a 17-year-old who had a GED, but no high school diploma.
Harper was also a nationally known before he was old enough to vote. Before leaving high school, he was on the cover of Sports Illustrated being touted as a future star. As a 17-year-old, he was described in The New York Times magazine as: "At 17, Baseball's Next Sure Thing."
Baseball history is littered with next sure thing's who never quite made it. Older fans will remember Clint Hartung, a New York Giants prospect who was viewed as a potential great both on the mound and at the plate. Over a six year career he failed at both. A quarter century later another Clint, this one named Hurdle, was described as "Baseball's Next Phenom" on the cover of Sports Illustrated during spring training of 1978. Hurdle was 20 at the time and managed to hit .259 with 32 career home runs before calling it quits at the age of 29. Hurdle went on to a very solid career as a manager, but was never a star on the field.
Harper's success in the face of so much pressure is an impressive accomplishment, but it is also part of a broader trend where top draft picks are now more likely than ever, injury notwithstanding, to become impact players. Harper's teammate Stephen Strasburg, the first pick in the cdraft the year before Harper, has been one of the Nationals' best pitchers over the last few years. Similar recent very high draft picks like Kris Bryant, Anthony Rendon and George Springer are already becoming impact players. Moreover, many of the best American players, foreign players are not eligible for the draft, such as Mike Trout, Buster Posey, Clayton Kershaw, Madison Bumgarner and Sonny Gray were first round picks.
It may seem obvious that first round picks become stars, but for many years in baseball the connection was less clear as first round busts were relatively common. There were, of course, many first round picks such as Alex Rodriguez, Ken Griffey Jr. and others who went on to stardom, but there were also players like Paul Wilson in 1994, Matt Anderson in 1997 or Brien Taylor in 1991 who were drafted first and had essentially negligible big league career. In recent years, this has changed due to improved scouting and more thoughtful drafting, but also to different approaches to developing talented American kids into baseball stars. Harper is the prototype of that. By focusing on baseball from a very young age, at 17 years old the New York Times described him as a "a tape-measure-testing, laser-throwing, eyeblack-oozing baseball cyborg," Harper was able to make the most out of his talent and take advantage of the newer structures that exist to funnel the most talented young ballplayers through to the big league draft. It is likely that in future years, most of the best young American players will have backgrounds similar to Harper's, in which talent was seen early, nurtured by higher-powered coaches in higher-powered leagues every year with increasing focus exclusively on baseball.
Harper is not only an outstanding player, but he provides an interesting lens into how baseball is changing off the field in significant ways. Harper, more than any other player today, has navigated the path to a successful career in baseball astutely and single-mindedly, but also to the preclusion of almost anything else. For Harper, at least on the field, this has been worth it. But for others, leaving high school in the hopes of a big league career is often a very bad decision. Harper's success is due to his risk taking, focus and extraordinary talent. Very few people share all three of those qualities.
Calling all HuffPost superfans!
Sign up for membership to become a founding member and help shape HuffPost's next chapter