Once a year, ESPN The Magazine releases its Body Issue, which highlights and celebrates athletes' physiques in all their wondrous shapes and sizes.
It's empowering and beautiful, and often bucks the standard expectations of what "normal" world-class athletes should look like.
Standing out on this year's covers, which were unveiled earlier this month, was U.S. hammer thrower Amanda Bingson, who told the outlet that she likes "everything about [her] body." The athlete, who at one time was kicked off her high school volleyball team for being "too fat," now says she embraces and loves her size, which she says hovers between 210 and 215 pounds.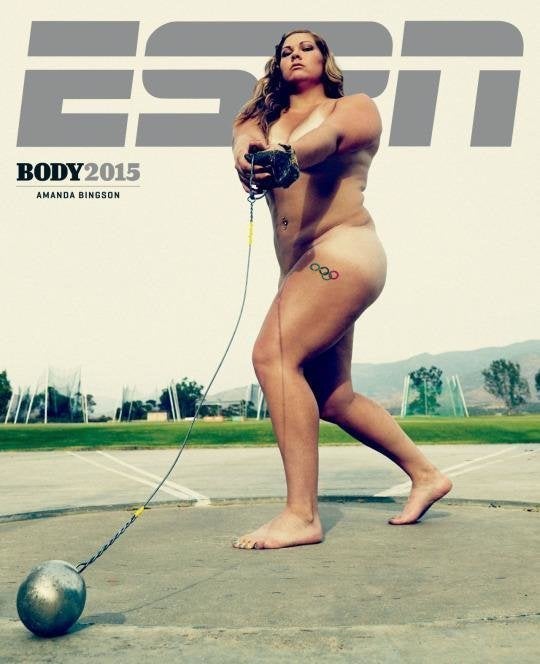 Amanda Bingson's Body Issue cover. Photograph by Peter Hapak for ESPN The Magazine.
Bingson's confidence and beauty sparked overwhelming support, as it should have. She was being herself and allowing her photos to simply represent who she is.
Bingson's story makes it is all the more disappointing to see an athlete like the Washington National's Bryce Harper detail to the Washington Post the grueling and seemingly dangerous regimen he went through for the shoot, which  left his system "completely depleted" by the time he stood in front of the camera.
[Harper's preparation] consisted of three workouts and six meals a day until it consisted of none, that final week when Bryce Harper consumed only juice. Seven different raw juices. Over the final two weeks, before he exposed each of his muscles to ESPN's photographers, he put salt in his drinking water so he could hydrate himself without gaining weight.

 On the final day, before he stripped naked and recorded the results for the world, he rose for one final workout, but when he went to refresh himself, he spit the water out. When he arrived at the field at the University of Nevada Las Vegas for the shoot, his system was completely depleted. He shoved raw, white potatoes down his throat because he knew the glucose and glycine they contained would run straight to his muscles — which yearned for something, any kind of nourishment they could find.

 "It makes you pop," Harper said. "It makes you stand out."
Of course athletes train and put their bodies through exertion and nutritional sacrifices that many could -- and should -- not do. That's what makes them professional athletes. But to hear that an athlete like Harper put his body through all of that for a photo shoot, quite frankly, is alarming.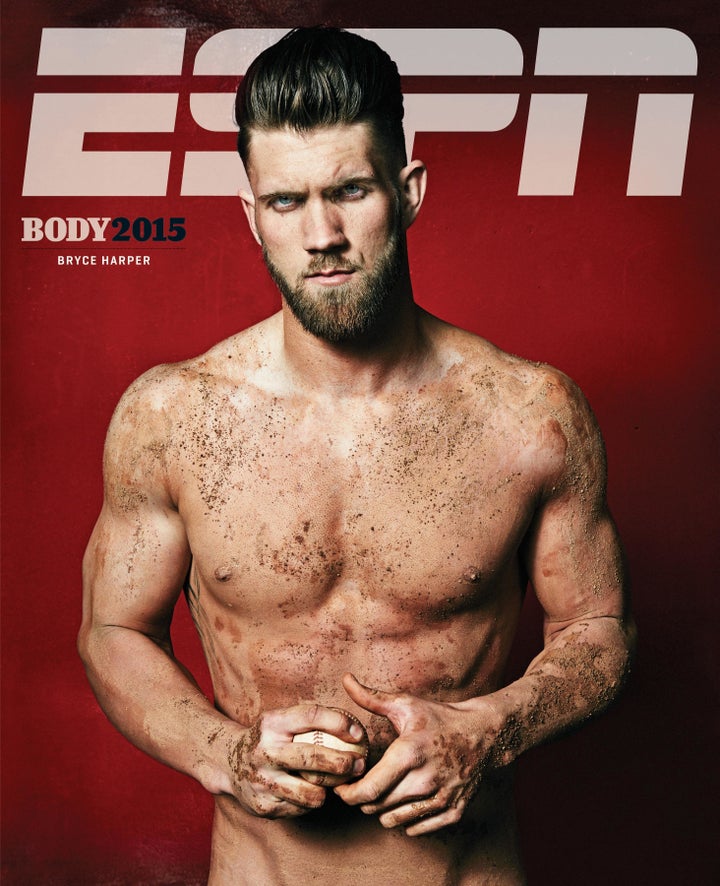 Bryce Harper's Body Issue cover. Photograph by Peter Hapak for ESPN The Magazine.
To put his body through such a routine, which included drinking salt water to avoid putting on weight, goes against everything the Body Issue stands for. Harper said his goal of doing the spread was to shoot down the belief that baseball players aren't as physically fit or trim as athletes in other sports. But spitting out water or limiting himself to juices isn't representative to what Harper actually endures in the MLB. It misses the mark completely.
It's also a far cry from Cleveland Cavalier Kevin Love, who said his own preparation was simply to get some sunshine and stick to his regular diet and workout routine. Or, UFC fighter Ronda Rousey, who said she refused to lose weight for both her own Body Issue cover in 2012 and her appearance in Sports Illustrated's Swimsuit Issue in 2015.
Rousey, in fact, took it one step further saying that she poses in her "walking weight," acknowledging that it would be "unhealthy" for her to appear the way she does for fight weigh-ins every day. 
Harper more and more seems to be an athlete that is quite body conscious. That could also be a result of the baseball player being constantly asked about the topic by reporters, but he has outlined and addressed his diet multiple times before and dismissed criticism in 2014 after he talked about the desire to bulk up.
Harper's Body Issue preparation, if anything, stands to show us that men are also subject to the insecurities and pressure of body image, perhaps more so in Harper's position, where their body is under scrutiny on a day-to-day basis.
The ideal or perfect body is often presented through the prism of what women should look like. However, more and more focus is being directed toward men and how they cope with the pressures of body image. It may be different ideals -- thinness vs. bulking up -- but men are far from immune. 
One study released last year found that nearly 18 percent of adolescent men are extremely concerned with their weight and physique. Additionally, the National Eating Disorders Association said that the percentage of men with body image concerns has more than doubled in the last 30 years, equaling rates of those found among women.
This week also saw the femininity of the one of the greatest athletes of our generation, Serena Williams, questioned because of her own body shape. Coupled now with Harper's own pursuit of what he expects society views as the standard, it shows even the sports world is still very much struggling with body image and outdated expectations of what it means to look like a man, woman or athlete.
Calling all HuffPost superfans!
Sign up for membership to become a founding member and help shape HuffPost's next chapter