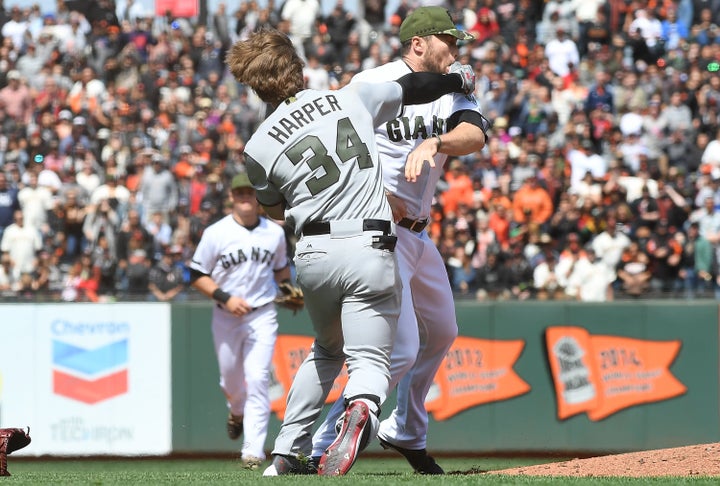 WASHINGTON — Major League Baseball handed down suspensions Tuesday for Washington Nationals star Bryce Harper and San Francisco Giants reliever Hunter Strickland after the two sparked a Memorial Day brawl.
Strickland has been suspended for six games and fined an undisclosed amount, according to MLB.com. Harper, an outfielder, received a four-game suspension and an undisclosed fine.
In the top of the 8th inning in Monday's game at AT&T Park in San Francisco, Strickland hit Harper with a 98 mph fastball on the hip. Harper pointed his bat at the Giants pitcher, charged the mound and hurled his batting helmet at Strickland, which sailed way wide.
Strickland and Harper each landed solid punches before the two teams met at the mound and players jostled with one another.
Appearing to get the worst of the melee were Giant teammates Michael Morse and Jeff Samardzija, who collided head-to-head.
Harper and Strickland were both ejected from the game. The Nationals went on to win the opener of a three-game series between the two teams, 3-0.
It was unclear whether Strickland intended to hit Harper. But the last time the two met, during the 2014 division playoff series, Harper belted home runs off Strickland in two separate games.
"History," said F.P. Santangelo, an analyst for the National's broadcast team, just as Harper was hit. "And that was intentional to my mind," Santangelo added as the brawl ensued.
This article has been updated to reflect the suspensions of the two players.
Popular in the Community