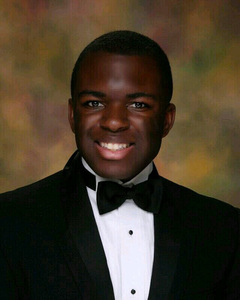 The Friday nights and Saturday mornings of Bryce Moore's childhood are among his most cherished memories. They were special because he spent them at the home of his mother's dad, hanging on every word uttered by his Papa, David Moore.
With Bryce not having a father at home, Papa was the next-best thing. His stories about dropping out of school after fourth grade because he needed to get a job showed Bryce how much times have changed. It helped Bryce realize how much easier he has it and he began to appreciate his ongoing education.
Papa also led by example. His stories about hauling wood for lumber companies -- back-breaking work that had to be done to feed his family -- taught the youngster to value a strong work ethic.
But Papa also had his flaws. Primarily, his pack-a-day smoking habit.
Once Bryce discovered that cigarettes were called "cancer sticks," he vowed to break Papa's habit. His go-to move was throwing away packs of Winstons and lighters.
Looking back, that's where the seeds were planted. From the simple act of a loving grandson looking after his Papa, up grew one of the nation's foremost teenage anti-tobacco activists.
On Tuesday night in Washington, D.C., Bryce will be honored as the Campaign for Tobacco-Free Kids' 2016 Youth Advocate of the Year. He's the 20th annual recipient from this wonderful group, one that I am proud to say that my organization, the American Heart Association, has supported since its inception.
Now 18 and a high school senior, Bryce is such an amazing young man that he was barely able to wedge this awards ceremony into his schedule. He attended another banquet at home in Gulfport, Mississippi, the night before he left, and the morning after he returns he's overseeing an anti-tobacco conference at his high school. He's hosting a talent show a few days later, then graduates from Gulfport High School the next day.
All this from a guy who insists that he used to be shy.
The transformation began the summer before eighth grade when he joined the 4-H leadership group as an outlet for his boundless energy. He enjoyed it so much that when he heard about Generation FREE -- a youth-led tobacco prevention movement -- he considered applying for a board position. However, his reluctance to be anything more than a participant threatened to hold him back.
Then his mom spoke up. She said, "Remember all those times you told me you threw away Papa's cigarettes and lighters, and all the materials you'd show him from school? That shows you need to try out."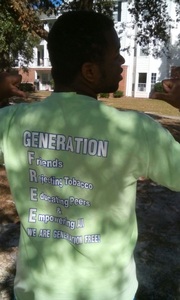 Bryce landed a spot on the 12-person board. One of his first big jobs was leading a session at a conference. He was so nervous that he tripped and nearly fell on his way to the stage. He stumbled over his words as he spoke and was oblivious to the stage direction coming from a coordinator.
"I was just trying to get through it," he said. "But I had so much fun. Interacting with high school and middle school students who also cared about this cause was such a blast. I knew that, definitely, that's what I wanted to do."
From brainstorming sessions to planning entire conferences, Bryce loved it all. He even learned to love being an emcee. The real prize, though, was knowing that he was educating teens about the ills of tobacco use.
As part of being on Generation FREE's board, Bryce was required to be on the board of the Mississippi Tobacco-Free Coalition of Harrison County. He joined his sophomore year of high school.
"I had to go to a few meetings and one event, but as soon as I got involved, I loved it so much that I got involved in all the events the Coalition did," he said, noting that he took parts in protesting businesses that allowed smoking and rallied for other establishments to go smoke-free. "It felt so good to be able to stand up for something bigger than just me."
He became the secretary of the board as a junior and kept that role his senior year. He also has spent the last two years as president of his 4-H chapter.
Last summer, his Generation FREE coordinator invited Bryce to Orlando for a national summit on youth activism hosted by the Truth Initiative, America's largest non-profit public health organization dedicated to stamping out tobacco use. What he thought would be a fun few days in Florida proved to be the start of something bigger.
"Mississippi is such a hard state to change because people are so resistant to change," Bryce said. "Getting to meet 70 other anti-tobacco youths from all over the country, I heard that other teens were facing the same thing. Being able to connect with them was so inspiring."
He applied for the Truth Initiative's fellowship and was accepted. Among his duties was designing a project in his community. Another project he's put together is the ALEC -- the Advocacy, Leadership, Education and Change -- conference being held at Gulfport High on Thursday.
Meanwhile, the Campaign for Tobacco-Free Kids was holding its annual competition for a top youth advocate. Leaders at the Truth Initiative recommended he apply. His Generation FREE coordinator required that all board members apply. Then came the news that he'd won.
"I was so shocked," he said. "Being in Mississippi, I don't feel like I'm doing much good, not affecting a lot of change. Through getting that award, it made me look around and realize that I am making a difference."
He even got Papa to quit.
The more Bryce became involved in the anti-tobacco movement, the harder David Moore worked to wean himself from cigarettes. He eventually extinguished his last Winston. Alas, it may have been too late.
About two years ago, the elder Moore was diagnosed with prostate cancer. Studies are mixed as far as connecting smoking and this form of cancer, but it surely didn't help.
Yet there's no denying Papa's imprint on Bryce. Beyond unintentionally steering him to the anti-tobacco movement, the work ethic, emphasis on education and other lessons are all clearly evident in this amazing young man.
Later this year, Bryce will begin the next phase of his life at Belhaven University in the state capital, Jackson. He plans to double major in creative writing and theater, then to get a graduate degree in public policy.
"Hopefully, I can pursue activism and non-profit work," he said. "I want to make a change in the world."
Notice that he didn't say anything about one day taking a bigger role in the anti-tobacco movement. There's a good reason for that.
"Hopefully by the time I get done with school," he said, "that battle will have been won and we won't have to worry about that anymore."