SCRANTON, Pa. (AP) — Cpl. Bryon Dickson was an impeccable officer who put his family first and could always be counted on for advice and support, his friends and colleagues said at the slain state trooper's funeral Thursday.
Dickson "was no ordinary trooper," police Commissioner Frank Noonan told hundreds of mourners gathered at St. Peter's Cathedral in Scranton.
Dickson, 38, was gunned down in an ambush late Friday outside his rural barracks in the Pocono Mountains. The days since then have been "a whirlwind ... fueled by stress and gallons of coffee," Noonan said.
Police are still searching for the suspected shooter, 31-year-old Eric Frein. He's charged with killing Dickson and wounding another trooper in the attack.
The Rev. Thomas Muldowney said those attending the funeral Mass had gathered "in sorrow, disbelief and anger." But he asked them to focus on the positive impact that Dickson made during his life.
Dickson, a Marine Corps veteran who joined the state police in 2007, had worked as a patrol unit supervisor in the Blooming Grove barracks since June.
The word that best describes Dickson is "impeccable," Cpl. Derek Felsman said during his eulogy. Felsman said his best friend took perfect care of his wife, crafted flawless wood toys for his two sons and always wore a crisp and spotless uniform with gleaming leather boots and belt.
"He held himself to the highest standards as evidenced in every aspect of his life," Felsman said.
Hundreds of law enforcement officers from around the country came to the service, where they lined up 10 deep outside the church for the funeral procession.
The somber ceremony was held amid a mood of grief and fear as a manhunt continued 40 miles away for the suspect, identified as a self-taught survivalist who hates police.
Police named Frein as the suspect after finding his abandoned SUV nearby. They said it contained his driver's license and spent shell casings matching those at the crime scene.
State police have warned the public that Frein, of Canadensis, is dangerous, saying he has talked about committing mass murder.
Related
Before You Go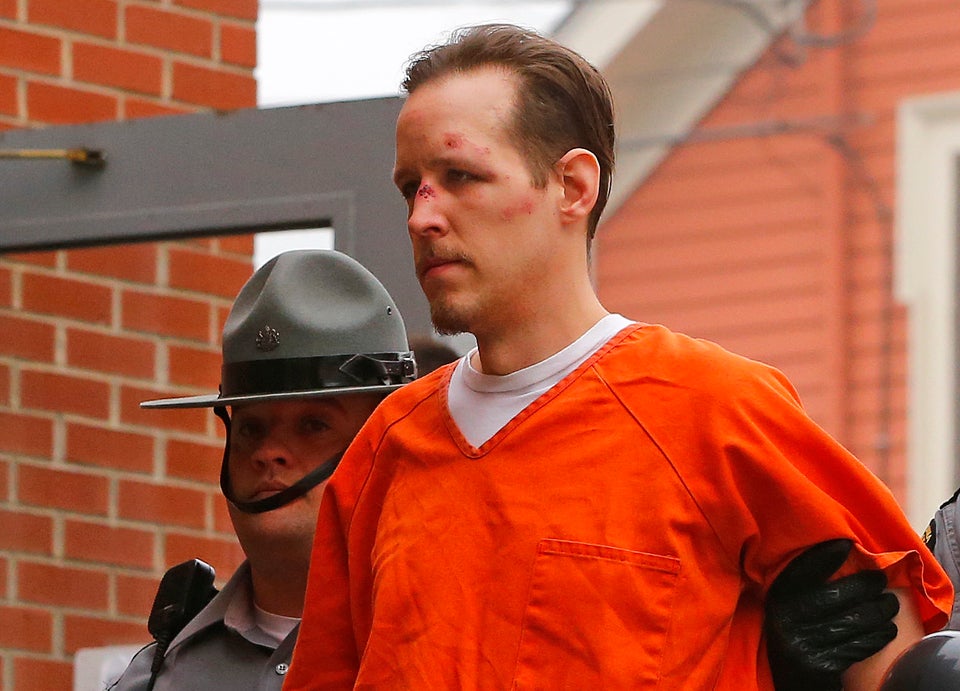 PA State Police Barracks Shooting
Popular in the Community