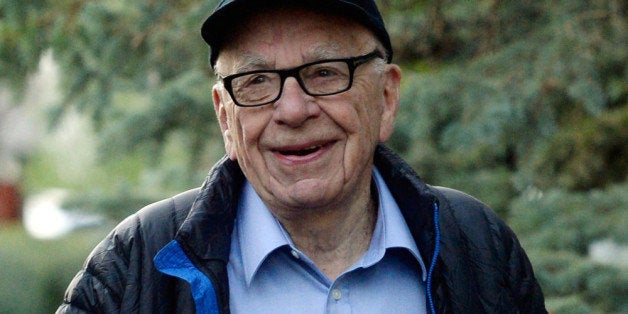 * BSkyB in talks to buy Fox's German and Italian units
* Italian business hit by macro economic pressure
* German market constrained by strong free offering
* Analysts put price between 7-10 bln euros
By Kate Holton, Danilo Masoni and Harro Ten Wolde
LONDON/MILAN/FRANKFURT, July 18 (Reuters) - BSkyB's plan to buy Rupert Murdoch's pay-TV assets in Italy and Germany for perhaps as much as 10 billion euros is a bold bet on long-term growth at the expense of short-term profit, but the pioneering British media firm has pulled off such gambles before.
Facing the toughest market conditions in its 25-year history, BSkyB has opened talks with Murdoch's 21st Century Fox to acquire Sky Deutschland and Sky Italia to create a European powerhouse with 20 million subscribers.
BSkyB, also 39 percent-owned by the Australian-born media mogul, has set the standard in Britain for technological innovation such as its award-winning Sky+ set-top box, streaming TV app and Europe's first 3D channel.
Having seen off a string of challengers to dominate the British pay-TV market, BSkyB, which is in more than 10 million homes in Britain and Ireland, is now betting that the time is right to enter two European markets where pay-TV is not yet as popular or profitable.
"The asset is too good and the opportunity is too big to ignore it," one top 10 shareholder in BSkyB told Reuters on condition of anonymity, adding that they would view the deal positively as long as they could agree reasonable terms.
Analysts have put the likely price at between 7 billion and 10 billion euros. Sources familiar with the deal have told Reuters the talks are progressing well but that there are still many areas they need to find agreement on.
BSkyB, which declined to comment, has history in making expensive but ultimately winning gambles.
Back in 2006, it set out plans to offer broadband for free, spooking analysts and investors who feared the gamble would be costly, but the strategy paid off by luring new customers who took its other subscription services. It also led the way in investing in high definition programming, which also proved extremely popular, boosting the amount customers paid each month.
Analysts and investors are divided over whether the new deal is aimed at creating scale so it can better compete with new online challengers such as Netflix or is more a reflection of Sky's saturated home market, which is forcing it to look overseas to find growth.
Many see the hand of Murdoch behind the deal since it would give Fox billions of euros in cash at a time when the 83-year old mogul is looking to expand in content.
Fox revealed on Wednesday it had tried and so far failed to buy media conglomerate Time Warner Inc, with a source putting the price at roughly $80 billion.
A separate source close to the Sky talks said they did not expect Murdoch to raise his holding in BSkyB, which would be contentious in Britain, where rivals and some politicians believe he controls too much of the media.

BSkyB, which is facing a new challenge at home from telecoms group BT, which is aggressively bidding for content and customers, would expand its potential market to 95 million households by moving into Italy and Germany.
A larger group would be able to better absorb higher programming costs, co-produce content and be well placed to buy broadcasting rights on a pan-European basis if that ever replaces the current country-by-country basis.
It could also save some costs on procurement and back-office functions, while generating increased revenue by rolling out services into Italy and Germany that have sold well in Britain, such as targeted advertising and betting services.
Analysts however are divided over the potential cost and revenue synergies for the deal, with Berenberg struggling to see meaningful savings, while UBS forecasts synergies of up to 380 million pounds per year.
"This is not a massive synergy story," Berenberg analyst Sarah Simon said. "It's more about accessing higher growth because these are markets with low penetration."
However, it could take a while for the benefits of creating a so-called Sky Europe to pay off, as the risks of entering Germany and Italy are not inconsequential.
Sky Italia, 100 percent owned by Fox, is Italy's biggest pay-TV operator in a market where those willing to pay for TV has slumped during the downturn, to 34 percent of households in 2013 from almost 40 percent just four years earlier, according to Bernstein Research.
With its 4.75 million subscribers unable to provide much revenue growth, Sky Italia has kept a tight lid on costs.
Against that background it did well in late June to win exclusive rights to more Serie A soccer matches at roughly the same price as before, but it has lost the Champions League matches to rival Mediaset Premium, owned by former Italian Prime Minister Silvio Berlusconi's TV group Mediaset.

In Germany, the market is less constrained by economic pressures than by long-established habit.
According to industry research, less than 20 percent of German households pay for television, well below the 54 percent in Britain, due in part to the strong position of German free-to-air TV.
While the Sky Deutschland business is growing strongly in terms of customer additions and revenue, due to the appeal of its soccer programming, it has not made an operating profit in recent years and is only expected to turn positive next year, according to Reuters data.
BSkyB is unlikely to radically change the way the business is run - Sky Deutschland's CEO Brian Williams spent 13 years at BSkyB - but the timing of the deal in terms of its recovery and growth profile could be good for the British firm.
A large factor in whether BSkyB shareholders will back the deal will be whether it acquires all of Sky Deutschland or just the 57 percent owned by Fox. Under German takeover rules a deal for the Fox stake would trigger a mandatory offer for the rest.
That in turn would affect how much BSkyB would need to pay, and whether it would need to issue equity or pay for the deal with debt and cash. On Thursday it said it had sold a 6.4 percent stake in British broadcaster ITV for 481 million pounds to cable group Liberty Global.
That move by Liberty, which is in 12 European countries and has recently invested in a small content producer, also shows why the Sky assets may need to join forces in the region if they are going to be competing against ever larger groups.
If the price is between 7 billion and 10 billion euros, BSkyB's net debt could rise to more than three times its core earnings from the current level of around one. That in turn could force it to temper its share buyback and dividend programs.
Analysts at Nomura warned that that could also leave BSkyB vulnerable in its fight with BT when it comes to bidding for Premier League soccer rights.
The two, which spent more than 3 billion pounds in 2012 to share the rights for three years, are likely to go head to head again in the auction for the three seasons beginning with the 2016/17 campaign.
Were BSkyB to push ahead with the European deal, it would need to strike the right balance between investing in Britain to ward off BT while growing its two new assets in Europe.
"BSkyB has always been a company with a great history of innovation and bold risk taking," Numis analyst Paul Richards said. "The challenges within the two assets are both a drawback and an opportunity." (Additional reporting by Sophie Sassard; Writing by Kate Holton; Editing by Will Waterman)

Popular in the Community