K-pop group BTS might have impeccable dance moves and have smashed a couple of world records, but every now, and then we're reminded that they're humans ― just like us! 
The band appeared on "The Tonight Show" earlier this week amid their "Love Yourself" world tour, which followed the release of their most recent album "Love Yourself: Answer." 
Despite performing at sold-out shows across the globe, group leader RM revealed that he had a few butterflies in his stomach when he spoke in front of the United Nations General Assembly on Monday. Honestly, if we were in that position: SAME. 
"I was so nervous," he told late-night host Jimmy Fallon. "I'm holding up the paper, and if you see me, I'm shaking."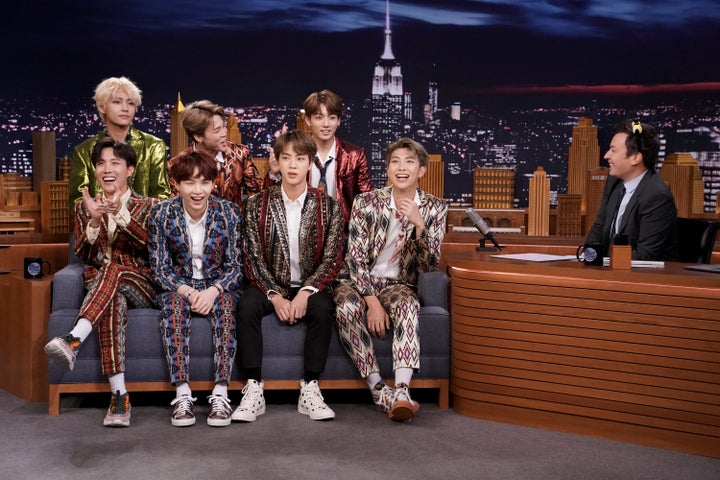 The band became the first K-pop group to speak in front of the General Assembly and, for the historic event, they decided to spread a message: "Speak yourself." RM explained to Fallon that the phrase is all about wielding the power to define oneself, rather than "letting other people speak for you." 
During his U.N. speech, the pop star told the audience that when he was about 9 or 10 years old, he felt the need to conform to the "molds that other people made." He said that he found himself putting more weight on what other's thought of him. 
"Soon, I began to shut out my own voice and started to listen to the voices of others. No one called out my name and neither did I. My heart stopped, and my eyes closed shut," he said. "So, like this, I, we, all lost our names. We became like ghosts."
Music, he added, was his "sanctuary." And though there have been many doubters throughout the band's career, he said he remained true to himself and came to love himself for "who I am, for who I was, and for who I hope to become." 
"Like most people, I've made many and plenty of mistakes in my life. I have many faults, and I have many more fears, but I'm gonna embrace myself as hard as I can. And I'm starting to love myself gradually just little by little." 
He concluded: "What is your name? Speak yourself." 
REAL LIFE. REAL NEWS. REAL VOICES.
Help us tell more of the stories that matter from voices that too often remain unheard.