The US economy has been underperforming by the standards of every other post recession economy and so we don't have a runaway upside US economy.
- John Williams, President of the San Francisco Federal Reserve Bank (September 19, 2015)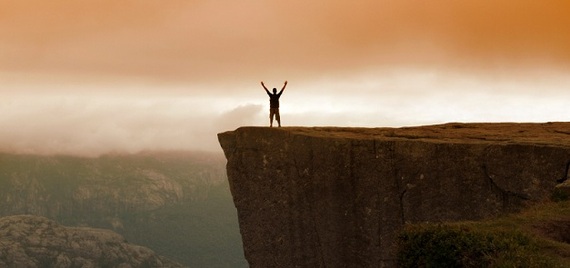 Last May, I mused on the possibility of a tech bubble and projected that the NASDAQ would plateau for the remainder of 2015. Midway through these expectations, let's calibrate my crystal ball:
Global Update
The European Migration Crisis has displaced millions of refugees in a region undergoing a fragile economic recovery. Managing the humanitarian aid is a delicate operation as the fresh labor supply would be competing for scarce jobs. This is particularly true with Greece, where 1 in 4 are already unemployed.
Chinese stock markets sent ripples around the world as Beijing announces its GDP growth target at 7% in June and August. Although these targets are the lowest in a quarter century, it is considered relatively healthy.
Currency Update
The US Dollar remains strong with tapered growth in response to the flat interest rate announcement. A high US Dollar dampers US exports and could cost McDonald's over billion dollars in currency translation costs for 2015.
Interest Rate Update
The Federal Reserve held off on an Interest Rate hike again. The President of the San Francisco Federal Reserve stated that an interest rate hike could "destabilize the world further and they're (Federal Reserve) just going to wait for a limited period of time to see what happens."
My intuition wants the Fed to raise the interest rate by a pinch to cool off the markets. The likely reason why the Fed did not change interest rate is because consumers do not appear to be over leveraging debt to pay for assets (as they have during the housing boom).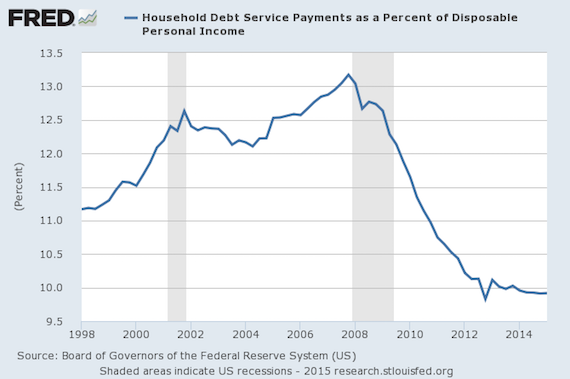 However, if the Fed keeps interest rates at rock bottom, there would be no backup plan to stimulate the economy if an unexpected correction were to occur. During the Dot Com crash, interest rates were at 6.0%, so Alan Greenspan was able to lower rates to provide liquidity in the markets. Not so true today.
Nobel Laureate Economist, Robert Shiller, calls the recent situation a bubble because of a high Cyclically Adjusted Price Earnings (CAPE) ratio and declining confidence. The CAPE ratio compares share prices to average earnings over the previous decade, which reduces the volatility of standard Price Earning ratios.
Professor Shiller tells the CNBC that the CAPE ratio was 44 in 2000; now it is around 25. Although this finding is remarkable, Shiller also adds that there is no definitive way of determining if, when, and by how much prices will drop.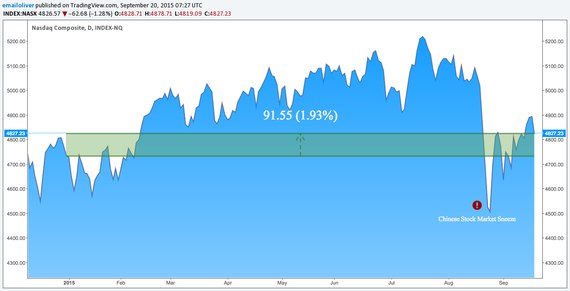 As expected, the NASDAQ composite is experiencing diminishing marginal returns. More specifically, the NASDAQ grew just under 2% YTD, which is below my 2015 financial year end targets of 4-7% (down from 14.75% in 2014).
Suggestion Box
It's a good time for to take your accountant out for dinner and get a financial checkup. Many technology companies have been overemphasizing growth over earnings, which has been fueled by cash. An over fertilized grape vine only produces leaves.
In general, keep calm and stay tuned for Q4.
Calling all HuffPost superfans!
Sign up for membership to become a founding member and help shape HuffPost's next chapter