Video produced for The Huffington Post by Samantha Guff
If you aren't aware that Jan. 25 is Bubble Wrap Appreciation Day, then you're not alone. We were also oblivious to this calendar event until recently, but decided that it deserved to be celebrated in fashion. Literally.
While the bulky plastic material is almost exclusively used to protect fragile items during shipping, we figured it could also make some pretty clever clothing designs. To that end, we challenged the bright young minds at New York City's High School of Fashion Industries (HSFI) to design runway-ready looks with 450 feet of Bubble Wrap provided by the folks at Sealed Air.
Mission impossible? Not for these kids. In just three days the students, who are all members of the school's Fashion With A Purpose Club, created eight mind-blowing ensembles -- from cocktail dresses and cropped jackets to voluminous harem pants and Bubble Wrap adorned shoes.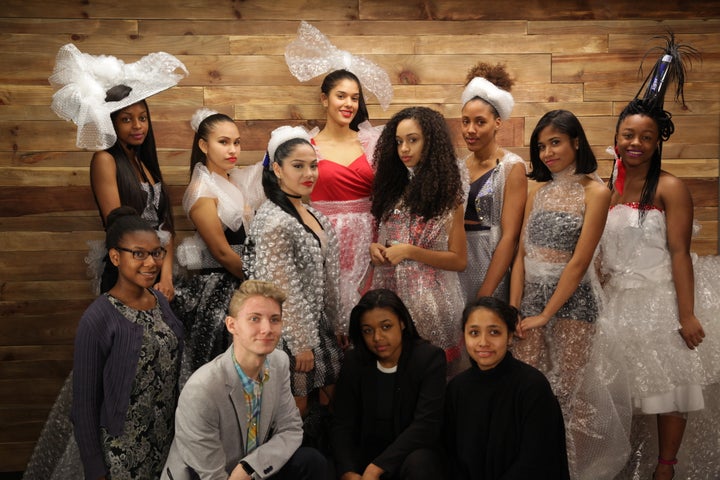 "It's right in the element of what we do, so we were really excited,"Belinda David, the student's HSFI teacher, told The Huffington Post. "I think they did an amazing job"
David is also the faculty advisor for the Fashion With A Purpose Club, which is an extra-curricular organization that allows the students to study global and social awareness and then create designs with sustainable and recyclable materials.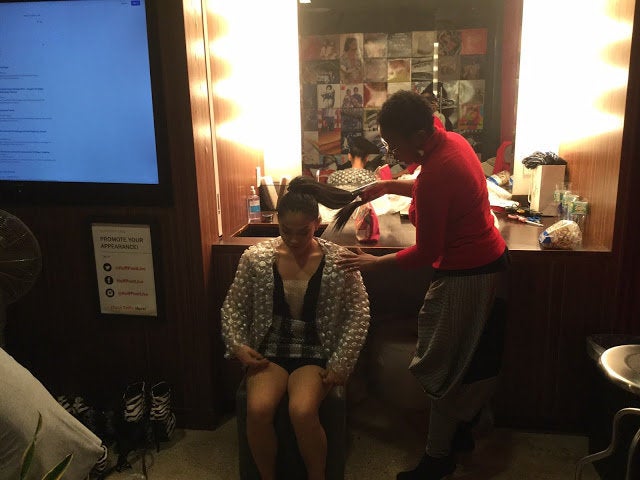 Behind The Scenes: Bubble Wrap Fashion
While all the designs were imaginative and well-executed, there could only be one victor and that honor was given to junior Deannelys Coreno. The winning look, which was modeled by Araya Pendarvis, a sophomore at HSFI, consisted of a full skirt and sleeveless raincoat that was complete with a hood and trimmed with silver iridescent tape and 250 jumbo safety pins.
Coreno, 16, says the ensemble took her 12 hours to create but wasn't the hardest design challenge she's ever faced. She has transformed materials like newspaper, plastic bottles, garbage bags and even old CD players into wearable garments.
"I breathe fashion. I love fashion. I work on things like this at home just for fun," Coreno told HuffPost.
"This show, and these students' work is a wonderful example of what makes Bubble Wrap so great -- it enables innovation, encourages creation. It's also just fun. This kind of clever creativity is exactly what the world needs more of," Jenn Grabenstetter, Director of Global Communications for Sealed Air Product Care, told The Huffington Post. "We are honored that something we make has such a special place in the lives of artists and inventors."
This year marks the 55th anniversary of Bubble Wrap, which was originally created to be used as wallpaper. And while it quickly became clear that Bubble Wrap was better suited as a packing product, these young design students proved that it's just as versatile as its unconventional roots.
High School of Fashion Industries participants: Aiyanna Jack (designer/model), Kimberly Marquez (model), Samantha Salcedo (model), Lesliebeth Rosario (model/designer), Araya Pendarvis (model), Deannelys Coreno (designer), Naisha Delgado (model), Jalieah Lewis (model),Yvette Munoz (monitor/President of Fashion with a Purpose), Marcel Kosmider (designer), Victoria Whitlock (designer), Keyanna Spann (model/designer), Aileen Mendez (designer), Belinda David (fashion designer/advisor).
Jenna Amatulli and Tiara Chiaramonte assisted in the production of the video.
Related