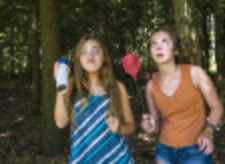 It's been years since I watched the made-for-TV movie, "The Boy in the Plastic Bubble." So many that when I recently watched it, I discovered my only memory had been confused with a Seinfeld episode. The mention of Moors or Moops is not in the 1976 television movie, starring a young and pale John Travolta. Apparently, my mental hard drive may need rebooting.
Even though I detested the film, it made me wonder how many parents now lock up their children in a proverbial bubble. As a new mother, I sanitized everything. The fear of sickness was overwhelming at times. I wanted to Bubble Wrap my children, but our pediatrician opposed the idea.
Growing up in the '70s, no one heard of hand sanitizer. It was called a bar of soap and some elbow grease. There was no such thing as disinfectant wipes -- no need. All required for the quick clean up was the mildewed dishcloth, laced with a touch of salmonella, which had been hanging over the kitchen faucet for a week.
Of course, after two children, the five-second rule became the norm and the phrase, "a little dirt won't hurt" spewed out of my mouth, finally turning me into a '70s mother. I haven't worried too much about diseases the last few years. My daughters wash their hands after visiting the public restroom; they no longer lick grocery carts, and don't marinate in the baby pool.
However, there have been a few mornings my husband has gasped at the breakfast table while reading the paper. Since I can't stand not knowing what he's reading, I insist he share the gasp-worthy story. First it was Ebola, then the Zika outbreak. And just when you think your children are safe, CRE makes the papers and a DIY plastic bubble design is drawn on the back of grocery lists.
Just a refresher course for those of you who may have awaken from a coma, or don't own a computer or television: Ebola is a hemorrhagic fever disease with a high-fatality rate.
Zika is the new Ebola, except this tragic virus especially affects babies in utero, causing them to be born with extremely small heads. Folks say this Brazilian germ is mosquito transmitted, so I hope no one wants to increase their family size during the upcoming Olympics. My suggestion to the Olympic officials: remove all the green M&Ms from your country and close all pubs or bars at 9 p.m.
My current health obsession is the antibiotic resistant CRE bacteria. I'm fairly sure it stands for CREepy or CRuditÉs. If you have a strong immune system or don't hang out in hospitals, you should be fine, but the Centers for Disease Control and Prevention reports, "Infections with these germs can be deadly." This one takes me back to junior high history books when I first learned of the bubonic plague. Ew, I doth say!
Don't tell anyone, but I heard from a reputable farmer these three strains of human blight are causing odd green lights to hover over a hill in Montana. Researchers are also looking for a link to crop circles brought over by sprightly monkeys from India.
Actually, this scene might be from a sci-fi movie I saw in college. I really should reboot my mental hard drive.