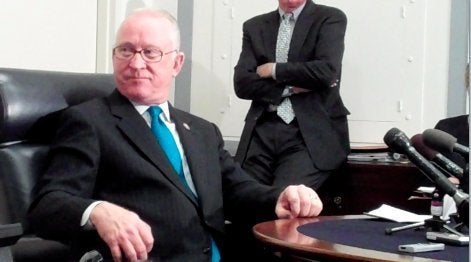 WASHINGTON -- Rep. Buck McKeon (R-Calif.), the incoming chairman of the House Armed Services Committee, said on Wednesday that Democrats' last-minute push to repeal the military's ban on openly gay servicemembers has stalled the passage of the larger defense authorization bill. Passing a repeal of "Don't Ask, Don't Tell" by the end of the year, he added, would be an "affront to the military" because it wouldn't allow time for full and proper consideration of the matter.
"It will have such far-reaching effects, that I think to do it at the last, dying gasp of a Congress that's basically been voted out in a lame duck session is an affront to the military," said McKeon in a briefing with reporters. "It's an affront to the country, who just voted on Nov. 2 for a different way of doing things."
McKeon said he disagreed with Senate Majority Leader Harry Reid (D-Nev.) over whether to include the DADT repeal in the National Defense Authorization Act, and took issue with the Obama administration's roll-out of the Defense Department's report looking at implementation of such a change. Although the Senate Armed Services Committee had two days of hearings after the study's release, McKeon said that his committee did not have that opportunity, and he would like the chance to interview battlefield and company commanders.
Although McKeon stated he hasn't yet taken a personal position on the issue, it was certainly clear that he has deep reservations about repealing the ban on gay men and women serving openly in the military.
He cited concerns by Army Chief of Staff Gen. George Casey and Marine Commandant Gen. James Amos, who said Tuesday that repeal would be a distraction that could cost soldiers their lives. "I don't want to lose any Marines to the distraction," said Amos. "I don't want to have any Marines that I'm visiting at Bethesda [National Naval Medical Center, in Maryland] with no legs be the result of any type of distraction."
When asked if he believed Amos went too far, McKeon praised the general:
I applaud Gen. Amos, because he has the concerns of every Marine on his mind, and he represents...240,000 Marines. The easy thing for him to do in this town, in this environment, in this climate, would be to say, 'We're Marines. We'll do it. Whatever you tell us to do, we'll do it.'

I applaud him for his courage to speak up, and if I were a Marine out there in the front, I would sure feel good about my commander, however I felt on the issue, because he's looking out for them, and I think that's his constitutional responsibility, but it's a hard thing to do.
<0--3666--hh>0--3666--hh>
On Afghanistan, McKeon said he has not yet received a copy of the Obama administration's strategic review, which will be released on Thursday, although he was hoping to have some time to look through the findings.
"I want to have Gen. Petraeus come and report to us on what's happening over there," said McKeon. "I think we'll find that he's made some pretty good progress. ... I was hopeful that we would be given a chance to see the report. If it's just coming to the president, we just hear what the president has to say about it. I've been supportive of the president. I think I was supportive of the 30,000 additional troops he sent to Afghanistan. I would have preferred to see more -- I think we know that Gen. McChrystal had asked for more, and I think I would have liked to have seen more. But I was supportive of the president, and I continue to be supportive. I'll just have to wait to see what he says about the report before I'll have any comment to make."

REAL LIFE. REAL NEWS. REAL VOICES.
Help us tell more of the stories that matter from voices that too often remain unheard.