 WASHINGTON -- The Democratic challenger to Rep. Howard "Buck" McKeon (R-Calif.) said Monday that the high-ranking House member should "pay back" the spoils from a sweetheart deal he allegedly received from former mortgage juggernaut Countrywide Financial.
Last week, the House Oversight and Government Reform Committee, following a three-year investigation, released a report that confirmed existing allegations that McKeon received preferential treatment from Countrywide when obtaining a $315,000 mortgage loan in October 1998.
"It shows that at the very minimum he has poor judgment," said Dr. Lee Rogers, McKeon's opponent in the contest for California's 25th District. "I think the oversight committee's report showed that McKeon isn't being honest," Rogers argued. "If McKeon truly didn't know about the discount and fee waivers, he could just pay back the benefit he received."
The congressional report states that Angelo Mozillo, then CEO of Countrywide, personally approved favorable mortgage rates and lower fees for McKeon, in addition to a small number of other lawmakers and congressional staffers. Countrywide, a key player in the housing market crash, was acquired by Bank of America in 2008. Its VIP program -- also known as "Friends of Angelo" -- was part of a wide-ranging lobbying effort by the company, the report shows.
McKeon, now chairman of the House Armed Services Committee, has denied knowing that he received preferential treatment, despite a letter sent to the congressman (and reprinted by the House Oversight Committee) that makes it clear he was part of the VIP program: "Thank you for allowing COUNTRYWIDE's VIP TEAM to assist you with your financing needs on the above referenced property."
While not denying that the congressman was in the VIP program, McKeon's spokeswoman, Alissa McCurley, stressed in a statement that "he was never aware of any Friends of Angelo designation," that he paid "over $2500 in closing cost fees," and that his mortgage interest rate was 6.75 percent, which was "well above the 6.49 percent national average at the time."
In other words, even though McKeon was in the VIP program, his office contends he did not actually receive VIP treatment. But the report from the Republican-controlled Oversight Committee suggests otherwise: "Internal Countrywide documents show that one point was in fact waived" off McKeon's mortgage, it says.
"McKeon did not receive a point off on his interest rate ... in fact, he had a competitive interest rate. And some could argue it was higher than the national average. That can be documented. Those are facts," McKeon's chief of staff, Bob Cochran, responded.
The loan was paid off in 2002, just four years after the congressman took it out, Cochran added.
Either way, Countrywide did not require McKeon to show proof that he was financially capable of repaying the loan, according to an earlier story from the Los Angeles Times.
Rogers, the Democratic challenger, also noted that McKeon had received a large amount in campaign contributions from Countrywide. A recent analysis by the Center for Responsive Politics showed that McKeon was "among the top ten all-time recipients" of Countrywide cash.
The spectacular rise and fall of Countrywide, once the largest mortgage company in the nation, was linked to the housing bubble that eventually helped plunge the nation into the Great Recession. The collapse of the company was felt especially hard in California, where the company was based.
"In our district, we had a very large Countrywide processing center," Rogers said. "A lot of people lost their jobs at the time that Countrywide went under and was acquired by Bank of America."
Rogers contends that the VIP loan influenced McKeon's vote to raise Federal Housing Administration loan limits in 1998. Higher loan limits was "one of the policies that helped lead us to the housing market crash of 2008," Rogers wrote in a July 9 op-ed in the Santa Clarita Valley Signal.
"At a time when residents of the 25th District are looking for certainty in the housing market, Lee Rogers is indicating that he doesn't support helping qualified home buyers," Cochran said in response. "These higher loan limits, backed by the FHA, have been a bedrock of opportunity for many qualified home buyers in the 25th District who were, or currently are, looking to buy into the housing market."
Like other policies that expanded homeownership during the housing bubble, raising FHA loan limits was popular all around in the late 1990s. Higher loan limits meant more people able to afford homes and more customers for the mortgage industry.
Yet Rogers is suspicious of the sequence of events. In late September 1998, McKeon applied for the refinanced loan. On Oct. 5, the oversight committee report shows, McKeon called Countrywide hoping to close the loan. The report includes a Countrywide email that says McKeon was "difficult to deal with" and seemed "on the edgy side." On Oct. 6, McKeon voted yes on the measure that raised FHA loan limits. The next day, McKeon's loan was approved.
No member of California's House delegation voted against the measure -- an amendment to a Veterans Affairs authorization bill -- and it passed by a vote of 409-14.
Before You Go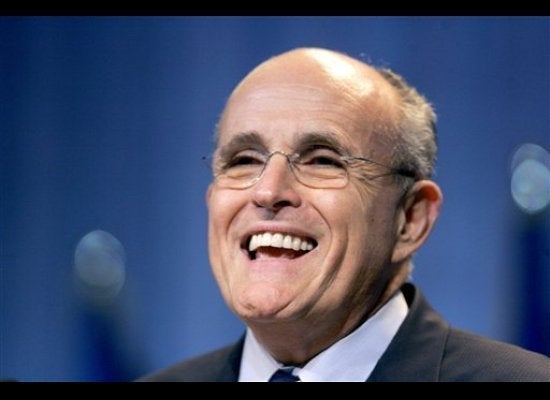 Out-Of-Touch Politicians
Popular in the Community