We've all heard The BUCK stops here. BUCK up. BUCK the system. Bang for your BUCK. And of course, Pass the BUCK.
And then there's Pearl Buck. A woman who took a stand. Writer, novelist, missionary, advocate, activist for women's rights, mixed-race adoption and humanity. Hers was a split-screen world of conflict, divided into the American Presbyterian South and Chinese village/university life.
PEARL Buck gives new meaning to buckle down and make life an adventure. Buckle up and soar ahead with the wonder of a little girl, the perplexities of an adolescent, and the savvy of a mature woman.
I remember reading The Good Earth in junior high school; I can even recall the smell of the pages, the touch of the compact paperback which fit into my hands so snugly and which I snuck into my dreaded organic chemistry class, then got busted for reading during a DNA lesson.
I was so entrenched in Wang Lung , O-Lan and the Chinese peasants of Anhwei that I wanted to get a ticket to Zhejiang, work on the rice paddies, and pull a rickshaw. I craved a chance to look into the eyes of my almost-ancestors. After all, in the oval framed photo of my Russian great-grandfather was a face that looked Chinese. He was Jewish from Mongolia -- a stone's throw from China. How different could we all be? After all, the Jews ate kreplach and the Chinese ate wontons -- both basically the same beef morsels wrapped in dumpling dough.
My introduction to the Chinese laborers (just like my grandfathers working in sweat shops) was through the eyes of Ms. Buck, the fourth American woman to win the Nobel Prize in Literature.
Now, four decades later, I'm re-connecting the dots (like re-stringing a pearl necklace) to this formidable woman through Pearl, a stunning collaborative spectacle of dance, theater, film, music, multi-media and history honoring Pearl Buck at Lincoln Center's David H. Koch Theater. Pearl is the brainchild of Angela Xiaolei Tang of Legend River Entertainment, together with composer Jun Miyake, producer Steven Ship, set designer Michael Cotten, dancer Margie Willis, director Daniel Ezralow, and a troupe of 30 Chinese and American dancers.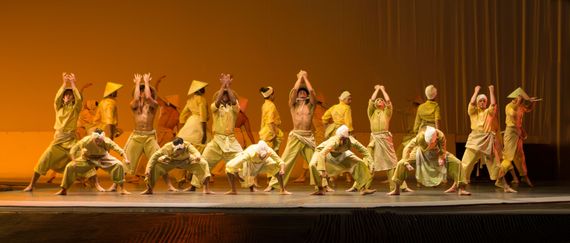 Cast of Pearl -- David H. Cox Theater at Lincoln Center -- Photo by Jim Cox
Crossroads and Silk Roads
Director/choreographer, out-of-the box thinker Daniel Ezralow is all about cross-over, cross-culture, and cross-winds of time. After an initial athletic path at Berkeley ("it gave me confidence... to feel the body... and viscerally take space"), and options of a biology/pre-med career, he crossed courses and leapt into the world of dance. That one Martha Graham class was the turning point. A "graduate" of PBS, Pilobolus, Paul Taylor, Lar Lubovitch, ISO Dance, MOMIX, 2014 Sochi Winter Olympic Games, Cirque du Soleil), Ezralow seems an Ambassador of Collaboration. When first approached about PEARL, a piece honoring Ms. Buck to bridge Western and Chinese cultures, Daniel was "not interested in doing a political (theater)". The AHA moment? An ancient poem.
Pearls of (Poetic) Wisdom
Inspired by the 8th century Tang Dynasty poem by Zhang Ruoxu: Spring River Flower Moon Night -- 春江花月夜 -- the piece zigzags around Pearl's five stages of her life, just as the giant river zigzags around the stage.
Number 5 -- Not for Chanel Only
The Quint-essence of Pearl evokes the sacred number five: the number of balance, of the human being. There are five dancers, five stages, five senses, five vowels, five Olympic rings and five senses. Pearl loves to touch, to taste, to feel the earth, to hear the world, to speak to the people, to live the land. The Chinese 5 Elements are regarded as the basis of the whole world: wood, water, fire, earth, gold. There are five main grains; and in Chinese history: Five sacred mountains; five emperors, five flavors. And, when I took a random orchestra seat in the Koch Theater to chat with choreographer Daniel Ezralow, it just happened to be seat No. 5.
The harmony of nature and similarity of all cultures struck a chord with Ezralow: "the essence of Chinese -- feng shui, rivers, moonlight: we could just as well be talking about Native Americans."
American Cowboys, Ranchers, & Chinese Nomads
Onstage (Michael Cotten, Mirada and Christopher Akerlind's magical set and lighting), I saw the human global struggle: dancers' slack lines fade into visuals of American Idaho cowboy fences, Nebraska ranchers' barbed wire fences; Midwestern farmers' fences of woven wire; Texan border immigration fences, then to the current controversial Chinese "fencing in" plan: the resettlement of nomad shepherds. The entire Koch Theatre stage space (70" wide x 80"deep) is filled with design. One imagines the unending midwestern plains, as well as the infinite steppes and pastoral farmlands of China.
Reverence & Razzle Dazzle - A.staire to Z.en
Pearl is a blend of Bertolucci and Busby Berkeley; Fellini and Cinecitta; Twyla Tharp and Pilobolus; Balanchine and Hollywood. I felt the explosion of color, illumination, sound and space. I half expected Fred & Ginger to step out any minute. It was like stepping onto an MGM film set enlightened by the poetic harmony of the moon, flowers and river.
Jun Miyake 's score transfixes with a sweep of the haunting and uplifting. Another master of collaboration (Wim Wenders, Oliver Stone, David Byrne), he contrasts the subtle with the splash. His is big film score mixed with earthy folk music. Bulgarian voices, Ennio Morricone and Mancini; Elmer Bernstein and Leonard Bernstein. It's a pulsating James Bond thriller soundtrack and sounds of Tai Chi music. Copland and Yo Yo Ma. Tumbling, syncopation, gymnastics, qi gong, and sweet strings (Kentucky fiddle music or Chinese pipa?) Melodies of violin and cello meet erhu and guzheng; it's the Western spirit of razzle dazzle combined with the Eastern calm of reverie.
Pearl's Power of the Word
Pearl embodied conflict; two brothers died, her daughter was an invalid (PLK phenylketonuria), she survived the 1927 "Nanjing" incident, and was denied re-entry into China with Nixon in 1972.
In producer Steven Ship's words: "...in this Kardashian era, Pearl is an essential, outspoken woman of importance." The liquid dancer Margie Gillis (dancer/conflict resolution mediator) is a force of nature; she's an adamant, fluid, and determined Pearl.
Always wondering and questioning, Pearl Buck's solution was to look inside her self, to pluck out the words and become a writer. Onstage Pearl is the transformation of a breathy, curious girl into a confident writer. Typewriter letters float up in vertical swirls; repeated refrains of CAN'T YOU HEAR resonate against rose pink petal backdrops.
Still Waters Run Deep
How to transform a writer's journey into a staged dance/drama? To bridge the troubled waters of East and West, light and dark, violence and tranquility, Chinese rice and American wheat, the ever-innovative Ezralow created a dramatic protagonist: THE RIVER. Onstage (snaking around the entire stage) is a 150' long, 6' wide, 4,200-gallon body of water that meanders on stage as Pearl meandered through life. It's the hugeness of the Yangtze; the Mississippi, the Pacific Ocean, The Red Sea, feminine waters, the newborn child, the veins of humanity, the liquid thoughts with a solid mind. In Ezralow's words, "you can't have a river without a valley. The river is knowledge. Pearl is that valley."
P.Q.R.S. -- Pondering, Questioning, Reflecting, Speaking -- Pearl was gifted with curiosity. A modern day Alice in Wonderland, sort of a Pearl in Waterland. A land where the RIVER is life, water, feminism, knowledge.
A. E. I. O. U.
In a world of garbled consonants and fast-paced, millennial speech, we need some breathing room. I like to think of Pearl as the the veritable vowel girl. Vowels ooze rhythm, revelation and breath to the troubled waters of a running amuck world. They are the rare adagio to the overpowering global presto.
Pearl: Activist. Exuberant. Inspiring. Outspoken. Undaunted.
A Stone's Throw from Wonderland
Pearl is about humanity: its solidity (rocks, stones, human potential) vs. its liquidity (the River).
It wanders through struggle and light; fear and courage; fences and freedom; faith and fragility; the moon and mankind. We're all connected, from the Russian Jews to the Navajo Indians to the Mongolian nomads.
I sat entranced in the David H. Koch Theatre, the former NY State Theater at Lincoln Center, where my mother first took me to see the NYC ballet. My mother, who taught me to speak up, to be curious, to stand up for the laborer, to look inside myself, to believe. The years shrunk away and I was a little girl once again. Curious, eager, inspired. In a way just like PEARL: the girl, the adolescent, the woman, and the writer.
A.B.C.'s of Life: Aristotle, Buddha, Confucius
In the end, we are all one. Belief and hope is all. Pearl gives us strength:
I believe in human beings, but my faith is without sentimentality. I know that in environments of uncertainty, fear, and hunger, the human being is dwarfed and shaped without his being aware of it, just as the plant struggling under a stone does not know its own condition. Only when the stone is removed can it spring up freely into the light. But the power to spring up is inherent, and only death puts an end to it. I feel no need for any other faith than my faith in human beings.
Like Confucius of old, I am absorbed in the wonder of earth, and the life upon it, and I cannot think of heaven and the angels. I have enough for this life. If there is no other life, then this one has been enough to make it worth being born, myself a human being. With so profound a faith in the human heart and its power to grow toward the light, I find here reason and cause enough for hope and confidence in the future of mankind.
Pearl Buck -- Roll Away the Stone (heard in Pearl, Act 2, David H. Koch Theatre)
Popular in the Community