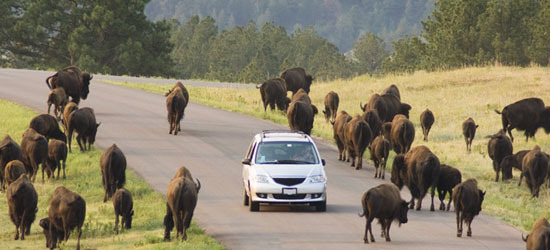 Photo Courtesy of Dreamstime. Article by Kaeli Conforti of Budget Travel.
Hiking a volcano and walking on a dried lava field in Hawaii
Remember all those earth science classes you took about volcanoes and lava rocks? Visit Hawaii Volcanoes National Park to see the real thing in action. Not only will you get the chance to drive right up to the caldera -- don't miss the Crater Rim Drive, an 11-mile road that passes through the various volcano landscapes from tropical rainforest to the desert-like crater itself, with scenic overlooks all along the way -- there's also the opportunity to walk inside the Thurston Lava Tube, no longer an active part of the volcano, that allows you to walk 1/3 mile inside Kilauea where lava once flowed a few hundred years ago. Expect to pay $10 per vehicle that enters the park, or $5 per individual if you enter by foot, bicycle, or motorcycle. Don't forget to get a park map from staff on your way into the park, and stop by the Kilauea Visitor Center and Jaggar Museum to learn more about what you're viewing. Free camping and hiking opportunities are also available, as are park ranger-led walking tours, but be sure to check the website for updates on volcanic activity in the park before you head out. Always stick to the marked paths and never try to get closer to the lava, no matter how great you think your photo might turn out. You're still on an active volcano, after all.
About an hour's drive outside the park along Highway 130 in Puna is the entrance to Kalapana, a town that was completely covered by a 1990 lava flow. Miraculously, no one was injured and the town actually got together and hauled their church to a nearby town to escape the wrath of Hawaiian volcano goddess, Pele -- you can still visit the Star of the Sea Painted Church today, now located along Highway 130 just before Kaimu Park. Park your car where the road ends (it's literally blocked by a wall of hardened lava), grab a sturdy pair of shoes, and go for a hike on the dried lava field. The hike can take anywhere from 20 minutes to two hours depending on how much of a hurry you're in, but it's best to tread lightly and slowly, as lava can be very sharp if you fall. The trail, which ends at a gorgeous black sand beach (swimming is not permitted due to the proximity to the active volcano, Kilauea) is open daily from 2 p.m. to 10 p.m. Parking and hiking are free, thought the last car is allowed to park at 8 p.m., so plan accordingly and bring a flashlight if you plan to do the hike at night.
Americans first encountered zorbing -- the art of rolling and bouncing down a hill while inside a giant, hamster-wheel-like plastic ball contraption -- when teams competing on The Amazing Race a few years ago faced it on TV as one of their big challenges. An adrenaline junkie's dream come true, Zorbing has been popular since 1997 and is definitely one of those "only in New Zealand" types of experiences to write home about. You have two options: Zydro, a sort of water-ride version of the Zorb, and Zorbit, the dry version. Zorb Rotorua then offers four track options and eight ride variations -- some strap in just one person, others up to three for a crazy head-over-heels trip down the half-mile track. Prices for one Zorb ride (either wet or dry) are $45 per person; pay $70 for two people to ride in the same globe; pay $90 for one person to ride three times.
Zip lining over alligators in St. Augustine, Fla.
While regular zip lining may already give you a heckuva rush, there's nothing quite like zip lining and completing an aerial obstacle course over a park full of crocodiles, alligators, and hundreds of other reptiles. At the St. Augustine Alligator Farm's Crocodile Crossing, located along Florida's northeast coast just outside the historic town of St. Augustine, you can do just that. Not to worry, everything is totally safe. (I have to admit I was a little skeptical myself when I tried this, but figured the bragging rights and bucket list story would be more than worth it in the end). You are trained by the experts before you go about how all the ropes and pulley systems work, and even get to do a small practice zip line before you set off on your adventure. Choose from the 45-minute long Sepik River Course that takes you 20 feet up and gives you three zip lines to go through, or the longer, higher, 90-minute Nile River Course, an aerial obstacle course 60 feet above the park that takes you through a total of nine zip lines. (The 45-minute course costs $30 per person while the 90-minute course costs $65 per person). Both courses are self-led, but there are trainers beneath you to come to the rescue should you get stuck or require assistance. Once my knees stopped shaking (I wasn't used to being so high up), I tried to concentrate on the view around me and not on the giant, toothy reptiles underfoot, and had a great time!
Driving among the buffalo in Custer State Park
Custer State Park is located just an hour's drive south of Mount Rushmore and is one of those places where reaching it is half the fun -- there are plenty of twisting mountain roads, gorgeous views, and incredible wildlife encounters to keep you on your toes, and very few places on earth where you can actually get stuck in traffic because a herd of buffalo decided to cross the road, so keep those cameras handy! Once inside the park, opt to spend the night camping in the South Dakota wilderness or visit one of the Custer State Park Resorts-I stayed at The Game State Lodge, a beautiful historic property that once served as the "Summer White House" for President Coolidge in 1927 and was later visited by President Eisenhower in 1953. The best part: it's the launching point for Buffalo Safari Jeep Tours, a spectacularly intimate way to get up close and personal with the park's diverse wildlife -- we drove right up to a grazing herd of bison, past fields of noisy prairie dogs, and ended the night with a traditional chuck wagon cookout. Admission to Custer State Park costs $4 per person per day, or pay $15 per vehicle for up to seven days. Children ages 11 and under get in free. Rooms at The Game State Lodge start at $115 a night. Adults pay $82 each-children ages 12 and under pay $62-for the Buffalo Safari Jeep Tour plus Chuck Wagon Cookout. Prices for just the Jeep Safari are $43 for adults, $36 for kids 12 and under. Prices for just the Chuck Wagon Cookout are $47 for adults and $37 for kids 12 and under.
Dog-sledding in Mont Tremblant, Canada
One of the best ways to really get out there and experience nature at its finest is by dog-sledding through the wide open wilderness of the Laurentians in Canada's Québec province, about a two-hour drive from Montréal. At outfitters like Pourvoirie Mekoos in Mont-Laurier, you'll get to meet the dogs before you ride along with (or drive) the dog-sledding team through the Canadian wilderness. You'll have a beautiful cabin-in-the-woods style cottage to stay in (or opt for a room within the main lodge), delicious home-cooked meals in the main lodge, and a wealth of activities to choose from no matter what season you're visiting in -- choose from hunting, fishing, hiking, mountain biking, volleyball, bird watching, berry picking, and nature hikes during spring, summer, and fall, and snowshoeing, snowmobiling, ice fishing, and dog-sledding during the winter. If you can't make it out to the Canadian countryside, you can also try dog-sledding in the ski resort town of Tremblant, located about an hour and forty minutes from Montréal. Visit this website to view additional dog-sledding options in the Upper Laurentians region. Dog-sledding at Pourvoirie Mekoos costs $100 per person for a half-day adventure, and $200 per person for a full-day adventure. Two people are required per sled and both options include lunch. Their accommodation and meals package includes one night at the lodge or in a cottage, dinner, breakfast, and use of the spa and sauna for $120 per person per night. Dog-sledding prices at Tremblant start at $95 per person for a two-hour ride.