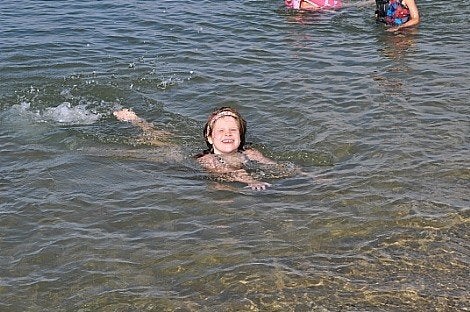 I've been writing bucket lists my whole life. When I was young, the things on my list were fantastical -- become one of Michael Jackson's backup dancers, compete in the Summer and Winter Olympics, marry a prince. As I grew up and took on real responsibility, the lists morphed into slightly more realistic goals: live in Paris, attend the Academy Awards, open a store and write a novel.
The lists continued to grow longer and more frequent. Perhaps they were a way to make sure that I would capture all that life had to offer. If I added something to a list, then I would remember to do it, eventually check it off, and voila! feel fulfilled in some deep primal way -- I was here, I lived, I accomplished something, I mattered?
The problem was, I never felt like I had enough time to work through my list. I got my first job at 15-years-old as a snack bar attendant at the pool, then moved on to sales at my local Bloomingdales, held the typical odd jobs through college, including one stint as the Easter Bunny at the local mall, and then landed in my professional career in communications. I never took a break, and the lists kept growing. At one point, when I was sweating out a summer in D.C., I put "live a bicoastal life" on the list.
When I was pregnant with my first child, I had big dreams for finally checking things off my list during maternity leave. No, not taking care of the baby, feeding the baby, bonding with the baby -- of course I would do those, but they weren't on the list. Four months of no work held so many possibilities: I would write that novel, take that trip to Paris, and learn to play the piano well enough that we could have music-filled, salon-type evenings of friends singing around the piano at our house.
My husband laughed at me. And I laughed back.
When our daughter was born, she was beautiful and she screamed. A lot. The nurses warned me that they couldn't keep her in the nursery much longer because she was keeping the other babies up. We brought her home, she kept screaming, and we told ourselves it was normal. But then it wasn't normal. Her body jerked. Her eyes rolled. An emergency visit with a neurologist led to a hospital visit, and then to a diagnosis: our six-week-old daughter had a pattern of seizures so severe that they were sure to leave her with significant mental and physical retardation. There would be no novel, no Paris, no singing-filled salons ... and no hope.
The moans that came from my body following the diagnosis were so deep that I felt possessed. I went home from the hospital -- powerless -- and held my baby. For days I sat outside, rocked on the porch swing and stared at the tree in the front yard. My mind was blank. Part of me felt like life was over. But then I began to notice the beauty of the tree's leaves. And as summer turned to fall, I stared at each one, watching as the color crept into the green of the leaves and slowly turned orange and yellow and red. What a work of genius, I thought.
I rocked my daughter through each seizure, sometimes five a day, sometimes ten, sometimes more, and kept staring at the tree. A friend came to visit. "Is this what you do all day? Sit here?" she asked. Yes, I said. It's what I do all day. Sit and feed my baby. And stare at the beautiful tree.
I was forced to sit still, and notice what had been outside our house the whole time, that I had never paid much attention to.
Soon, people from the state's early intervention team came to evaluate my baby. She couldn't do anything -- push up, reach for things, or roll over. So, they said, it was time to write a list -- a list of goals for my daughter. What would I like her to accomplish, they asked. I sat silently as a montage of all the things I hoped for my daughter scrolled through my head: I wanted her to smile, to talk, to ride a bike, to make a friend, to get married, to have her own daughter. I wanted her to have a life. I was making a bucket list for my daughter -- a list of the most basic, most simple, and most beautiful experiences you can have in life. Nothing on my countless previous lists appeared on my list for her. In fact, I couldn't even remember what was on my lists.
And then it came to me; I said: "I want her to swim. I want to swim with my daughter. Will I ever be able to swim with her?" They looked down and wrote, "Mother would like child to learn to swim." And they promised to be back in a week to start occupational therapy.
In the years since that horrible first year of being a mother, we've pursued dozens of treatments and therapies, discovered a brain tumor and witnessed huge gains made possible with its removal, not to mention the hundreds of other small miracles along the way.
There was a silver lining to the trauma we experienced in the first year of my daughter's life. Just as I truly "saw" the tree for the first time, and the wonder of nature to change the color of its leaves, I learned to strip away the unessential in our new family, to focus on the joys of life's simple moments, and to savor my baby's small victories on her way to becoming a little girl.
My daughter is now seven and we swim everyday. There are no lists, no plans, and it is so sweet.
Related