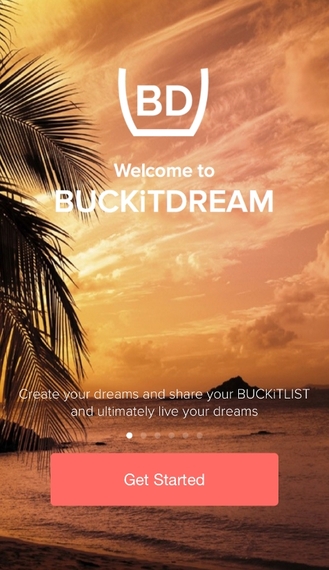 Quotes about dreams abound -- and if you notice, they're often expressed by people who don't just talk about their dreams: they live them. Consider just one inspirational tweet of many from kinda-successful entrepreneur Richard Branson: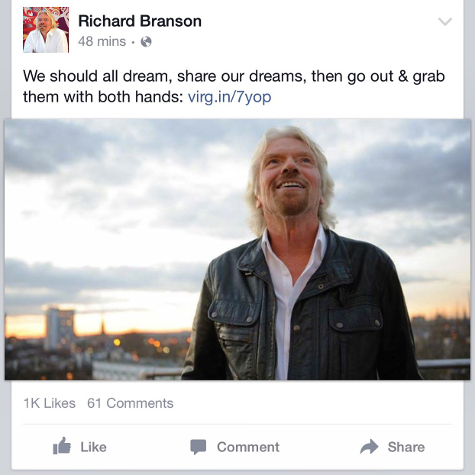 The fairly prominent Ellen DeGeneres also has dreams, and has said (during a 2012 episode of Ellen): "I've always wanted to go on safari and spend time in Africa. My dream, one day when I am done with all this in front of the cameras, I want to start a rescue organization for animals."
Let us also consider the words of doin'-okay media maven Oprah Winfrey:
"The biggest adventure you can ever take is to live the life of your dreams."
And may we not forget the perspective of reasonably-popular icon John Lennon:
"A dream you dream alone is only a dream. A dream you dream together is reality."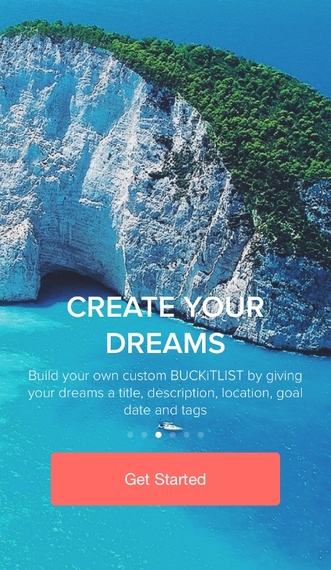 The unifying factors? Identifying one's dreams. Sharing one's dreams. Acting on one's dreams.
This is the core concept of BUCKiTDREAM, the fun, innovative, and remarkably simple new mobile social commerce platform. Its intuitive interface allows users to upload their dreams -- in other words, their own personal "bucket list" -- and literally share them with the world, that the world may take notice. This world includes fellow dreamers (who may share your dreams, as you share theirs), as well as merchants, who will proactively be able to offer deals, discounts, package plans, group rates, or any number of perks to help dreamers reach their dreams. The first release app focuses on users creating their dreams and sharing their "buckitlist," and is currently available for iOS in the App Store: BUCKiTDREAM.
For example, if a BUCKiTDREAM user wants to visit a specific location (on their personal bucket list), they can create their dream, give it a title, add tags, upload a photo or representative image of, say, Tokyo, or Toronto, or Tobago. Then, much like other social media sites and apps, the dreamer shares the dream with the members of that user's group -- or with the general public -- who can find and consider that particular dream, and comment on it, share it, give it a rave, and add it to their own list. By building their own custom BUCKiTLIST, each user can include a photo or title, a location, a goal date, and even a budget.
Thus a consumer's dreams, passions, and intentions are "visualized" -- to use a popular term. No longer vague. Ready to become reality.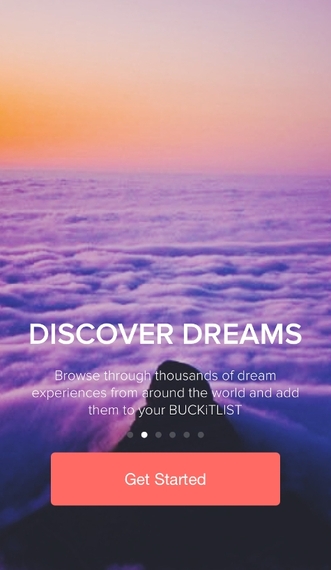 From there, the corporate angle kicks in, for a win-win: Rather than employing the old-fashioned advertising template of "Pay, spray, pray" (i.e. Spend a lot, blast out ads, hope they connect!), BUCKiTDREAM allows merchants to create a unique offer for each consumer, at the right time, to match those dreams. This pre-commerce stage allows for more satisfying -- and focused -- commerce, practically guaranteeing a happier outcome for all concerned. If you want to stay at a particular luxury hotel, and they're on BUCKiTDREAM, they can directly reach out and say, "Here, let us help you." The potential is huge.
The mastermind behind BUCKiTDREAM -- its founder and creator -- is Tim Carroll, former Global CMO for entertainment company Village Roadshow (film production, cinemas, theme parks, plus of course the producers of George Miller's Mad Max and Happy Feet). Mr. Carroll has assembled a top international team to design and implement the BUCKiTDREAM app -- notably, each dreamer posting their own dream.
"Everyone has a dream," explains Mr. Carroll, "and it seems like we are arriving at the right time, bracing for a true Dream Economy. The world has always embraced the concept of having a bucket list. These dreamers want to dream out loud and share their dreams, and it's a status fix. On the other end, media and brands are always seeking new ways to be relevant to consumer passions -- they want new ways to engage and reach customers. Enter BUCKiTDREAM, which is actively positioning itself to be relevant to dreamers. They want to accelerate the process of connecting the right dreamers with the right merchants, kind of like an AirBnB for dreams."
Mr. Carroll elaborates: "Dreamers can look forward to BUCKiTDREAM coming to Android devices later this year. Also, the current version will get a jolt of updates, including a search feature that will enable you to find your friends from Facebook and Twitter, and recommend them to the BUCKiTDREAM platform. The company will roll out new features connecting dreamers with merchants -- as well as a Merchant Directory: a list of hand-curated merchants who can fulfill the BUCKiTDREAM Top 100 experiences, who will have info on these companies and their contact details for users.
"Users will also be able to request quotes on their dreams, so they can seek out their destinations and experiences. And last but not least is the Dream engine, a back-end tool that will allow BUCKiTDREAM to take the consumer's dream journey from creation to Dream Planner by connecting them with their merchant partners -- who can help with the transactions to make their dreams real!"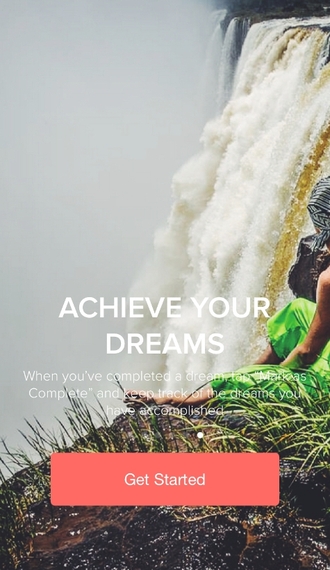 He adds a trade secret that's perhaps not so secret -- but needs to be understood for a business to work: "The ultimate holy grail for a marketer -- of any brand -- is to have relevance to consumers' dreams and passions."
Tim is a busy man, and it certainly appears that his enchanting vision is to make that relevance fun.
I ask Mr. Carroll how this new platform occurred to him.

"It was probably in 2010, and obviously my background, being in entertainment -- I looked at the rise of everything on the Internet, the rise of Facebook, the consumer power of Google -- and honestly, in my subconscious was the Warner Bros. movie, The Bucket List. I wrote on a board some big opportunities. I was looking for one of those big-blue-ocean opportunities, finding out what the future holds -- and the bucket list hit me straight away.
"What I thought about -- not as a gimmick, but as a concept -- was: imagine if you actually could put your own bucket list together, of all the things that you've wanted to fulfill in your life. That went back to when I was a 10-year-old boy, when my dream was to go to the U.S. Masters. I said: 'Why did I never go?' Between the ages of 10 and 47 at the time, there was plenty of opportunity for me to go to the U.S. Masters!"
Mr. Carroll notes that the movie with Jack Nicholson and Morgan Freeman focused the concept, which was already building considerable momentum via celebrities such as Oprah Winfrey (her #1? truffle-hunting in Italy).
"I saw that every consumer in the world has a dream that they want to fulfill, and I started thinking from a business perspective: 'Why hasn't anyone ever created a meaningful platform that allows people to publish their own dreams? From there, I just dived into it."
(Happily, the concept worked on a personal level for Tim: He and his son did make it to the Masters.)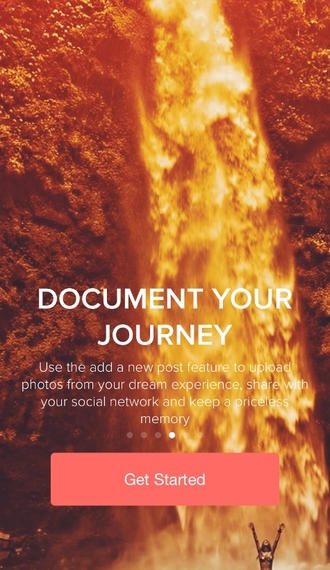 Bringing things full circle: BUCKiTDREAM was an official marketing partner for Richard Branson's 2014 Necker Cup -- dubbing Sir Richard the first-ever official BUCKiTDREAMER of the Universe. Not only is the sky the limit -- or in the case of space jockey Richard Branson, no longer the limit -- it's a very apt connection. And one any dreamer with the app can easily join.
REAL LIFE. REAL NEWS. REAL VOICES.
Help us tell more of the stories that matter from voices that too often remain unheard.