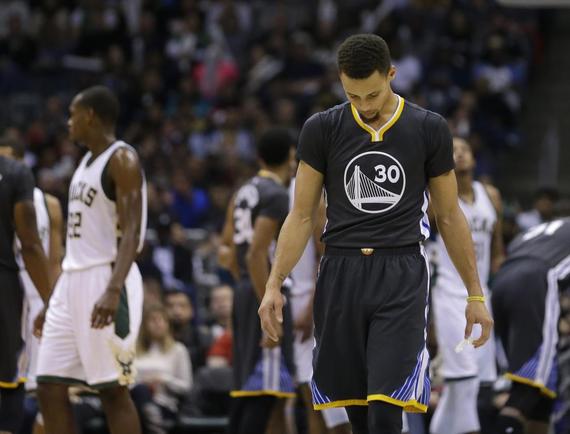 Photo by AP-Aaron Gash

Milwaukee, WI - The Milwaukee Bucks did the entire league favor. They beat the Warriors last night to end their winning streak. It wasn't what twenty-four teams couldn't do, but more about the Golden State running out of gas on the final leg of their road trip. The champs, who aren't used to losing, showed no signs of remorse and shook hands with their opponents after.
The Bucks did something no other team has done thus far. Many thought the streak would end on Christmas Day, giving more hype to the upcoming Cleveland Cavaliers game. But Milwaukee was the better team, handing the Warriors their first loss with a 108-95 win at the Bradley Center.
"We showed some spurts to get back into the game," said Stephen Curry. "We got some stops. But for 48 minutes, I don't think anybody can say we played as hard as they did."
It wasn't the team you expected to beat the champs. The Bucks are one of the worst shooting 3-point teams in league, ranking at 26. But last night, it took an effort from all. O.J. Mayo, who had his best performance of the season, owned the first quarter. He hit four threes and finished with 18 points. Greg Monroe scored 28 points and helped seal their win.
"He's this generation's Jordan," Milwaukee's coach Jason Kidd said. "We all wanted to be like Mike, and children today will grow up seeing Steph."
A Bay Area native, and one of the best point-guards to play the game, doesn't give high praise to many. But Kidd knows when he sees a great player in the making. His Bucks coming in with 15 losses stopped the Warriors' historic streak as they tried to catch up to the Los Angeles Lakers' 37 straight wins from 1971-72 season.
It was Milwaukee who ended the Lakers' streak back then, and they did it tonight. The Bucks have a history of snapping streaks; they also spoiled several other runs by teams on a winning streak. The 76ers' 14-game streak from 1982-83 team, Spurs' 13-game streak from 2006-07, Celtics' 12-game streak from 1973-74, and the Mavericks' 12-game streak from 2010-11.
"For us, we didn't talk about the streak," said Kidd. "We talked about playing the World Champs and no matter what, we have to play our best. The guys responded."
Just one game away from making history by being the first team in NBA history to go 7-0 on the road came to an end. Despite the loss, Golden State is still the best team to watch. Twenty-four straight wins is pretty awesome, but the Warriors want more; they want another NBA Championship, and that's their only focus.
"Obviously nobody wanted it to end and you want every night for it to be another notch in that belt for the streak, Curry said. "But ending up with our first loss, you can kind of appreciate what we were able to accomplish. I think we can re-focus on not just winning games, but how we're playing. The last week or so, with the road trip and things we just found ways to win but I don't think we ever played our A-plus game."
Golden State thrives off a competition, and from here on out, expect this team to get better, and who knows? Maybe start a new streak. There's a whole lot of basketball to be played, and guess what? The Bucks come to Oracle Arena next Friday for a rematch. The Warriors have accomplished a tremendous feat with 24 wins, and they hope to set more NBA records this season.
Calling all HuffPost superfans!
Sign up for membership to become a founding member and help shape HuffPost's next chapter