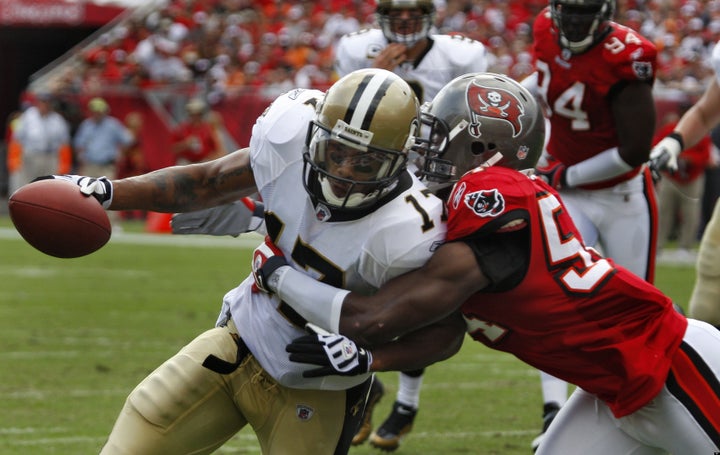 You know, it did a heart good to see the Bucs' QB-of-the-Future out there on the field this Sunday. He took charge, he made plays, he inspired confidence in his team. It's the kind of performance that made you think, hey, now that was a great draft pick. Some might have doubted his talents and thought he was too much of a project, but he just went out there and led his subpar team to a W. What more can you ask for.
So I'd just like to say a special thanks to you, Bruce Gradkowski. You really made this team ...
Oh, Gradkowski plays for the Oakland Raiders now?
Huh. Ok, well, never mind then. (Though props still go to the cumbersomely-monikered one for his team's victory over the Cincinnati Bengals.)
The Bucs' own QB-of-the-Future had considerably less success this weekend. Josh Freeman engineered an opening touchdown drive that highlighted all of the rookie's best assets (strong arm, quick feet, good eye down the field), but the success was short-lived. Freeman struggled mightily for the rest of the game. He lost a fumble, threw three interceptions and was otherwise so inaccurate that Antonio Bryant's return to the team was a virtual non-issue. Perhaps the coaches' lack of confidence in Freeman's play explains the fact that the Bucs ran the first two downs and passed the third nearly every time they had the ball -- even when down by several touchdowns. This "rush, rush, pass" pattern netted the Bucs exactly 0 points in the final three quarters. Which -- for non-math majors -- is significantly fewer points than the 31 that the Saints scored during the same period.
But, look, Freeman is a rookie, and he's going to play like one sometimes. Which bears the question: What's the excuse for the defense? The Bucs, per usual, could not stop the run (Saints running backs averaged over 5 yards per carry), could not shut down the Saints' receivers (even when the receiver in question was back-up tight end Dave Thomas), and I'm pretty sure the only time the defense laid a hand on Saints QB Drew Brees was during the post-game handshakes.
This no offense/no defense combo against a powerhouse Saints team made for another entirely-too-long afternoon in this entirely-too-long Buc season. On the bright side, though, the more weeks pass, the closer we Bucs fans are to having a star QB-of-the-present instead of a star QB-of-the-future.
Cross-published on chicksinthehuddle.com.
Calling all HuffPost superfans!
Sign up for membership to become a founding member and help shape HuffPost's next chapter