San Diego Padres pitcher Bud Norris wants to let foreign players know that if they're going to come play his country's game in his country and take his country's money, then they better damn well act how his country wants them to act.
Informed of this statistic, Norris offered his, uh, interesting take on the situation:
Now that's what we call a patronizing take at best and a xenophobic one at worst.
Norris first brings up the internationalization of baseball in the 21st century, referring to players who "come into our country and make our American dollars." You're excused if that conjures up memories of a notable "South Park" rant.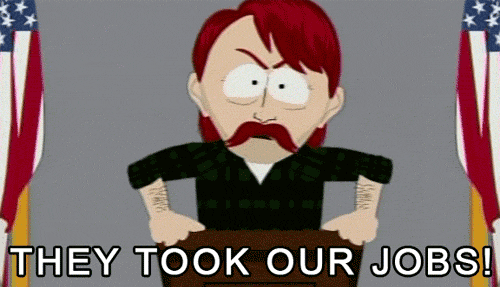 The problem is that while the sport has important origins in the United States, it's been much more than America's game for well over a hundred years. As writer Tomás Ríos notes:
The benefits of the game's globalization -- not to mention its racial and ethnic integration -- are undeniable. They've increased the quality and competitiveness of the sport, as well as its popularity. And with so many people in so many places playing the sport, there is no one right way to play baseball.
Norris suggests that some players' "antics," as he calls them, are "a cultural thing." Presumably, he thinks those who play the right way (read: white way) don't share that culture. But more and more of baseball's superstars are coming from foreign countries. The game is going to change along with them, even with pushback from players like Norris.
Misunderstandings can arise when some people are adjusting to a new country while holding down highly competitive jobs alongside co-workers with opinions like Norris'. Or as ESPN's Bomani Jones notes, it might be that some players have just become a little too sensitive to other folks' trash-talking and celebrating.
Norris concludes his argument by saying MLB's newcomers "better have a pretty good understanding of what this league is."
With so many international players excelling at their craft, breaking records and winning awards, it certainly seems like they have a great understanding of what the league is. Hopefully Norris will, too, someday.
Update -- Thursday, 10:33 a.m.: Bud Norris has issued an apology to the San Diego Union-Tribune regarding his comments.
"It was a quick conversation after a game, and I was getting dressed to go see my family," Norris said before Wednesday's game against the Milwaukee Brewers. "I feel my words were definitely misconstrued, but that's beside the point.
"I want to apologize for how it came out and the words that were taken out of context in passing. I apologize to anyone I might have offended. I love this game and admire everyone who plays this game with all the passion that I do."
Related
Popular in the Community