Buddha Mama is a jewelry line that is more than originally meets the eye. Each of Nancy Badia's beautiful pieces embodies a positive lifestyle. Besides creating exquisite fine jewelry pieces, Badia, the jewelry line's founder and designer instills Buddhist values and intricacies to each of her jewelry "babies." Each piece has her blessing with a bespoke design or symbolic meaning behind it. To reflect her philanthropic side, a portion of Buddha Mama's sales are donated to Kristi House and Zen Village.
I learned all about this great line at their NYC Press Preview at the Peninsula Hotel. Nancy's daughter, Dakota, has caught the Buddha Mama "bug" as she has started to design as well. Both members of the mother/daughter duo are creating beautiful pieces of fine jewelry, and I could not believe the detail within each treasure.
I ogled as I tried on this high-carat rose gold-netted hand bracelet, as well as necklaces and bracelets embellished with Buddhist symbols.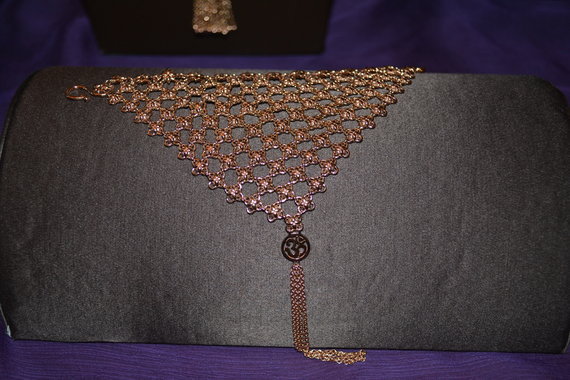 In the photo below, Dakota is showing off some serious Buddha bling. Here she is holding a yellow gold rosary-like necklace with a diamond encrusted Buddha at the end (note: check out her awesome skull ring with gold teeth -- that is one of her own designs for the Buddha Mama collection).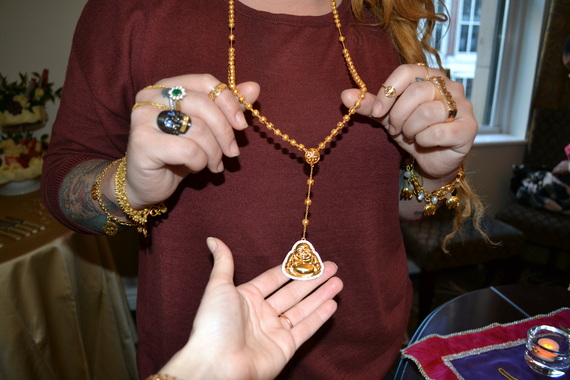 Each of Buddha Mama's pieces features a level of detail that could only truly be appreciated up close. Every bead used in her work typically features an intricate design, which is usually the Dharma-wheel, Mandala, or Buddha. These symbols are seen quite frequently though-out the entire collection.
It is known in the industry that the best and most obvious way to judge the quality of a jewelry line is to see if it is just as beautiful on the backside as it is on its front. Here are two pictures: the first showing the front of a Buddha Mama bracelet and the following an image of the back.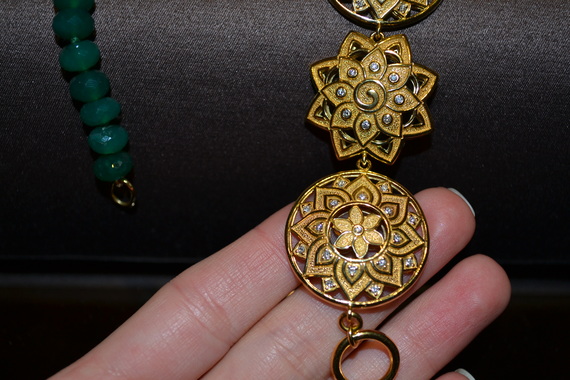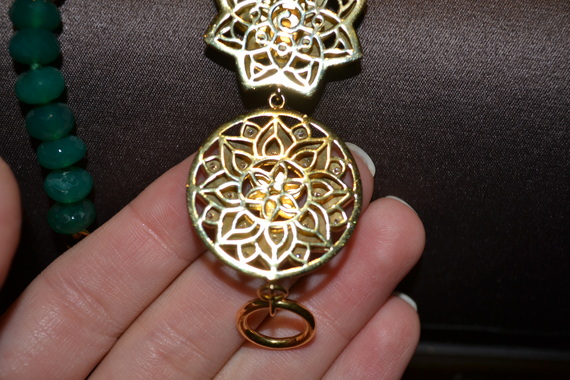 This post was brought to you in collaboration with LoveGold