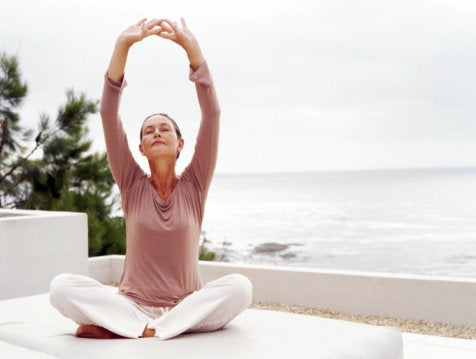 It is said that the Buddha did not inform or instruct others about the dharma, the truth, but rather he proclaimed the truth, or more exactly, he revealed it. We can't give the truth to someone as an object, we can only point to it, inviting inspection. It is in that spirit that we can hear or read a teaching and then look at our own lives, at our own experiences to see whether anything might have been revealed about them.
In the Buddhist texts there are phrases depicting the response of people hearing a teaching: "That which was overturned has been righted, the hidden revealed, the way has been shown to one who was lost, a lamp has been held up in the darkness." In the end, we can't hold on to the teachings as an identity or an object, we cannot become attached to them because in some strange sense there is nothing to claim. There's no commodity we can take with us. There is only our lives, whether we live them wisely or whether we live them in ignorance. And this is everything.
The Buddha said once, "I do not argue with the world. It is the world which argues with me." Many times the Buddha was asked what he thought about a certain teacher, or a certain presentation or doctrine. He would often say things like, "Look to see if the path, if the practice, leads to the complete ending of greed, hatred, and delusion in your lives. And if it does, you can trust it." "Look to see whether it leads to the end of suffering. Look for yourselves." That is our invitation, and our responsibility.
The teachings of the Buddha are talked about as the middle way or the middle path because they avoid two extremes. They avoid the first common extreme of overindulgence or reliance upon intense pleasure for perfect happiness. We live in this world of great promise, where everything seems to offer an unchanging final happiness, if we can only get enough of it. It is very intoxicating. If we get lost in the delusion that somehow some sensual pleasure, seeing, hearing, tasting, touching, thinking, whatever it is, is going to provide a lasting happiness, then we're lost, because as things continually change, we continually suffer.
The other extreme of this reliance, this overindulgence of the senses, is the extreme of self-mortification or self-torment or over-asceticism. In the philosophical systems of India in the time of the Buddha, it was often believed that if the body could be tortured or tormented enough, then somehow the spirit would soar free and the person would be liberated. Nowadays, perhaps we experience some of this in eating disorders, or self-mutilation. But primarily this now manifests in a kind of mental or emotional self-mortification or self-torment, where people seem to believe that if somehow they can condemn themselves enough, or torture themselves enough with-self hatred, that their spirit will soar free and there will be liberation, there will be final and perfect happiness.
It is imperative for us to see beyond this tendency in order to both understand and achieve true spiritual transformation. The Buddha said: "Hatred will never cease by hatred. It will only cease by love. This is an eternal law." This includes the tendency towards self-hatred -- it will never cease by more hatred. Bringing hatred to a hate-filled situation will add hatred. Bringing love will bring love.
The Buddha also said: "You can search the entire universe for someone who is more deserving of your love and affection than yourself. This person is not to be found anywhere." What an incredible statement that is!
So for us the question becomes, can we find that place in the middle of these extremes, neither fruitlessly clinging to transient experiences, nor working from a place of self-hatred? Can we discover a place within of interest, awareness, and love that can motivate our practice? Can we find that very delicate place in the middle of these extremes, and empowered by that, really take a look at our lives? Taking a look at our lives in this way, we can see deeper truths for ourselves. Seeing these deeper truths, we can be liberated from old habits of clinging and condemning and delusion. We can be ready to proclaim, "That which was overturned has been righted, the hidden revealed, the way has been shown to one who was lost, a lamp has been held up in the darkness."
Related