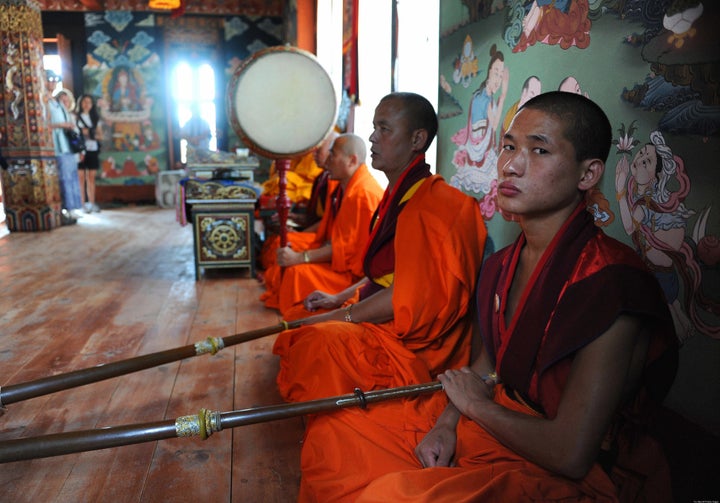 By Vishal Arora
Religion News Service
(RNS) Officials in Buddhist-majority Bhutan have barred Hindu and Buddhist clergy from voting in upcoming elections in order to keep a clear distinction between religion and politics.
The landlocked Himalayan nation considers Mahayana Buddhism the state religion and funds a large monastic community, but also requires religion to be above politics.
The country's regulatory authority on religious organizations is now busy identifying Buddhist and Hindu clergy who should be barred from voting.
Phurpa Dorji, the senior coordinator for the eight-member chhoedey lhentshog regulatory body, said the list of religious figures who should be above politics was yet to be finalized. The members have met four times since April 2009, and more meetings are being planned.
Dorji said the ban existed in Bhutan's first democratic elections two years ago, but there was ambiguity at the time on who could vote and who could not.
The Bhutan Youth Development Fund, a non-profit group that sponsors monks who do not receive government assistance, estimates that almost 10 percent of the population is part of the monastic system.
Around 75 percent of the less than 700,000 Bhutanese are Buddhist. Another22 percent are Hindus, the only other officially recognized religion.
Since the 17th century, Bhutan has followed a dual system of governance, known as the Chhoe-sid-nyi, which splits the government powers into a religious branch headed by a chief abbot (known as Je Khenpo), and an administrative branch headed by the king (now headed by the prime minister).
Until now, the clergy had the right to vote. The Chhoe-sid-nyi is "unified in the person of" and upheld by the sacrosanct but impeachable king, who has to be a Buddhist, according to the 2008 constitution.
The constitution also mandates that parliament conclude all sessions with Buddhist prayers, and requires religious institutions and figures to promote the Buddhist spiritual heritage "while also ensuring that religion remains separate from politics in Bhutan."
Related
Popular in the Community