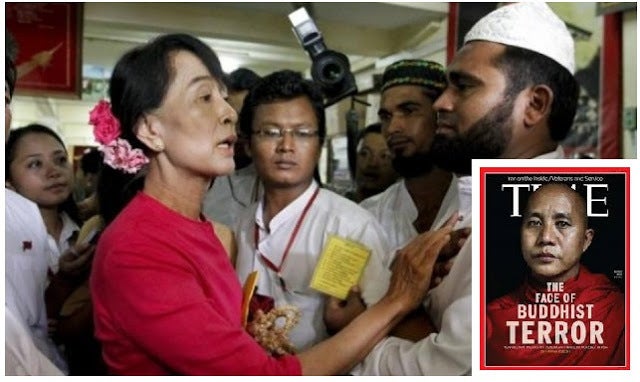 What happens when two different faiths, each proclaimed as a religion of peace, co-exist in a confined area? We would like to believe: "An abundance of love, peace and harmony!" But the reality in Myanmar today is quite different. What we see is an abundance of violence, hatred and persecution between Buddhists and Muslims.
It looks like a death spiral for both sides.
Buddhists present an image of tranquility and follow their Noble Eightfold Path that endorses "loving kindness, empathy and compassion" for all beings … "a desire to help, not harm, others … and conduct that is peaceful."
Yet in just the last few weeks, the Buddhist-majority leaders in Myanmar have killed between 1,000 and 3,000 Rohingya Muslims, massacred entire villages, burned their homes to the ground and driven more than half a million out of their historic homeland, according to various U.S., British and Indian news reports.
Rohingya Muslims have populated Myanmar, also known as Burma, since 1050 A.D. They have been persecuted ever since – by various Burmese kings, Japanese invaders during World War II, and most often by the Buddhist majority.
Muslims around the world are calling for the international community to step in, punish the Myanmar government for its atrocities, and ask for the Rohingya to be embraced as legitimate citizens with the same rights as all others. As of now– by law – the Rohingya are considered "resident foreigners" in their own Rakhine State.
Although they have been one of the most persecuted groups in world history, Rohingya Muslims are not blameless in this conflict. A resistance group called the Arakan Rohingya Salvation Army has launched deadly attacks against police, army and Myanmar government targets. At least 32 were killed in one such attack last month.
Violence begets more violence, and in Myanmar, the result looks like genocide. Its State Counselor (equivalent to prime minister), the celebrated Nobel Peace Prize winner Aung San Suu Kyi, appeared to be the right person to stop it. She had resisted the military dictatorship, was seen as the "Nelson Mandela of Burma," and disavowed violence.
Today, protest groups are burning her in effigy.
"These are mass killings, and they're taking place right now, and Aung San Suu Kyi's office is not only doing nothing to stop it, in some ways they're throwing fuel on the fire," said Matthew Smith, founder of the human rights group Fortify Rights. He was quoted from the Kutupalong Refugee camp in Bangladesh, where many Rohingya have fled.
Pundits in 2017 who disagree with governmental actions are quick to toss around references to Nazi Germany, and such hyperbole is usually baseless and disingenuous. But when we look at the Myanmar government, consider the similarities.
The Rohingya were subjected to the "Population Control Act" (forcing them to have no more than two children), were denied citizenship, and were not allowed to travel without permission. Human rights groups pointed out that these laws were based strictly on religion and race.
When the government declared the Rohingya people collectively to be terrorists, it opened the door for what can only be called acts of ethnic cleansing. The Myanmar Army is taking actions that look shockingly similar to how the Nazis tried to exterminate Jews in Hitler's Germany.
Myanmar's violent and deadly approach to the "Rohingya problem" could very well backfire with unintended consequences. Jihadists looking for opportunities to further their cause could rush to the rescue of "oppressed Muslims," igniting terrorist acts of death and destruction.
"The conditions in Rakhine are ripe for the influence of extremist stimuli, including the infiltration of Islamic State ideology, which may worsen the situation in Myanmar," researchers at Singapore-based Nanyang Technological University wrote in a report.
In Afghanistan, protestors in some provinces took to the streets in a show of solidarity with the Rohingya, demanding their government issue an official condemnation of the Myanmar Army. Some threatened to enlist for jihad.
Recently, Al Qaeda in the Arabian Peninsula weighed in on the crisis, with its leader, Khaled Batarfi, calling for attacks against the Myanmar government. This marks a new phase in the terrorist group's plans in the region.
Subsequent acts of terror inside Myanmar could destabilize the country's nascent democracy and damage its burgeoning economy. The crisis could wreck Myanmar's status as one of Asia's hottest frontier markets. During the first four months of the 2017-2018 fiscal year, the country attracted more than $3 billion in foreign direct investment, according to a World Bank report.
The Dalai Lama reportedly once suggested to Myanmar State Counselor Aung San Suu Kyi that she help the Rohingya as the Buddha himself would. But the Army still holds sway in the region, and even if she calls for peace, she cannot scoop out hatred embedded in the hearts and minds of prominent leaders such as nationalist Burmese Buddhist monk Wirathu.
"You can be full of kindness and love, but you cannot sleep next to a mad dog," Wirathu said. "If we are weak," he said, "our land will become Muslim."
Time Magazine called him "the face of Buddhist terrorism."
Islam has its own share terroristic history and cannot claim innocence. But for the Rohingya minority who seem to want simply to be left in peace, perhaps pressure from the international community can help Myanmar's leadership remember and live up to this line from the Buddhists' own Eight-Fold Path:
Express conduct that is peaceful, honest and pure, showing compassion for all beings.
Calling all HuffPost superfans!
Sign up for membership to become a founding member and help shape HuffPost's next chapter
This post was published on the now-closed HuffPost Contributor platform. Contributors control their own work and posted freely to our site. If you need to flag this entry as abusive,
send us an email
.