After noticing the lack of science-themed clothing options for their daughters, Seattle moms Jennifer Muhm and Malorie Catchpole took a hands-on approach to the problem.
In October 2013, Muhm's then-4-year-old daughter said that she wanted to be an astronaut for Halloween, the mom told The Huffington Post. Muhm and her daughter looked through costume catalogs but noticed that only boys were wearing astronaut costumes. Seeing this, the little girl declared that only boys could go to space, and she no longer wanted to be an astronaut.
A couple of months later, Catchpole's toddler daughter asked for train underpants for Christmas. The mom was disheartened to find that "the only thing close to what she wanted" was available exclusively in the boys' section.
The two mothers bonded over their shared frustration. "Girls shouldn't have to make a choice between expressing themselves as a girl, and showcasing their interests," Muhm and Catchpole told The Huffington Post. "Kids, just like adults, use their clothes to express themselves. Kids do it more literally by wearing clothes that speak to their interests. When we package those interests as being something for boys, girls get the message that those topics aren't for them."
Eventually, Muhm and Catchpole came up with a solution: start their own clothing company. Thus, buddingSTEM was born. As the company website explains, buddingSTEM offers girls clothing that celebrates "science, space, dinosaurs, and other things all kids love!" After working with experts in areas ranging from pattern-making and textile design to logistics and supply-chain management, the moms launched a Kickstarter campaign to bring their vision to life. Having raised over 22,000 dollars as of Tuesday morning, they're almost halfway to their 45,000 dollar goal.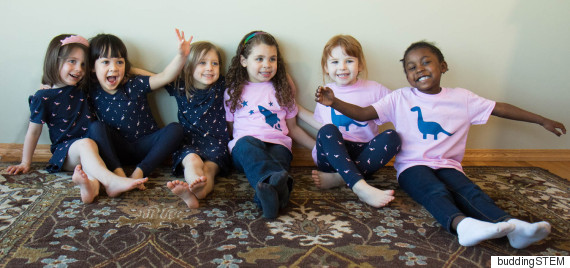 "It's astonishing how many people have their own version of our story. Maybe it's something they experienced with their own child, but just as often we hear from grown women about how much they would have loved this when they were a child," the moms said.
For now, Muhm and Catchpole are focused on getting the funding they need to start open their e-commerce store at buddingSTEM.com, and eventually, they hope to see their items in stores and expand their line beyond clothing. While they want their business to succeed, the moms won't stray from their original goal -- "to empower girls."
Muhm and Catchpole are also quick to emphasize that they are "not anti-pink, anti-princess or anti-girly," they said. "Girls shouldn't have to make a choice between feminine and expressing their love of science, or sports, or anything really!"
Check out photos of buddingSTEM: