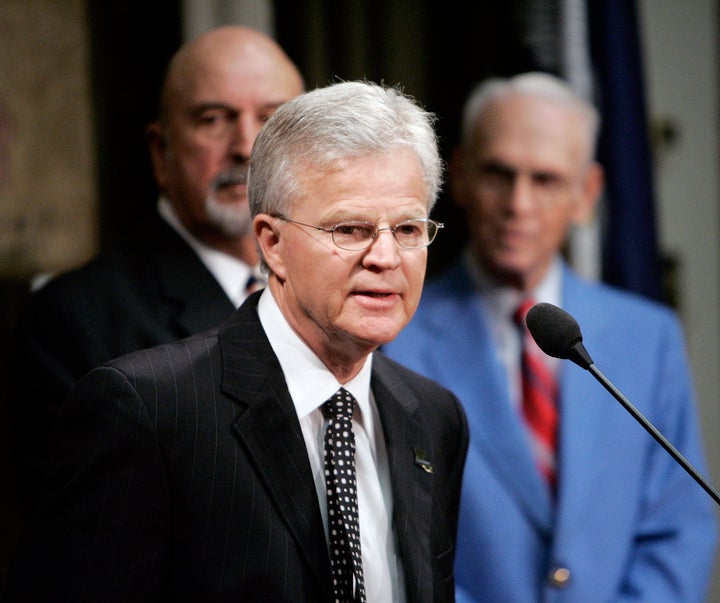 WASHINGTON -- One day after touting his social conservative bona fides during a speech at the Iowa Faith & Freedom Coalition, likely GOP presidential candidate Buddy Roemer showed off what he called his "libertarian" side.
In an interview with The Huffington Post on Tuesday, the former Louisiana governor said that while he personally does not support gay marriage, he believes each U.S. state should be able to make its own decision on the matter.
"I'm a traditionalist in marriage," Roemer, a self-described "southern Methodist boy," said. "Here's as far as I can go: I'm comfortable with the states having this discussion. And I'm all for -- in my extended family, not my wife or kids, but beyond -- cousins, that sort of thing -- we have a gay member. We honor him. He's a great guy. He moved to California so he would be in a community where he would be more comfortable. And I love living in a country where gays are honored and esteemed, but traditional lives can continue as well."
So if a state voted to legalize gay marriage or a form of civil unions, you'd be fine with that?
"That's right,"said Roemer, who has been divorced twice. "[If] I was living in the state or was part of the debate, I would oppose it, I want to make that clear. But that's why we have 50 states. They're all a little bit different."
Roemer is a bit different, too. One week after unexpectedly announcing that he'd explore a presidential run, the Louisiana Republican is embracing the role of the dark horse candidate with the freedom to be blunt.
As a firm member of what the media calls the "second tier" of presidential candidates, Roemer's best shot at visibility and viability is to distinguish himself from the rest of that pack, which so far includes the likes of Herman Cain, the founder of Godfather's Pizza, and former Pennsylvania Sen. Rick Santorum. But Roemer -- who in 1991 lost a three-way gubernatorial race that included onetime Ku Klux Klan Grand Wizard David Duke -- insisted that his candidacy for the White House wasn't a vanity project.
"I never run a race for the exercise," Roemer said. "There are issues in my world that I encourage others to solve. And when they don't solve them, I occasionally step forward myself."
The problems that Roemer sees are myriad, but his diagnoses aren't necessarily knee-jerk, ideological ones. His criticism of President Barack Obama's signature health care law, for example, is not that it is an unconstitutional government overreach, as many conservatives claim, but rather that it is a huge giveaway to private industry and special interests.
"It's a monstrosity," he said, gearing up to deliver a lengthy list of gripes. Among them: lack of tort reform, failure to apply antitrust laws to insurance companies, sweetheart deals to pharmaceutical companies -- the latter of which was negotiated by another Louisianan, former congressman and PhRMA chief executive Billy Tauzin.
"This is not health care reform. This was written by the special interests," Roemer said. "This was written by the lobbyists. This was written by insurance companies, pharmaceutical companies."
Minus the pining for tort reform, his critique of the bill sounds more like that of an unfiltered liberal pol than a diehard conservative.
Then there is Afghanistan. While the Republican Party has clearly begun souring on the war, Roemer offers a different brand of skepticism. It's not about the cost that bother him, because he insists there should be no firm deadlines for troop withdrawals. Rather, he takes issue with the widespread and widely-reported corruption in Afghan President Hamid Karzai's government.
"It's a tenuous situation," he says of the war, "and it's made more so by the corruption of Karzai and his henchmen … It is run by corruption, and we cannot win there with he same strategy that won in Iraq, because at the end of the day, corruption always rules."
Roemer's political eccentricity is less surprising given that he hasn't held public office in nearly two decades and his political career included a lengthy stint as a Democrat before joining the GOP. But his unconventional views are bound to make his bid for the presidency more difficult. At the Iowa Faith & Freedom Coalition, Roemer repeatedly railed against ethanol subsidies -- a graphic example of government funding that critics call wasteful but is nevertheless cherished by the corn growers of Iowa.
"I'm prepared to lose Iowa, Sam, let me confess that to you," Roemer said with all the seriousness of someone who thinks he could win that critical caucus were he to simply bite his tongue. Early in his political career, he said, he learned a "powerful" lesson: "If you're going to bring some bad news, bring it early and explain it."
In the end, this may be the function that Roemer serves. As the primary campaign descends into its usual circus, someone from that second tier gets to claim the title of truth-teller, as Rep. Ron Paul (R-Texas) was dubbed in 2008. Paul may well reprise that role in 2012, but until he announces his intentions, Roemer is comfortable, if not eager, to define himself by his sharp elbows.
Thanked for the time spent doing an interview with The Huffington Post, the governor attempted to return the appreciation.
"I'd be glad to stay in touch. You just got to work for a different organization," he quipped. Oh, and one more thing: "Don't tell anybody we talked, Sam."