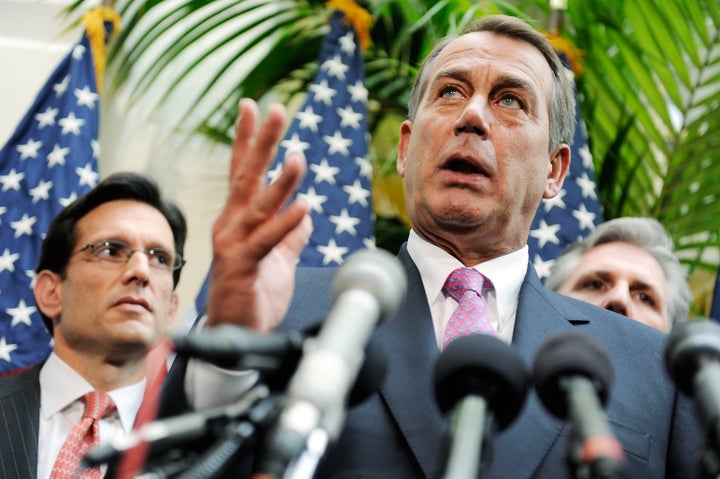 WASHINGTON -- The White House and Congressional lawmakers awoke Thursday morning to the possibility that an 11th-hour deal struck to keep the government funded through the end of the fiscal year could potentially fall apart on the House floor.
On Thursday, a flurry of last-minute lobbying commenced from backers of the continuing resolution, which will cut $38.5 billion in spending through the end of September. Though far less dramatic, the scene was reminiscent of the build up to the vote on the Troubled Asset Relief Program in fall 2008, when leaders from each party found themselves clashing with their respective bases.
With a House vote scheduled for 4 p.m. on Thursday, lawmakers remained cautiously optimistic about the vote count. Rep. Peter Roskam (R-Ill.), who is whipping members for GOP leadership, told MSNBC that he believed the bill "will pass with strong Republican support." He declined to say how many Democrats would be needed. And Erica Elliott, a spokeswoman for House Majority Whip Kevin McCarthy (R-Calif.) said things were "looking good" while acknowledging, implicitly, that her boss had not been whipping Democratic lawmakers.
Numerically, the landscape was a touch more complicated. A senior House Democratic aide predicted that as few as 50 Democrats would vote for the CR, among them Minority Whip Steny Hoyer (D-Md.). There were, however, several high-profile figures among the likely no votes, including Democratic Caucus Chairman John Larson (Conn.) and Vice Chairman Xavier Becerra (Calif.).
"None of those people would vote for anything that smells of compromise. No one ever expected their votes," said this aide.
If, indeed, only 50 or so of the 193 House Democrats backed the bill, GOP leadership would only be able to withstand around 100 defections from their own ranks.
"I feel no ownership of that or any responsibility to it, except that we do not want to shut down the government," House Minority Leader Nancy Pelosi (D-Calif.) said in a press conference on Thursday. "I don't have any idea" how many Democrats will vote against it, she said, adding: "We have not whipped it, we have not encouraged one way or another, people are just making their own judgments... I have always thought that if he couldn't get 218 votes that there would be Democrats who could put it over the top. It's just a question of how many."
Underscoring the uncertainty of the vote count, the White House dispatched three top-ranking economic advisers -- Brian Deese, Jason Furman and Gene Sperling -- to the Hill to help persuade Democratic lawmakers to support the budget bill.
The night before, Pelosi, who has hinted that she too will oppose the deal, had reportedly erupted at Sperling because she was not consulted during negotiations. Aides on the Hill said the incident was being overplayed in the press, but they acknowledged rising resentment among Hill Democrats over being "taken for granted" by the administration.
"They didn't include House Democrats in negotiations," said one top aide, "so of course they're now uncertain how we'll vote."
At the same time, Republican leadership was suffering from its own frictions with the base. Since the parameters of arrangement were announced late Friday night, conservatives of the party have done little but sour. The online community quickly bemoaned that the package did not cut far enough.
"If House Republicans vote for the bipartisan compromise, they should be driven into the street by the tea party movement and horsewhipped - metaphorically speaking. In reality, they should be primaried," wrote Redstate.com's Erick Erickson.
Former Minnesota Gov. Tim Pawlenty, a potential Republican presidential candidate, broke with the ranks and called for the bill to be defeated. Not helping matters, a Congressional Budget Office report released on Wednesday afternoon showing that the practical deficit reduction the plan produced this year was $352 million, not $38.5 billion.
Boehner, whose deputies had not even reached out to conservative Blue Dog Democrats as of Tuesday night, suddenly became omnipresent. An op-ed supporting the budget deal was penned for Politico -- a piece of journalistic real estate with particular resonance among Capitol Hill conservatives of both parties. Soon thereafter, the speaker was tweeting with rapidity about every minute cut that was part of the final language. Boehner also appeared on Laura Ingraham's radio show Thursday morning to defend the deal.
"I expect this first step will pass today," Boehner said at a press conference on Thursday, predicting that there would be a "bipartisan majority."
UPDATE: A Hoyer spokeswoman said the morning meeting between White House economic advisers and the House Democratic whip team focused almost exclusively on Obama's speech and the GOP budget, not on the CR.
Ryan Grim contributed to this report. It has been updated to include remarks from Rep. Pelosi and Speaker Boehner.
Popular in the Community