WASHINGTON -- House Republican leaders told right-wing interest groups to shove it Thursday and passed a budget compromise that provides a partial break from across-the-board cuts as well as relief for doctors paid by Medicare.
The agreement, approved on a bipartisan vote of 332 to 94, raises some $85 billion through cuts and fees, and spends about $63 billion of that to replace some of the sequester reductions in 2014 and 2015. About $23 billion will go toward deficit reduction.
Even though the deal was brokered by House Budget Chairman Rep. Paul Ryan (R-Wis.), a conservative favorite, most outside conservative activist groups came out loudly against the measure, slamming it as worse than nothing, and calling the savings phony because most come from cuts years from now that could be undone.
But Ryan took to the House floor Thursday evening to argue that any deficit reduction was better than none, and that it prevents a replay in January or in September of last fall's government shutdown, when the Republican-led House and the Democratic-led Senate failed to pass spending amid a fight over Obamacare.
"We always lock horns, we always argue, we never agree," Ryan said. "I think it's about time for once in a long time we find common ground and agree, and that is what this bill does."
He added that it's time to stop "lurching" from harmful crisis to harmful crisis, echoing an argument long made by Democrats.
"I don't know of anyone who thinks these government shutdowns are useful or helpful to our economy," Ryan said.
He perhaps was overlooking the tea party-aligned groups, such as the Club for Growth and the Heritage Action fund that helped engineer the 16-day government shutdown in October. Both have come out strongly against the budget agreement.
House Speaker John Boehner (R-Ohio) blasted those groups earlier on Thursday, noting that their strategy -- which his right-wing members insisted Boehner follow -- had failed.
"Frankly, I think they're misleading their followers," Boehner told reporters. "I think they've lost all credibility."
Boehner personally gaveled the vote to a close.
Democrats voted for the deal, but had to give up their demands for an extension of emergency unemployment benefits that expire for 1.3 million people on Dec. 28.
Ryan's Democratic counterpart on the Budget Committee, Rep. Chris Van Hollen (Md.), said Democrats still want to extend those benefits, but didn't want to lose the chance to soften the blow of sequestration and redirect resources to various infrastructure projects, education and medical research.
"We will avoid the very deep and harmful cuts from the sequester," Van Hollen said, noting that the next round of cuts were due to kick in Jan. 15.
Democrats also had to accept some $12 billion in cuts to military and federal pensions to help pay for the sequester relief, but they have argued the sequester was bad, too.
"Without this agreement, you would be guaranteed additional furloughs of federal employees in the coming year," said Van Hollen, who represents many of those workers in his suburban Washington district.
The Medicare provision stalls for three months a scheduled 24 percent cut to the rates doctors get paid under Medicare by law. Legislators promised to use the time to come up with a permanent fix to the law, which stems from older laws aimed at curbing Medicare costs.
The budget bill is expected to move swiftly to the Senate, where it is likely to pass.
CORRECTION: This article has been edited to note that $23 billion will go toward deficit reduction. An earlier version used the figure $23 million.

Before You Go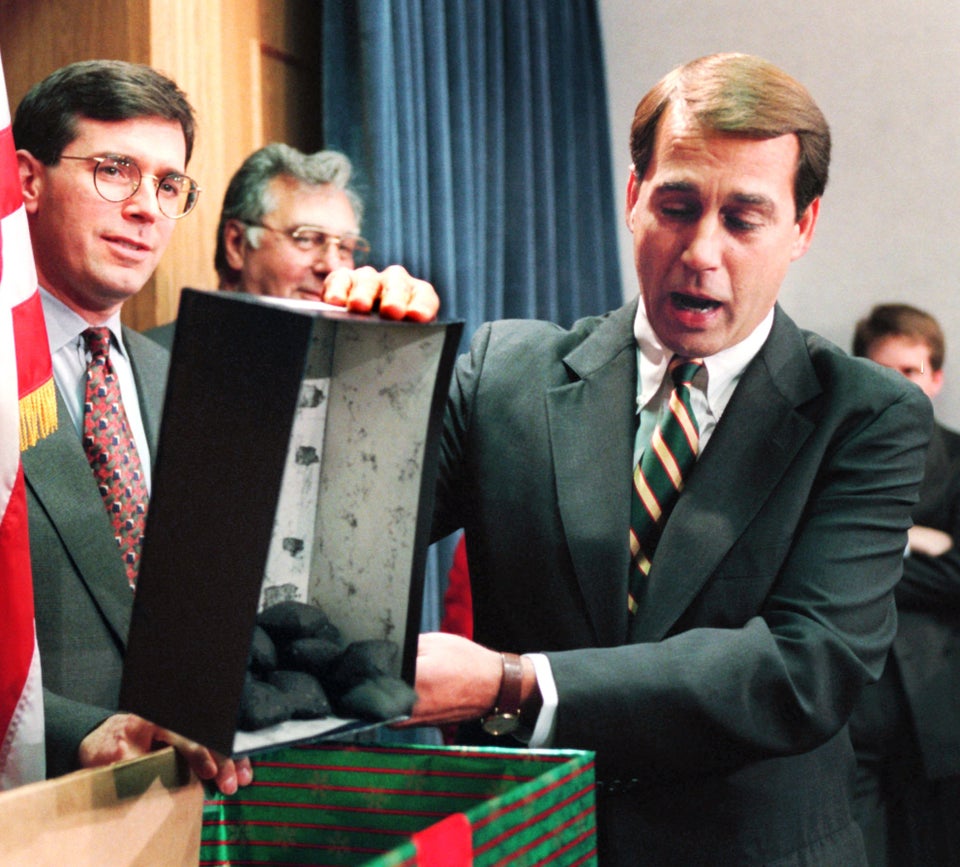 Then & Now: The 1995 And 2013 Shutdowns
Popular in the Community