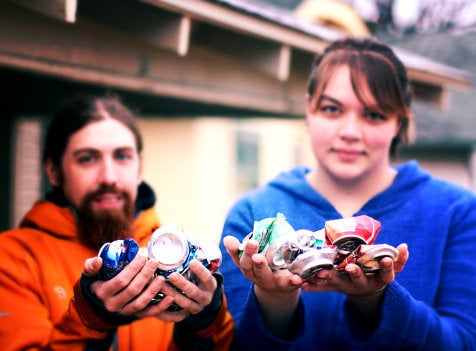 When Andrea Parrish and Peter Geyer got engaged, they knew they wanted to have a low-key, low-cost wedding that would leave them happily wed to each other, not to debt. But to pay for their modest wedding, the Spokane, Wash. duo decided to launch a massive recycling project of 400,000 aluminum cans.
Their planned fete includes a potluck dinner, DIY decorations, home-brewed beer and medieval touches, but even with cutting all the normal corners, the couple will still have to sink about $4,000 into their wedding.
"We don't really have much extra cash sitting around, since we're just starting out. Add that to the fact that environmental responsibility plays a big part in our lives, and we hatched the crazy plan. Pay for the wedding - with recycling," they describe on their site, Weddingcans.com.
In order to raise the remaining funds, Parrish and Geyer are attempting to collect almost half a million cans from their community and encouraging others around the country to recycle and kick in a little of what they get back. Tonic reports that as of Sunday, the couple has collected 91,352 cans, 22 percent of their goal. You can read the full story of their quirky union at Tonic.com
Related
Popular in the Community