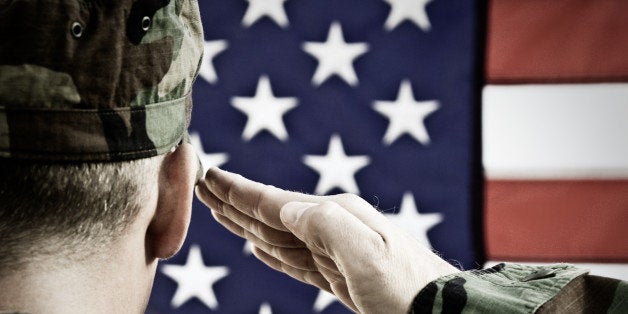 With the New Year almost upon us, I'm making a resolution that if fulfilled, could resonate among veteran communities across the nation. My hope for 2014 is to be the cause and not just the effect; and for me, that begins with not being afraid to call on fellow veterans to utilize our military lessons and training to address some of the most egregious issues facing the veteran community.
When Congress returns from its holiday vacation in 2014, following an historic unproductive session, waiting for them should be a thunderous voice demanding results, not excuses, from the 23.2 million strong American veteran population.
I was reminded of Congress' inept response to the needs of the veteran community during recent visits to the Manhattan Campus of the Veterans Affairs New York Harbor Healthcare System when I walked by a piece of paper with the message "Be back in 20 min" laying on top of a reception desk at its mental health clinic. When an estimated 22 veterans a day take their own life, a mental health desk in a VA hospital should never be unattended.
When more service members in recent years have died due to suicide than were killed in Iraq and Afghanistan combined, veterans should not be standing in a line, wondering "20 minutes from when?" There was no additional signage about who to contact in light of the missing-in-action receptionist. To add insult to injury, a doctor admitted the administrator in charge of staffing the reception area was aware the check-in desk is often left unmanned. However, all of this took place less than 30 feet away from a newly built eyewear dispensary, where two people were seated at its front desk.
During another visit, on the seventh floor of the Manhattan VA hospital, an overwhelmed receptionist feigned indifference and barked it could be two hours before a patient with chronic back pain could be seen by a physical therapist. But the receptionist begged not to be blamed for the delay. "Blame Congress," he said.
"Have you been noticing what's been going on in Congress?" he asked. "I'm doing the job of two people. What can I say? I can't help you. You'll just [have to] reschedule."

He failed to mention the estimated wait time for a new appointment with a physical therapist there is at least four months.
Veterans face the ubiquitous enemy of complacency, whether in the White House and Capitol Hill, or their local VA hospital or office. But unlike much of the broader American population we've been trained to understand the fog of war is chaotic and to varying degrees we've also learned how to fight.
Veterans have demonstrated a propensity to serve, whether for our country, our families or the soldier, sailor, airman or marine standing nearby. In 2014, we need to unite that spirit and the dizzying number of veteran service organizations across the nation and empower one another with the knowledge and tools needed to survive and thrive.
The so-called "sign of progress" on Capitol Hill due to the budget agreement reached by the House and Senate last week is a hallow victory when that deal comes at the expense of veterans. Barely one percent of the American population is currently on active duty in the Armed Forces, yet it's on the backs of military men and women who have served that Congress gets its deal. According to Iraq and Afghanistan Veterans of America (IAVA), as part of the budget deal, lawmakers approved a reduction in the annual cost of living adjustment for military retirees and survivors. The IAVA estimates over a lifetime, it'll result in a 20 percent reduction of retirement benefits.
So during the holiday break, while legislators pat themselves on the back as they sip cider and egg nog, veterans should be calling, texting and tweeting Congress and holding lawmakers accountable for failing to fully fund the VA a year in advance, as well as failing to pass the Military Justice Improvement Act. The military said roughly 26,000 cases of unwanted sexual contact occurred last year, yet only a little more than 3,500 of those crimes were actually reported by the victims.
Veterans must be masters of our own narrative. We cannot sit on the sidelines resigned to let status quo become the new normal. Opponents of the reduction to the annual cost of living adjustment to military pensions have launched a petition drive to get President Obama to veto the planned cuts. Veterans have a responsibility to bolster veteran groups with our skills -- time and energy if we ever want to see meaningful change for this generation of veterans. If that means making repeated calls or sending multiple letters to the Department of Veterans Affairs Office of Inspector General, or even hounding VA hospital patient advocates (yes, they're there), so be it.
Personally, I'd be one step closer to satisfied if I never see a "Be back later" sign at the Manhattan VA.
Related
Popular in the Community